Like the G-Shock in top of the WatchUSeek G-Shock (G-Shock G300-3AV), I also sometimes get questions about the watch that I use in my G-Peopleland banner. It isn't actually my watch. I took the photo in the ß-lab 3 years ago. From full format I can read I took the photo on December 22nd, 14:23. The student is Anne, now a 3rd year student Forensic Psychiatry of the University of Amsterdam.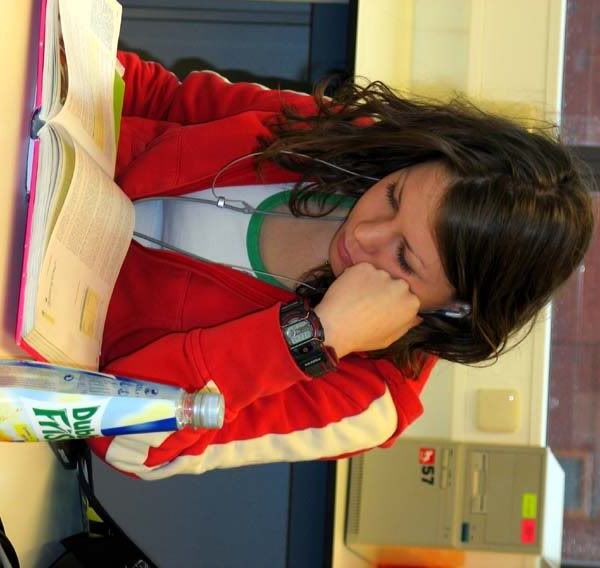 She was hooked on G-Shocks, so I helped her purchasing this watch. Actually it now is a very hard to find model. The full model number is DW-003X-4T, first released in 1996. The alarm wasn't working, but I made a little alarm spring myself. With a fresh battery the watch worked flawless.
The DW-003X models came in 4 color variants, yellow, blue green and maroon. After 12 years, it now is getting hard to find one in good condition. I think it is a pity, because the face protector and the double Velcro watchband makes this a very tough looking watch.
The DW-003 case does not have the common used 1598 module, but the 1659 module. Although the functions are the same, the display is divided in 3 parts and an eye. I specially love the middle part that animates the progression of the seconds.
The X in the model number possibly indicates this is an pre-X-Treme model. The X-Treme series were released outside Japan as G-Lide series. These series were designed for sports that need tough watches, like skateboarding, snowboarding, surfing, etc.
This model would be a great skateboarding model. The face protector protects the crystal when hitting hard objects. Of course you don't need to ride a skateboard to wear this watch. It is just a very nice looking G-Shock.