First of all I would like to thank Vintage and Topher for their guest articles during my holiday in France. Great job guys! During my holiday I have also written four 50 Gs articles, which of course will be published here soon. But first, it's Mother's Day today. Why don't we have a look on the G of the mother in the house. Mother's watch is a Baby-G. I think this will be the only time a Baby-G will be featured.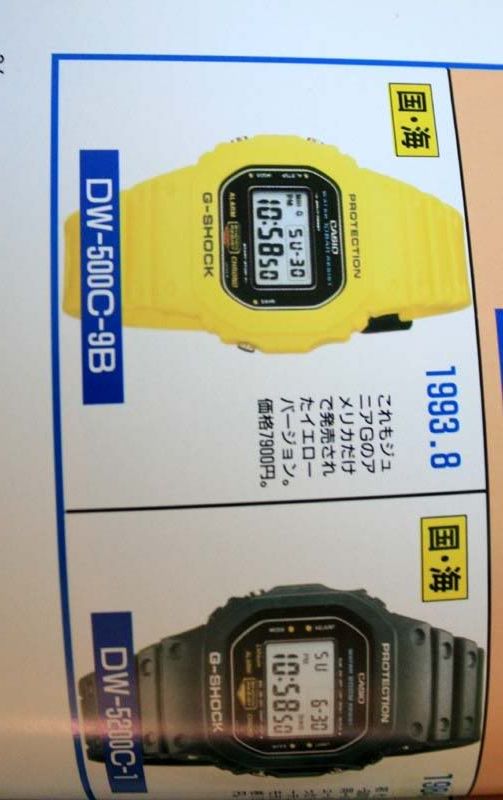 Baby-G is a spin-off series of G-Shock. It features the same tough criteria as the G-Shock models, but it is smaller in size. The first Baby-G was the DW-500C-9B, released in 1993. This was actually a smaller DW-5600C version, with three buttons and no light. The bezel says G-Shock, it was only called Baby-G. Later, in 1994, Casio released some small models in the DW-6X0 range (with X = 0 to 5). A half year later the same models were released, but now with Baby-G on the bezel. Since then the Baby-G line was a sub brand of Casio by it's own. At first the brand aimed not specific on a gender, later more and more models become feminine.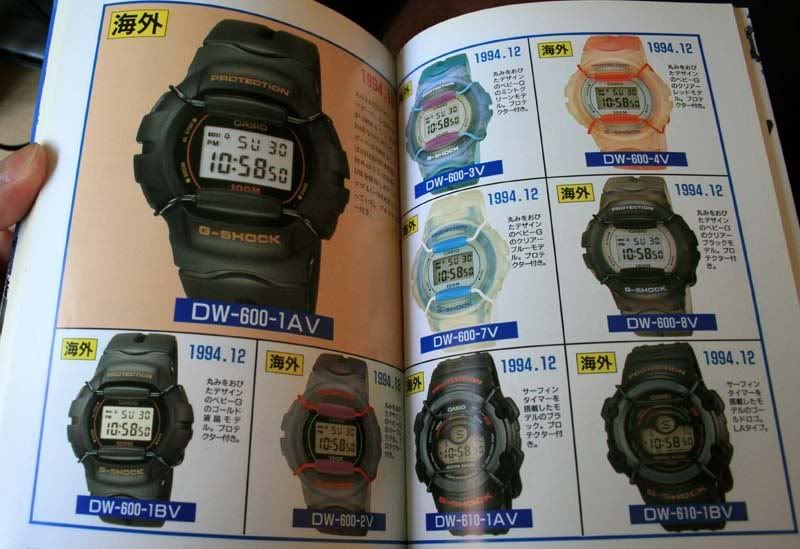 Images above from Green Arrow Graffitty #4, 1997

Back to the BG-156B-4VSGF, also known as Amy Amber. It was part of the Autumn/Winter 2001- 2002 collection in Europe. Although not listed as a limited edition, this model was only short available, mostly on the German market. It was part of a series of six models with a flower decorated cloth strap.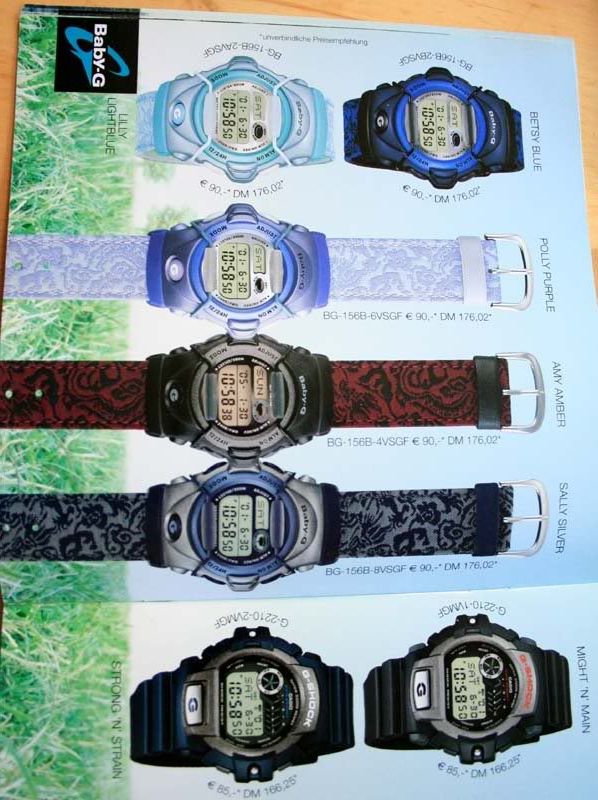 Image: "Watch Twice", the autumn/winter 2001-2002 G-Shock & Baby-G catalogue.

I had shown this model early 2002 (on the computer screen) to my girlfriend Eva and she liked it. It was a few months before her birthday. I had a good source in Germany, so I ordered one there. It is not nice to talk about prices of presents, but I got it for a good price. Less than the suggested retail price, insured shipped from Germany. Buying it in The Netherlands would have been expensive. The common retail prices are much higher than the German prices. A similar Baby-G would cost €110.- here in the shops.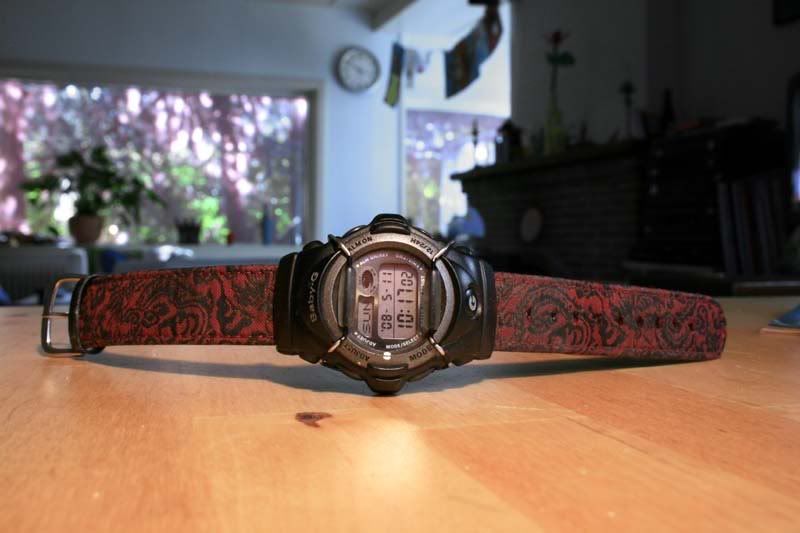 The Amy Amber has, like many other Baby-Gs of that time, a sturdy looking face protector. It gives the watch a somewhat sporty look. The leather/cloth strap suggests this watch is more a street fashion watch, less suitable for water sports
Like most other Baby-G models (and also the earlier mentioned DW-6X0 range) there are several animations in the display.
Every whole minute the day/animation display shows a big G, while the minute digit winks to the next minute. Every 10 minutes both minute digits wink, every whole hour the whole time display freaks out.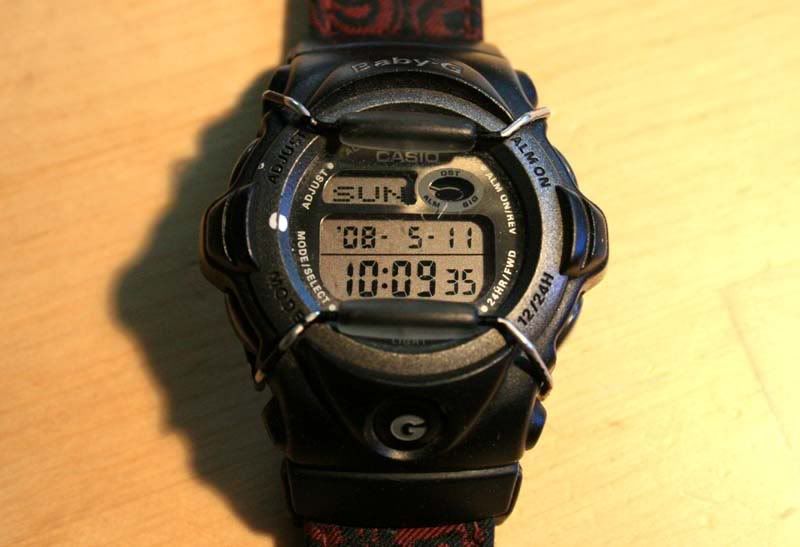 Every time the seconds reach 30 seconds, a dancing figure appears in the upper left display. This dancing figure also appears when the EL button is used. All these animations not really have a meaning. I think it is a kind of replacement of the time progression animation, that is found on many G-Shock models
Lets look at the features of this watch. It has a data bank function with 25 memory places. Today this function is probably useless, since every young woman (obvious the aiming group for these models) has a cell phone.
A funny function is the Day Counter. You can input a date and you will see how many days it is to reach that date, or how long it was ago. I just checked out I am walking around on Earth for 15213 days... Useless, but fun to know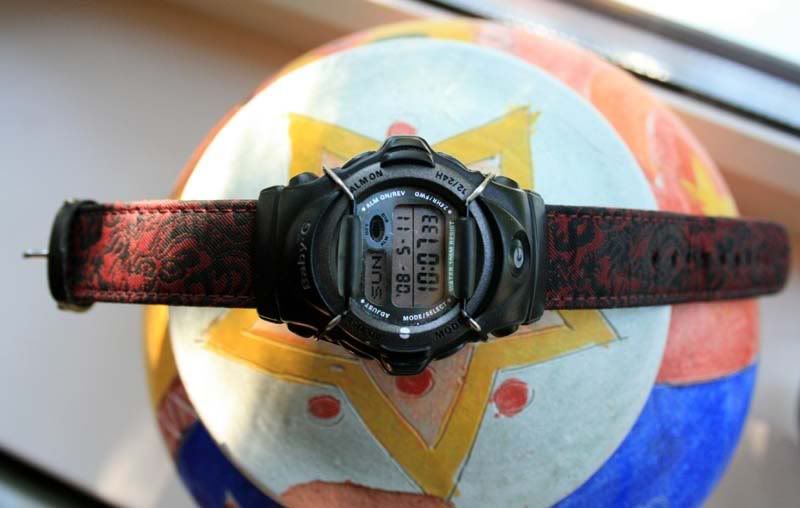 This model has dual time on board. A handy feature if you travel a lot. I actually prefer this to World Time, because due to all different DST settings, the World Time functions on my G-Shocks are often wrong.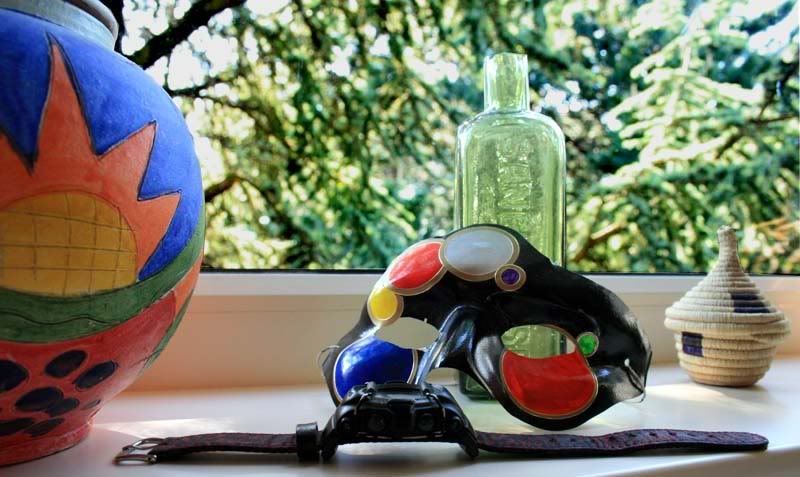 Further this Baby-G features 5 alarms with a hourly chime and a stopwatch function. The display is amber. The EL backlight is amber too.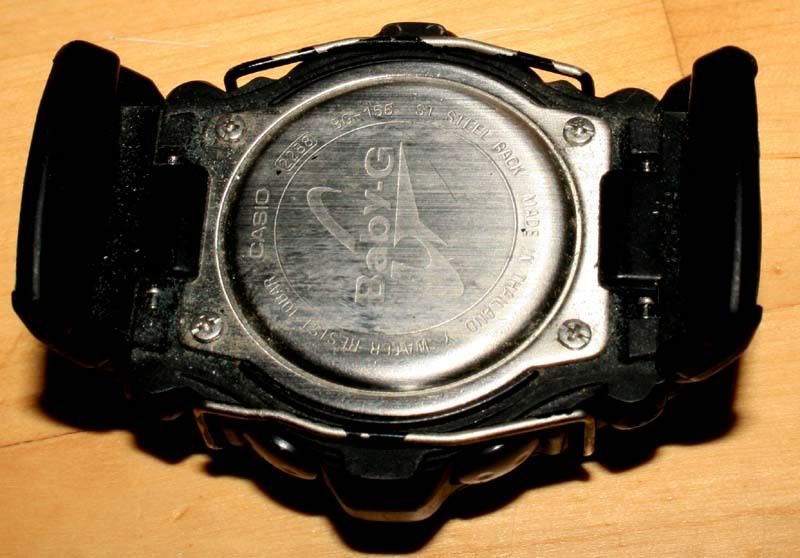 Unfortunately Eva does not wear her watch much, but carries it around in her bag, among keys and other hard objects. When she wants to know time, she takes it out off her bag and when read the time, she throws it back. Needless to say, the watch looks pretty used and there are even scratches on the crystal, something that is hard to achieve when worn on a wrist, due to the face protector.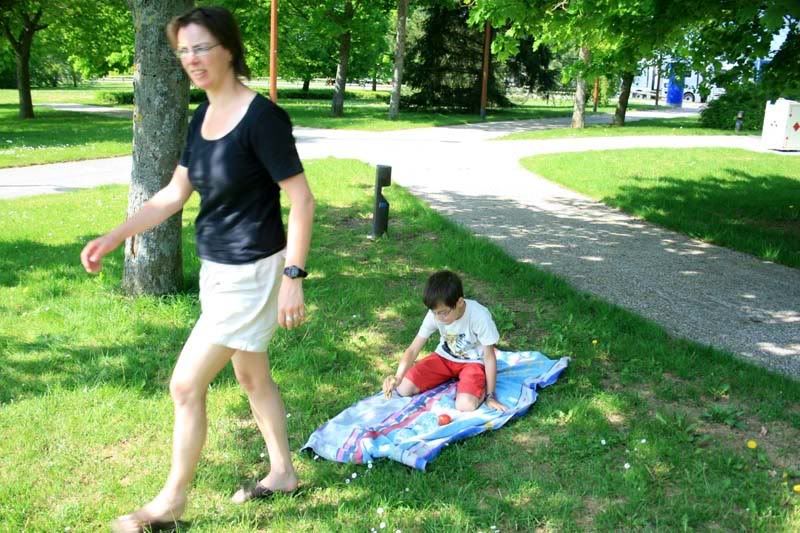 Only when Eva has a tight schedule she wears it. Remarkable was that she was wearing it on our trip home last Wednesday. I could not resist to take a picture of this unique moment.