(the following is a 'guest post')
Well, sort of. My first Gulfman was a GW-9100-1, which I purchased late in 2007. However, I feel that it really is just using the "Gulfman" name, as it has no tide graph or moon phase (stock photo below):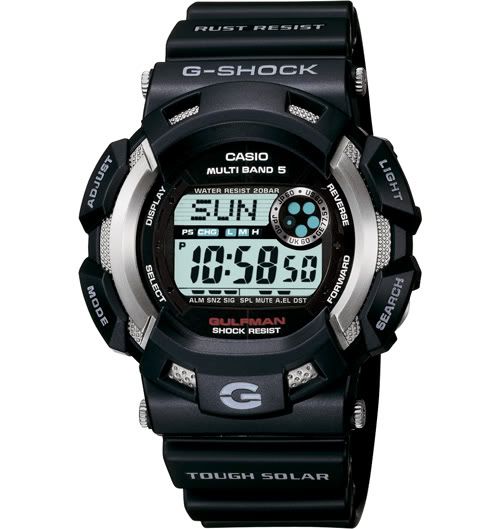 The GW-9100-1 ended up going to my older brother as a birthday gift. He was in sore need of a durable watch. I was glad to provide it for him.
So I kept a lookout for a Gulfman which had at least the solar charging capability, along with the tide graph and moon phase (as I personally believe that these features make it actually a "Gulfman". Then, I forgot my search. After posting a sale ad for some watches I was getting rid of, an online friend asked if I would do a trade. He had available a DW-9701K-9JR (released in 2000), and my interest was rekindled.
So, I did the trade. He said it was in great condition, so I didn't even bother asking for pictures. When it arrived, I was amazed! The yellow bands, and the yellow writing really 'pops'. And it was 'Like New In Box' basically unworn, with all the booklets, boxes, manuals, and tags. Plus, he shipped it to me fully charged and ready to wear.
I.C.E.R.C. stands for the International Cetacean Education and Research Centers.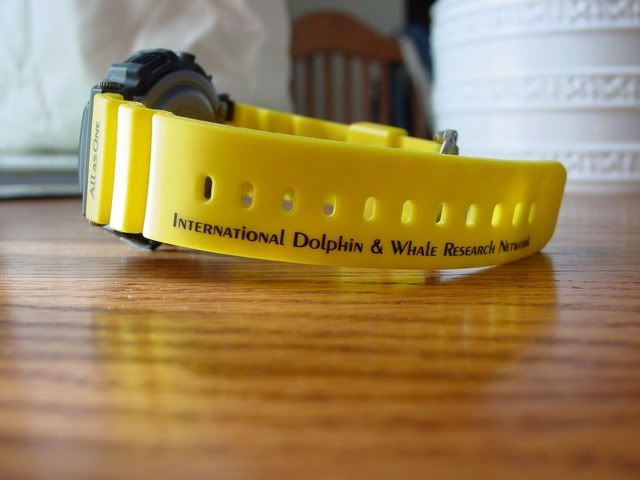 Casio puts out a special limited edition when I.C.E.R.C. organizes during the International Dolphin and Whale Research Network , and then donates the profits/proceeds to benefit the groups.
"All As One" is actually a song made by a group named "Love Notes". They created a music promotional video for the single "All As One" in 1996, and the video was to be released in March. In May, I.C.E.R.C. made "All As One" their official theme song. Here is an extract of the lyrics that show (most likely) why the song was chosen:
"Long long time ago we were One.
As a member of the natural kingdom
we were in perfect harmony with all beings.
We spoke with the plants,
danced with the dolphins
and sang with the whales

.
We were all One Family."
This shows the very unique titanium caseback of the I.C.E.R.C. Gulfman with the logo for the International Dolphin and Whale Research Network.
I also want to echo the thanks given to Sjors for the ability to post here, as well as Greg's hospitality.