I will publish articles I have written on my vacation in Cadenet in south France in the last two weeks of May and the first two weeks in June.. Of course I (and occasionally Bram and Eva) have shot photo's on location. Probably some photo's will not be as sharp or clear as I wished, but I think they captured the feeling of the moment.
The third article lights my 2003 I.C.E.R.C. Frogman. It's a watch that is often with me in summertime.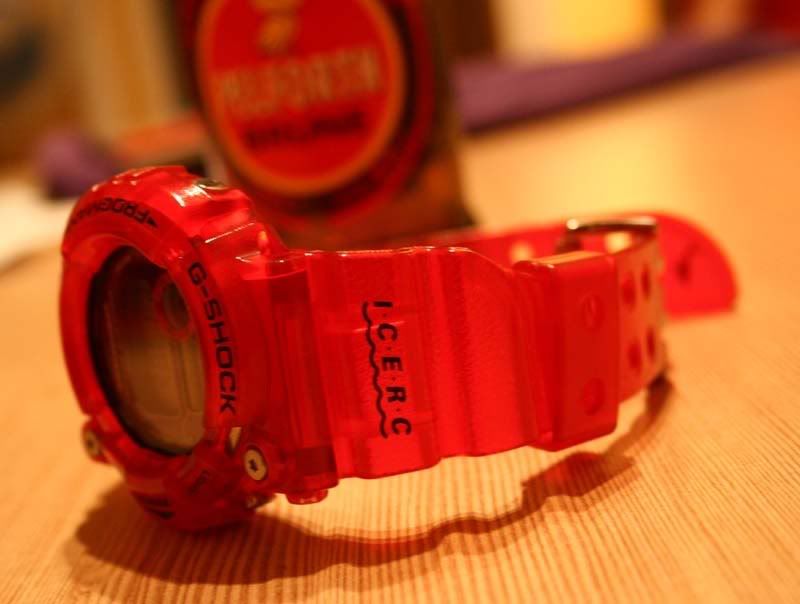 Nearly every month Casio releases new G-Shock and Baby-G models. Most of the are only available for the home market in Japan or East Asia. The new releases can be seen on G-Shock's Japanese homepage.
If you are a bit handy with translation tools, you can subscribe to the Japanese newsletter that is e-mailed to you when new models are released.
When I started collecting G-Shocks, I focused on the basic late 90's models. Mainly the DW-6900, DW-003 and DW-004 models. I had seen Japanese collectors often mainly focused on Frogman models. The owners seemed very impressed with this model.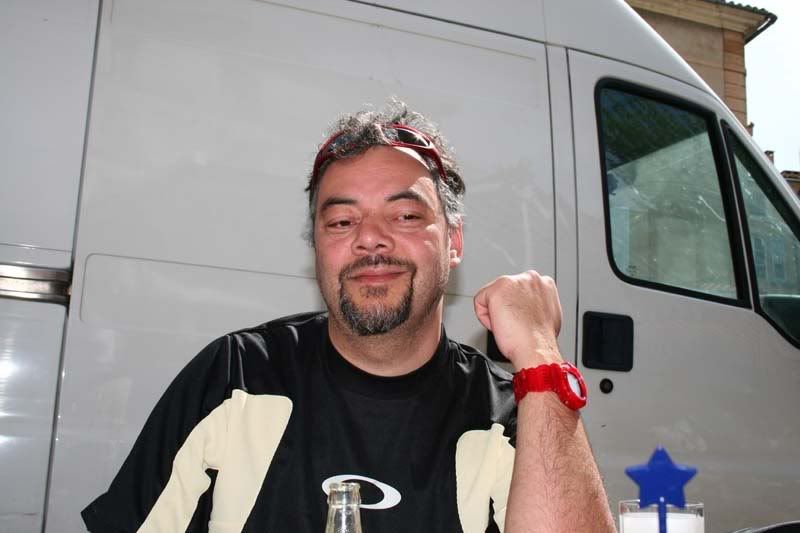 In 2002 I obtained a DW-8200, the 2nd generation basic, and most common Frogman. I believe I paid less than €30.- for it.

Frankly I was not impressed at all. It was in new condition when I bought it, but soon it became one of my swimming watches.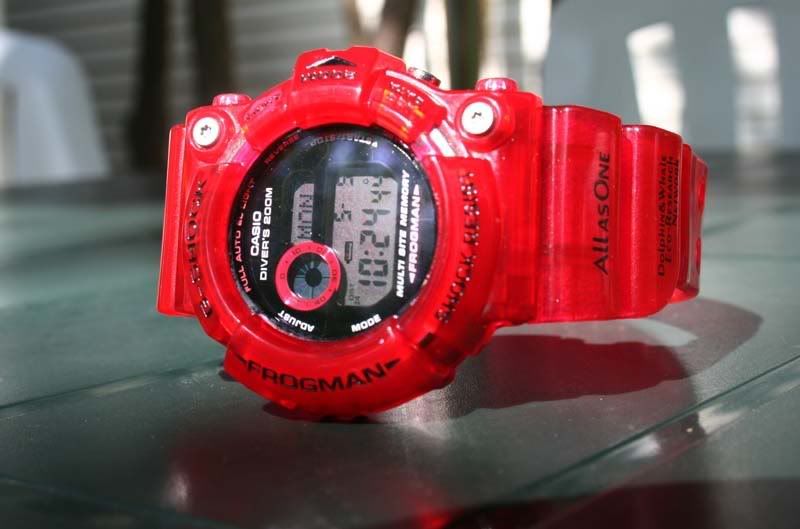 So I read the newsletter of may 2003. At that time there was for me no way to get a G-Shock out of Japan. In had just started G-Peopleland. I occasionally looked at a Japanese Watches bulletin board, but this was long before I learned about Seiya-San and Katsu-San (Higuchi Inc).
(I hope you don't mind I am eating a bagette with spicy chorizo in the mean time. Bon Appetit!)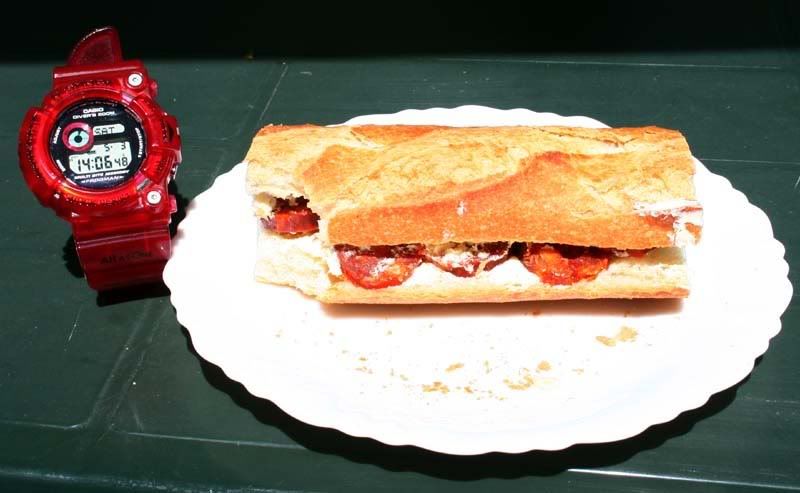 The red jelly Frogman, released to promote the 3rd International Dolphin & Whale Eco-Research Network by the I.C.E.R.C., did look awesome. I was completely drewling on my keyboard.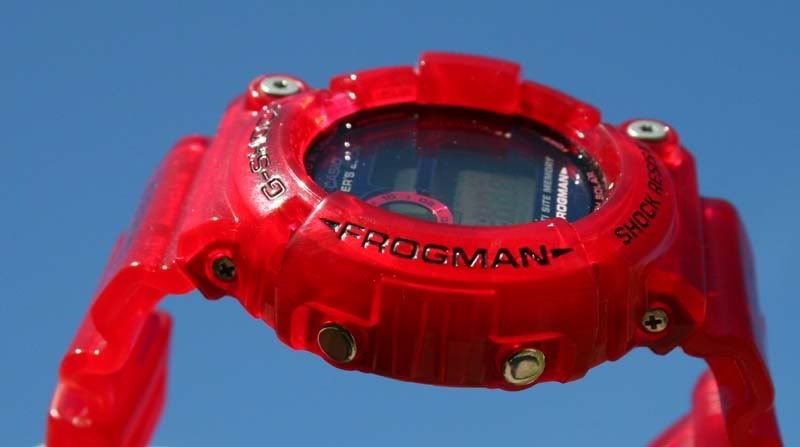 I already imagined how it looked in bright sunlight. I got to get one. (for more about the I.C.E.R.C. read the article about my white Gulfman on 04-27-2008).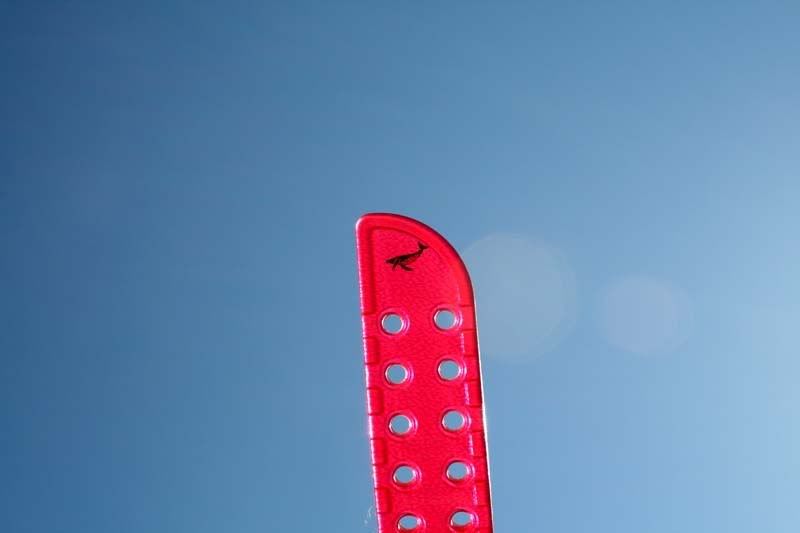 For some time this model stayed a dream watch, but late August this model popped up on eBay. Sellers in Hong Kong and Singapore were selling this watch like they were hot buns. Even Michael of MSG-Distributors, NYC had some for sale. I obtained my first for around $200.-. The US$ was about the same rate as the € around that time.

It even looked better in real. The watch was immediately noticed at the school where I work. It was a very sunny period, and the watch looks like it's illuminated in sunlight. Students even asked me when I was going to wear this red watch again when I didn't wear it...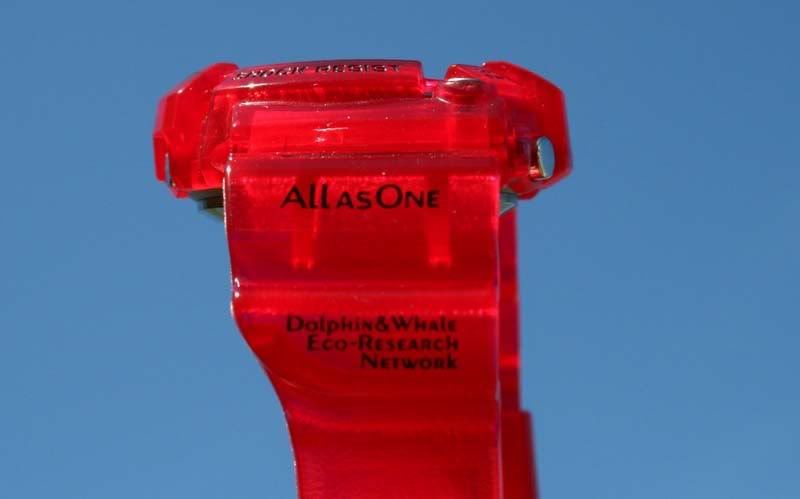 This model stayed on eBay un-usually long for a limited model. In a few months the marked seemed saturated. I obtained a 2nd one, for the collection around October. I paid less than $150.- for it.

Then, around February 2004 it disappeared from the market. Nowadays it's a pretty much wanted model and I am afraid you may expect to pay double the price that I bought them for.
What makes the GW-203K so special? It's all cosmetic, it's just a GW-200 model, but then wearing a red jelly jacket.

There are prints on the strap. "I.C.E.R.C." and "International Dolphin & Whale Eco-Research Network". The text "All for one" is the I.C.E.R.C. motto. Like on all Dolphin & Whale models in the G-Shock range, there is also a very beautiful back engravement. A pity you can't see that when wearing.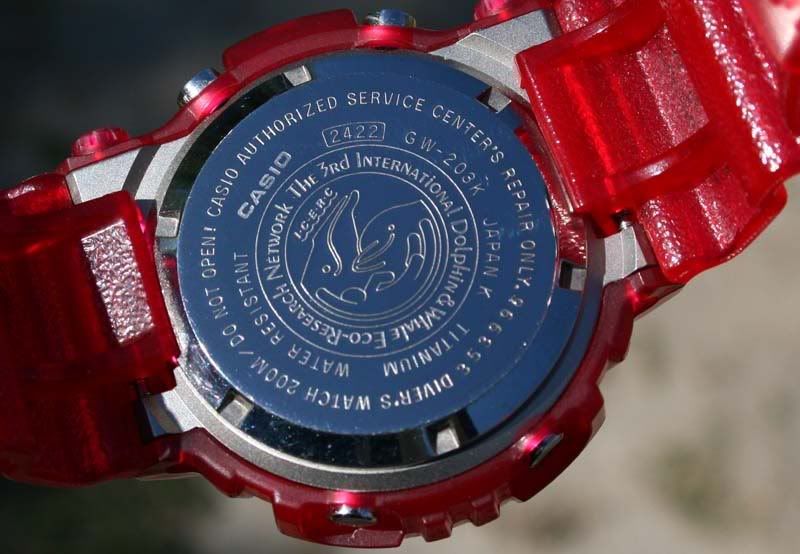 The GW-200 is the Tough Solar successor of the DW-6300, DW-8200 and DW-9900 Frogman range. I actually think something went wrong in the design process of the GW-200. The prefix GW is actually only used for Atomic Tough Solar models. I think Casio aimed for an Atomic model in the first place. The first two GW-200 models, the "Carbon Fiber Frogman" and the "Snakekiller", had the non solar module of the DW-9900. All other GW-200 variants are Tough Solar, but not Atomic.
This watch has been designed to dive with. The case is located a-symmetric to the left of the straps. This way your left hand (if worn left) has more freedom of movement, as when the case was connected symmetric.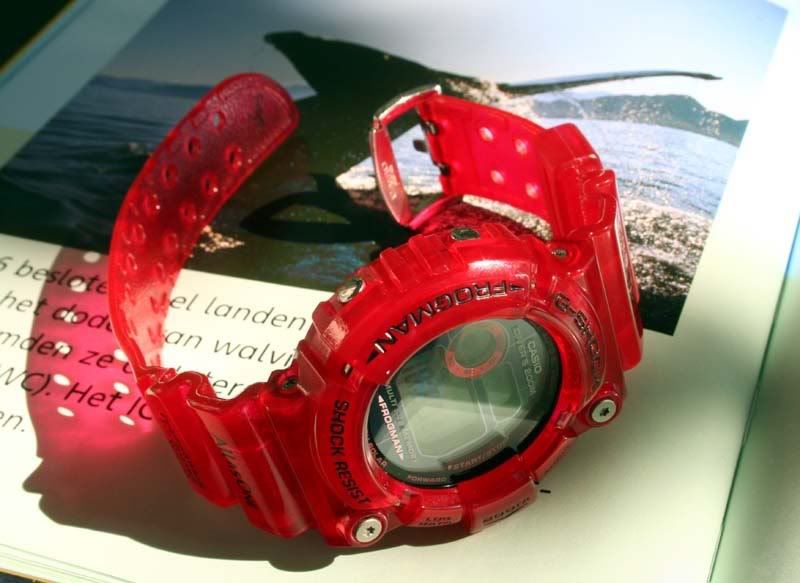 While scrolling through the different modes, you find 10 programmable dive sites (of course I set one to Middelburg). Actually, if your home base time isn't between them, you have to alter one of the preset sites to your time zone (GMT offset) to let the other sites display correct time.
Next you find some ID-functions, like blood type, passport and creditcard number, etc. I think it's not wise to store your credit card number though.
The watch stores up to 3 alarms. Further it has a 24 hour stopwatch and a 24 hour count down timer.
An extra feature is a bit hidden. If you press for a few seconds on the MODE button, you get in Dive Timer mode. It's a kind of special stopwatch mode. In the displays the dive time is displayed. It also displays the current time and the time the timer started. Unlike complexer dive watches and computers, the Frogman can only store the last dive parameters.