After reviving my DW-9500 US Open Surfing model (see intermezzo #10), it's been on my wrist for quite some time.
Here's a nice matching music video to accompany your reading.
Actually, I know these models for a long time, but I didn't know anything about the background. I had seen them on eBay auctions in Germany a lot, but the winning prices always were much higher than for other G-Shock's.
In the winter of 2000/2001 I went with Eva and my newborn son Bram to Antwerp. Near the Groenplaats (Green Place) there was a jeweler with a lot of G-Shock models in his shop window. One of them was an aqua (sea-green) version of this model. I quick calculation learned me it was pretty un-affordable for me around that time (probably around BEF5500 = ± f300.- - f320.- which is now about €140 - €150).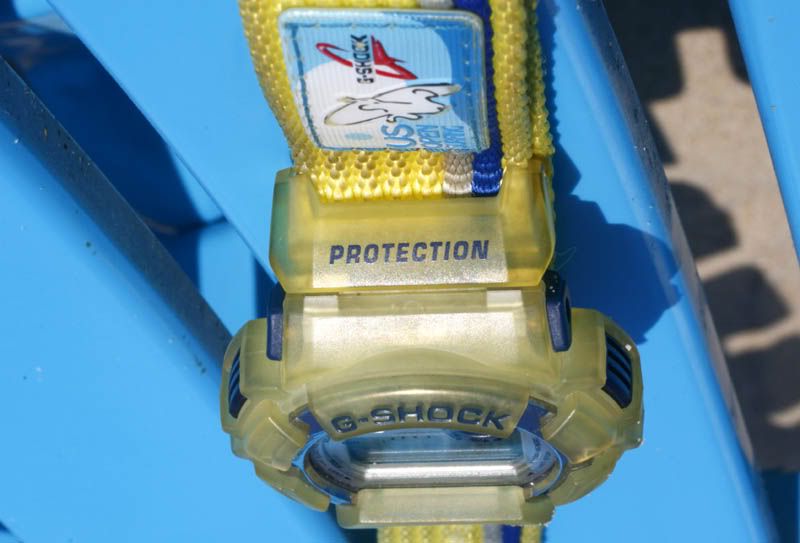 It took until September 2006 before I this model, which was released in 1998. Actually it's not easy to find out more about this model. My luck is that all DW-9500 models (including the BPM & Beat models) were released in 1998.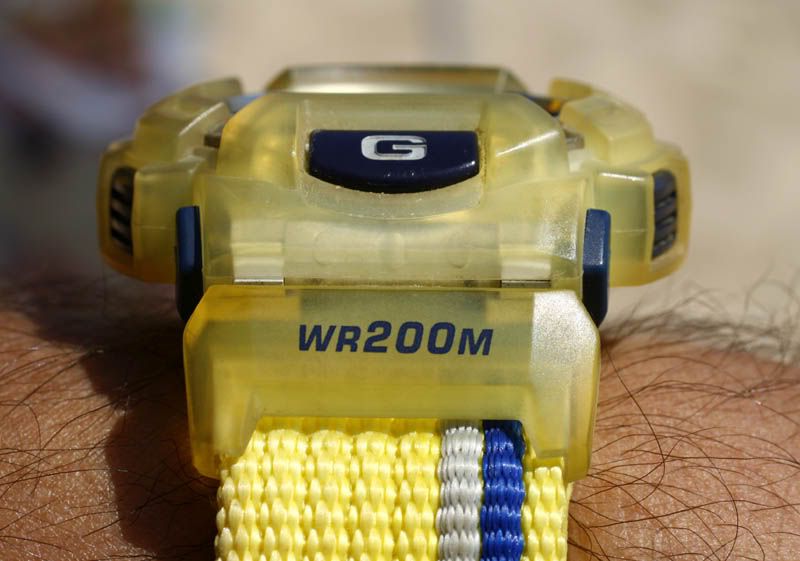 I also am not sure about the available color variations, but I'm sure there were this yellow model, an aqua green, a white and a light blue model (
thanks Lee172!
). I also think there was an orange model. Since I can't find this model on G-Shock Perfect Search, I think the US Open models were only released in Europe and the US.
Although on the outside the DW-9500US looks like a normal G-Shock model, it is equipped with a temperature sensor. The big eye on top top right of the display shows the current temperature, in ºC (inner ring) and also in ºF (outer ring). The two curved lines left from the eye shows the seconds and 10 seconds.
The watch has also a recorder on board to follow temperature trends. Actually I do not know what to think about a termometer on a watch. The case temperature is affected by the body temperature, which is far from a constant. Since this watch is designed for surfing, it might get submerged. If the case and straps are wet, the watch will, due to evaporation, cool off. Not the ideal circumstances for accurate readings.
The DW-9500US models can be considered as special versions of the X-Treme DW-9500XS models. The DW-9500US has a great cloth strap. It's very comfortable and the open structure of the cloth allows the strap to dry pretty fast when wet.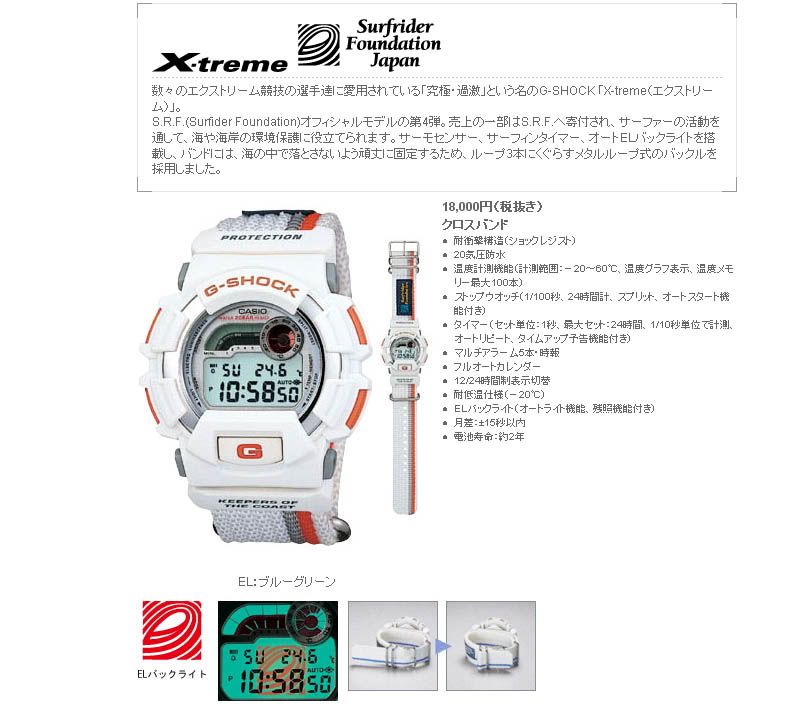 As you can see on the photo of a similar strap model above, you can bend the long end of the strap back under a second metal keeper.
On the strap there is a nice patch with the US Open Surfing logo, which also returns in the EL backlight.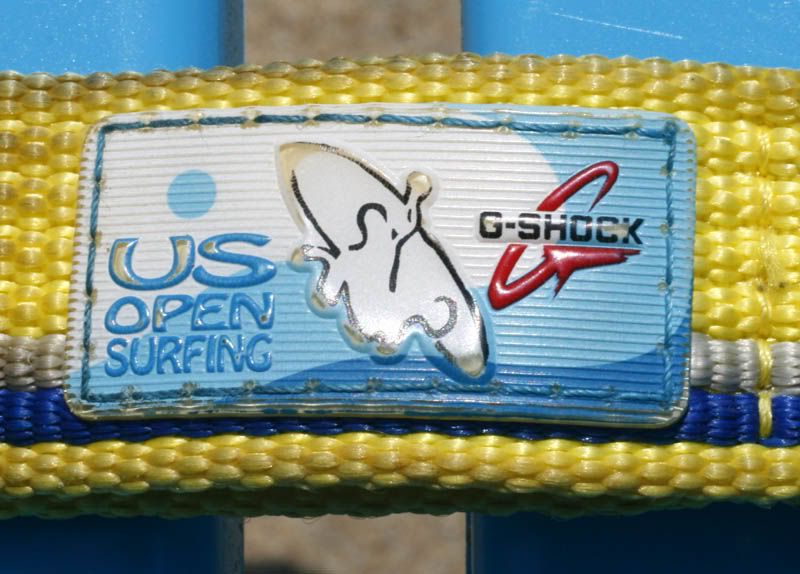 A strong point of this module is that it has a 24 hours Countdown Timer. Most G-Lide and X-Treme surfing models only have a 60 minute (surfing-) timer. A 24 hour Stopwatch and 5 alarms makes this a pretty complete watch.
So what's US Open of Surfing all about? It is an annual event, which takes place on Hungington Beach, Ca, also known as Surf City.
It started in 1959 with the West Coast Surfing Championships (WCSC). After a decade of silence clothing brand Ocean Pacific picked up the thread by organizing the OP Pro in 1982. Riots in 1986 meant a downfall on the OP Pro event.
Since 1994 Huntington Beach organizes the US Open of Surfing, an idea that thinks in the line of golf and tennis. It's now one of the biggest Surf events of the world, turning Huntington Beach during the events into the "Surfing Capital of the world". Not only surfing is featured during the 9 - 10 days event. Action sports like BMX, Skateboarding and Freestyle Motocross, fashion shows and life music makes this a big happening.
Casio is one of the sponsors of the event, but also sponsors pro surfurs. In 2008 Casio signed
Gabe Kling
, while this year
Erica Hosseini
is sponsored for one year and will be the surfing ambassador for both G-Shock and Baby-G.
Last year Casio released during the event in July a special US Open GLX-5600 model. In 2007 a special grey/white DW-6900 model was released. I hope the same thing will happen this year. T
his years US Open will be held from July18 to 26. I would say, keep your eyes open around that time for news on new models at
Casio G-Shock
or maybe even better
Riley's My G-Shock
.