Last Sunday I got a visit of my G-Shock friend Jurphaas and his wife. Jurphaas lives in Leiden (also a beautiful city with a lot of history), 175 km from Middelburg. He has seen a lot of photo's of where I live on
my Japanese blog
, so he and his wife wanted to a round trip.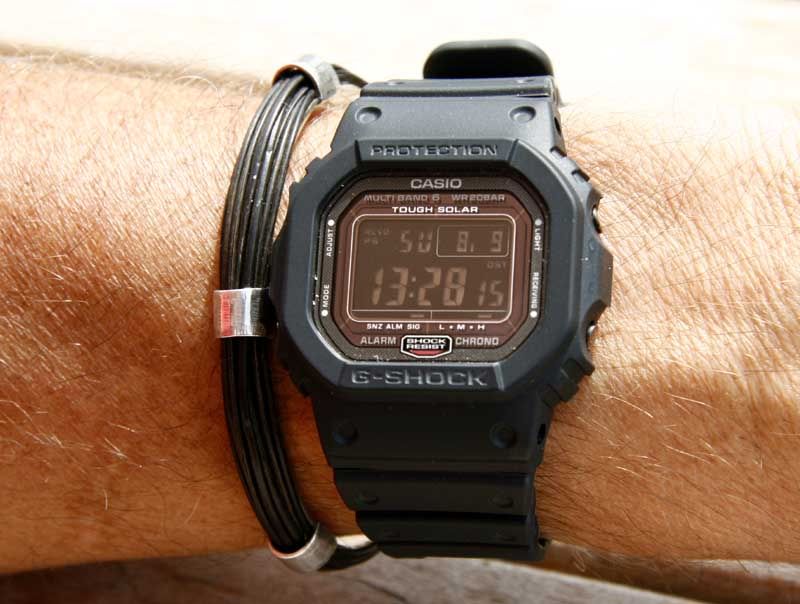 Such a visit has of course it's advantages. I knew Jur had ordered the stealthy GW-5000B-1JR at Seiya-san. To fund this watch he sold some watches. The retail price of this model is ¥43000, about €320.- at the current rate (lets not calculate in US$ to prevent heart attacks), so it's not cheap.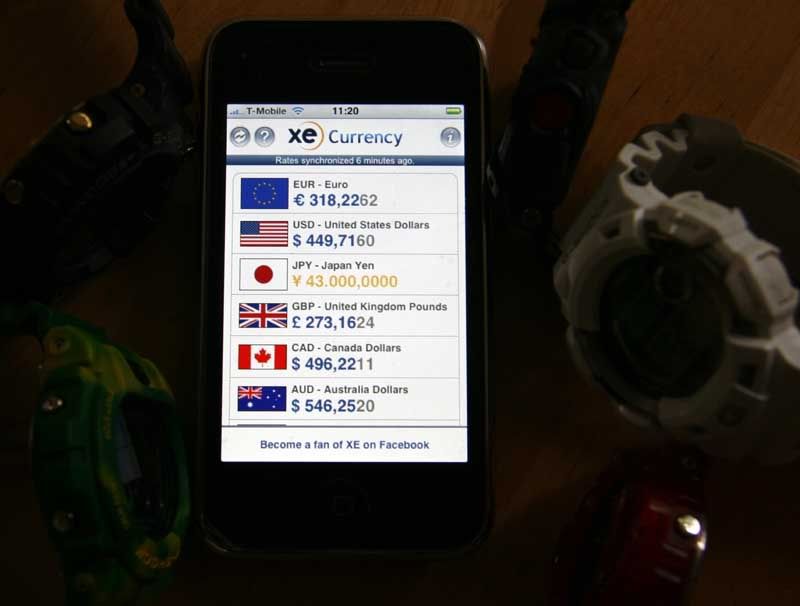 I bought two of his watches and put one on hold for after the summer holidays. I don't know what it is with this overdose of free time, but money seems to flow everywhere, so that last one have to wait a little.
Since I had also a present for Jur (guess what, I think it shows time and can be worn on the wrist), it was also convenient to meet in person. It saves some shipping cost (I'm teasing Jur, he brought a lot of presents for the whole family, but forgot the watches).
After some coffee, cake and a battery change on a MR-G (after telling that all classic MR-G's have a CR2016 battery we found, of course, a CR1620 battery...) we went to a restaurant with a micro brewery for lunch. Not only for lunch of course, though I enjoyed my bacon and eggs and Jur sandwich with traditional beef sausage looked very delicious too.
I already spotted Jur's new toy. He got his GW-5000B just in time. So after a good and tasty lunch Jur and I found a nice spot for a photo shoot of his new treasure. Today's G is this time not a G from my own collection.

The resin parts on the GW-5000B are deep black. It does hardly reflect light, at least significant less than "ordinary" black G's.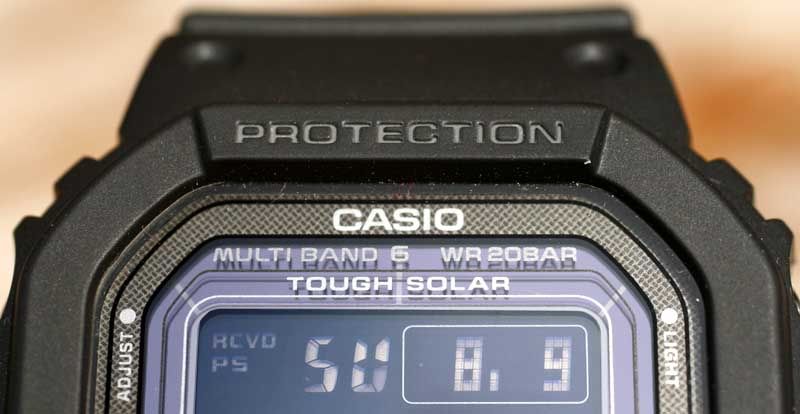 Also the strap feels a bit rubberish. It's extreme flexible and very comfortable to wear. Touch the rubber and you immediately want to strap it on. It reminds me to the original straps of the first DW-5X00C models, though this strap is thicker and seems pretty tough.

Pretty eye catching is the negative display. From a distance this black watch with a black display looks impressive. And that's not all.
When taken off you notice the shining black screwback. No, this not just ordinary coating. This is DLC coating.
DLC stands for Diamond-like Carbon. Like the name says, it is a carbon crystal structure that looks a like diamond. Very hard and durable. Normally carbon is sp
2
bond, with both double and single bonds. It has a 2-D structure, in other words, it's flat. This explains the use of graphite as lubricant or as most important ingredient of pencil fillings. The sp
2
carbon structures (only one carbon atom, = 70 pm, thick!) slide along the other structures with low friction.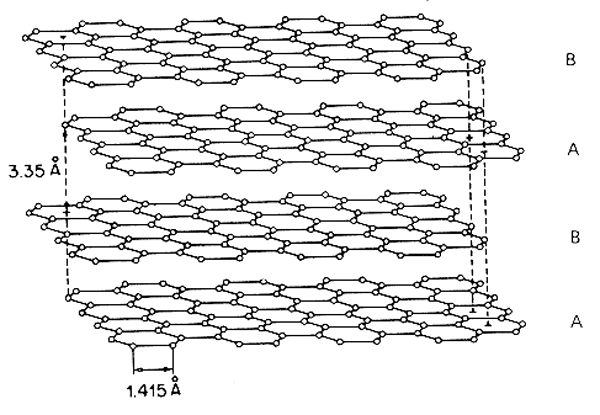 Graphite, you can clearly see the 2-D structure. Copyright: The IN-VSEE Project; Arizona State University 1999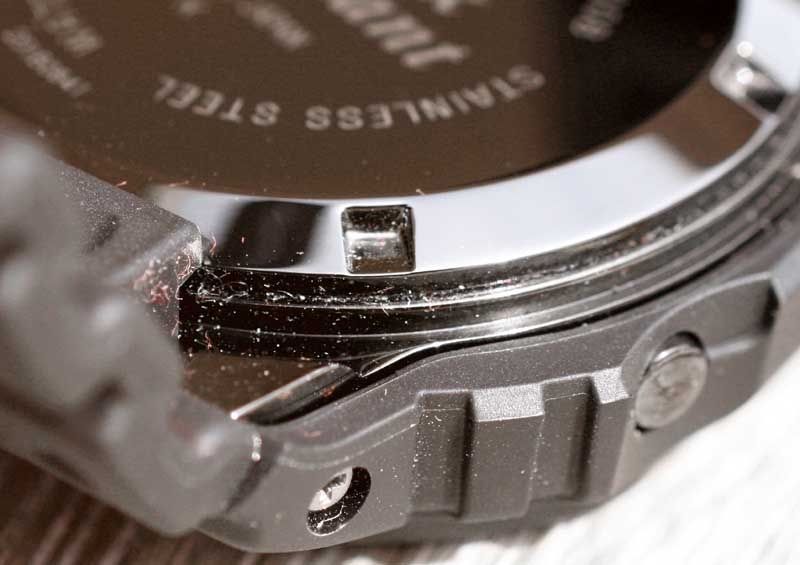 Under high pressure and special conditions you can force carbon atoms to form sp
3
bonds. This results in a tetrahedral 3-D crystal structure, which does not only look like diamond, but also has the same hardness. A coating of a few nanometers thick already reduces scratch and wear dramatically.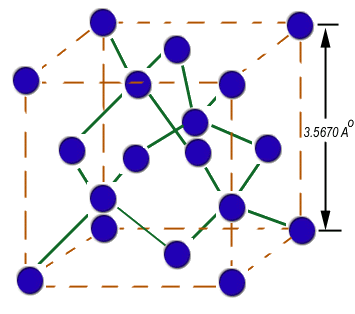 The tetrahedral structure of
sp
3
carbon. Copyright: The IN-VSEE Project; Arizona State University 1999
This coating makes the watch very durable, matching the aim of Casio for a green character. I would not be surprised if the new resin used is also more durable than the current resin.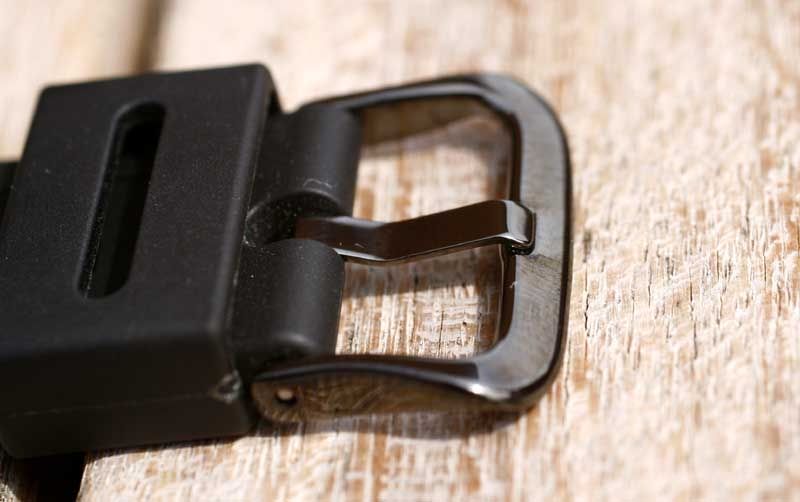 The resin used on the old DW-5X00C models tend to decompose when about 15 to 20 years worn. UV-radiation, moisture and sweat seem to be the main enemy of old bezels. Breaking vintage bezels seem to be the horror dream for the G-Shock collector. Dozens of mails I have found in my inbox over the years of owners of mainly DW-5300, DW-5900 and DW-6100 models. All with questions where to find a new bezel, because theirs broke. Sorry, I wish I knew a source for these long unavailable watch parts.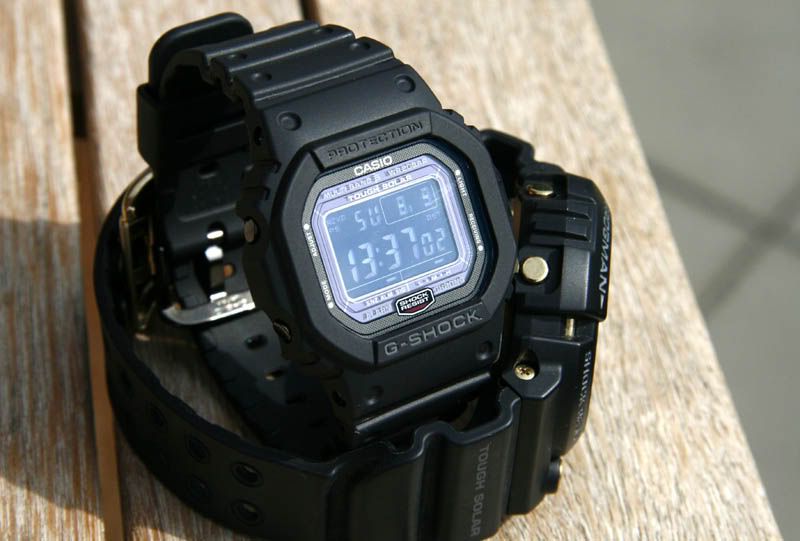 Back to the watch. So, at first you notice the black screwback, but a closer look reveals that the case is also DLC-coated. Even the buttons and buckle have this coating. This makes me look with respect at this watch. Such a basic design, so much high-tech and details on board.
The screwback is beautifully engraved. I think it's a kind of laser edged, or maybe it's the result of the DLC procedure. When observed closely, you see some kind of circular patterns in the edged letters. On the bottom there is a kind of serial number. Unfortunately the serial number can't be read as the conventional serial number as fond on the first DW-5X00C models and the Frogman models.
Although some people complain about negative displays, Jur thought this model was too cool to let go. I know Jur good enough to know he loves the basic square Gs. For this model skeptics talking about less readable negative displays prove wrong.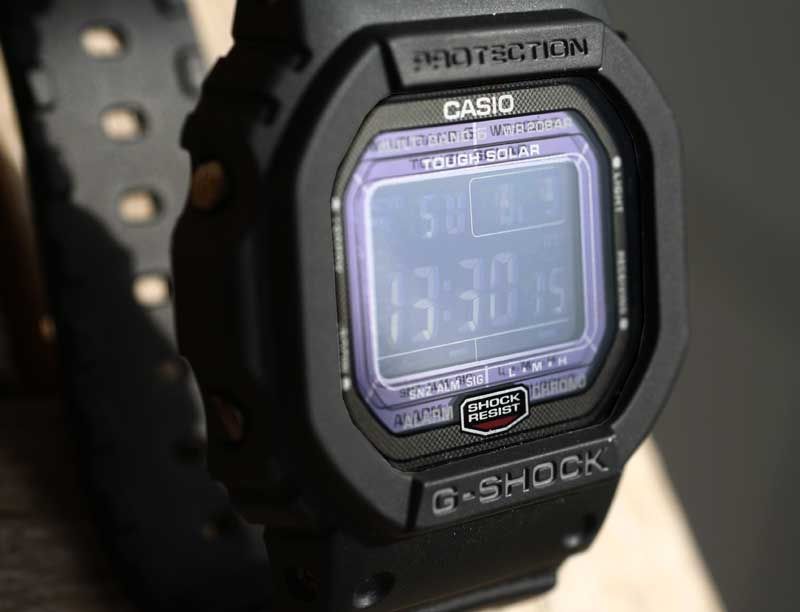 This display has very sharp digits, not only when viewed under a normal angle, but also under extreme angles. In fact, I think the viewing angle of this particular model does not differ from a traditional LCD display.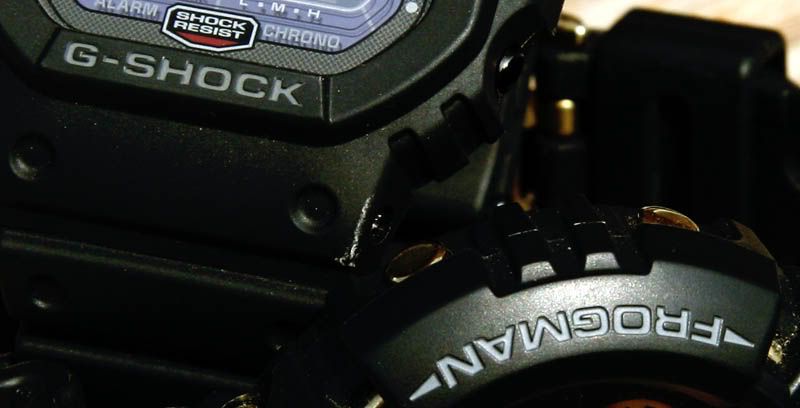 Jur told me how he always was intrigued by the fact that the basic square models are used for new innovations. This model is no exception. A tough solar module with 6 band receiver was been introduced in bigger models, but the combination of DLC coating and the extreme comfortable straps make this watch a small technical wonder.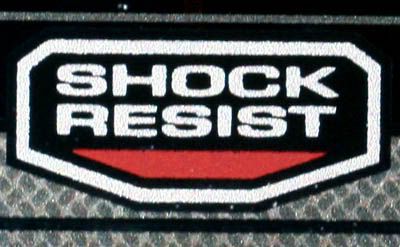 For who is interested in the GW-5000, but just don't have the ¥43000, there is also a basic version with a normal display. This version also has the DLC coated case and screwback and the comfortable straps. This model has a retail price of ¥38000 (€280.-).
The functions on the watch are the same as the recently released GW-6900. Unfortunately there is no English manual for the 3159 module yet.
The GW-5000B is not a cheap watch. This 6th generation of the original G-Shock is considered the Flagship of the G-Shock line at the moment. All new innovations made on this watch has it's price. It cost almost 4 times the price of it's grand-grand-grand-grandfather, which was ¥11800 in 1983. Probably hard to compare with today prices. I guess that was also a lot of money at that time.
Considering this all I think, like Jur does, this watch is worth the money. If you think it isn't, you can always buy a cheaper model. A DW-5600E can be found under $50.- if you do some search. Same dimensions, but though totally different.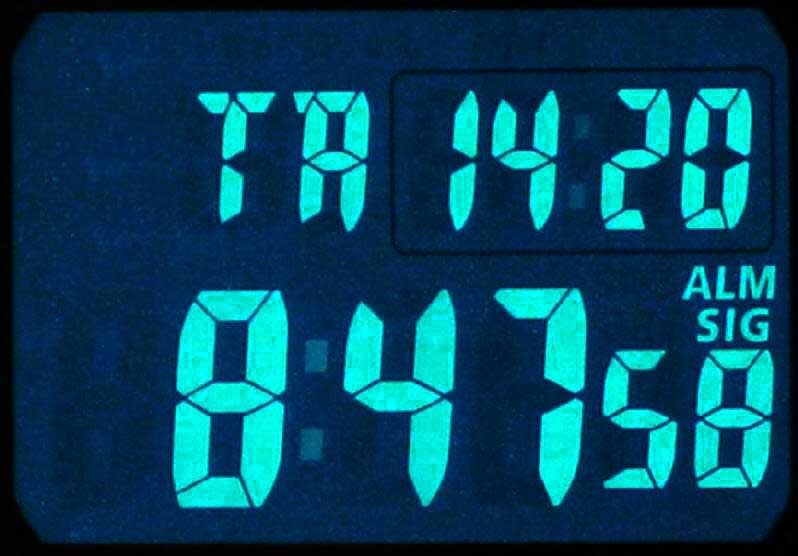 This is not the actually EL backlight of the GW-5000B. It is a mock-up of a G-5600. The EL backlight of the GW-8000 has a beautiful greenish EL backlight with very sharp digits.
The images used from IN-VSEE were allowed to be used for non-commercial use as long as the copyright of the pictures were notified. More inof: IN-VSEE, Arizona.