In 2007 Casio started preparing for the 25th Anniversary of G-Shock. As we know now, Casio packed out grand and collaborated with a lot of designers and artists. One of the nicest products came from the collaboration with "play set products". Shiro Nakano, part of their design team, designed G-Shock animated figures, called G-Men. The G-Men appeared not only animated, also action figures were made.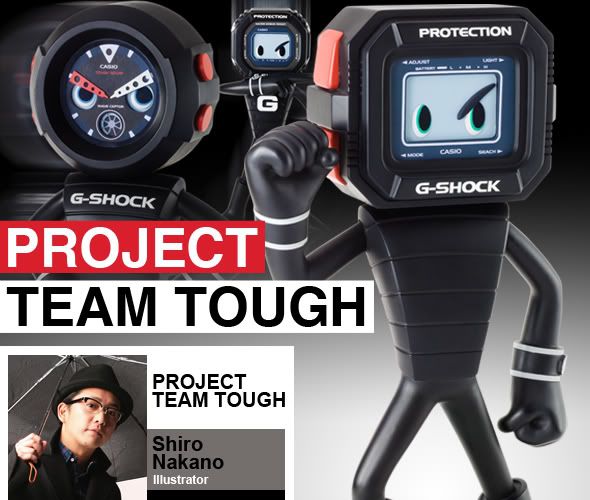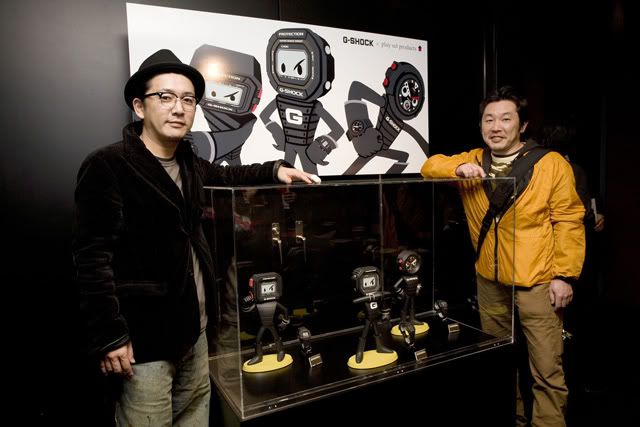 With a lot of envy G-Shock collectors worldwide saw how a limited supply of these figures were used in Japanese shop displays to promote G-Shocks in shops. Somehow it always seemed impossible to get hold to one of these.
Not only small shop display versions were made. At the "Shock the World Tour 2009" parties people could pose with a very big DW-6900 G-Man. This G-Man is awesome!
Finally in September 2009 it was possible to get one of these G-Man. A limited editions G-Shock package was released.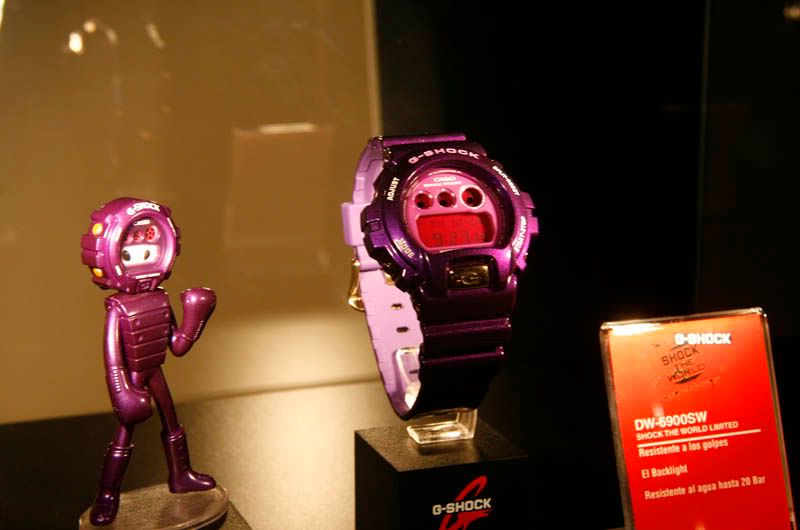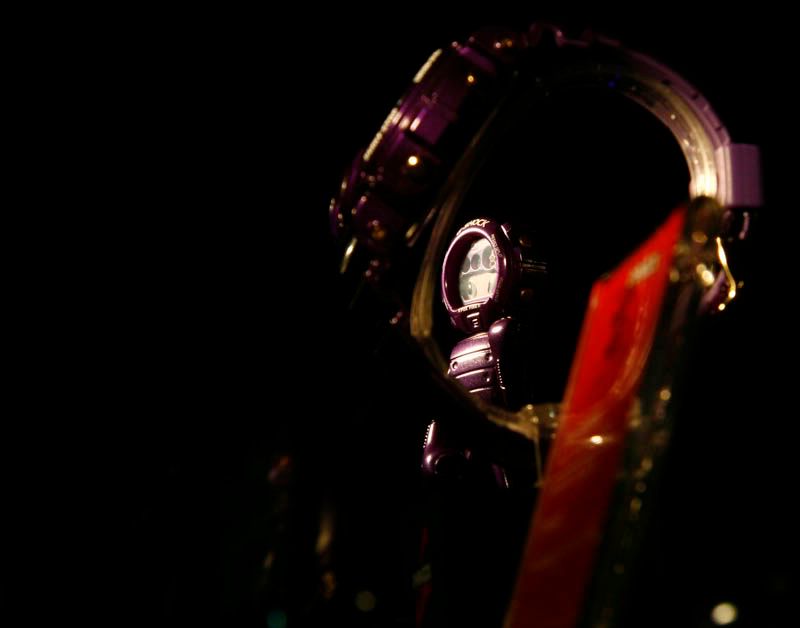 There was also a limited edition Baby-G with a sturdy looking G-Woman figure was released.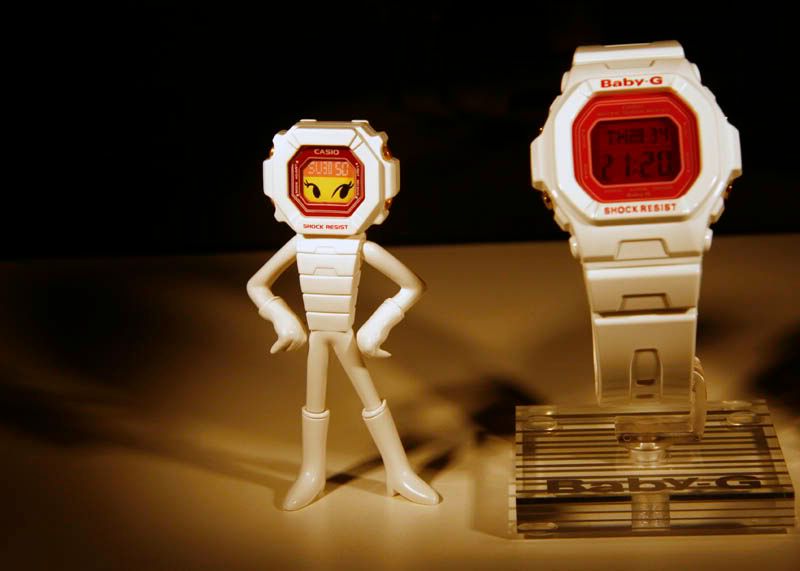 The models number DW-6900SW-6JR (and DW-6900SW-ER for the European market) didn't ring a bell at first, but at the party you could see these sets were called "Shock The World Limited".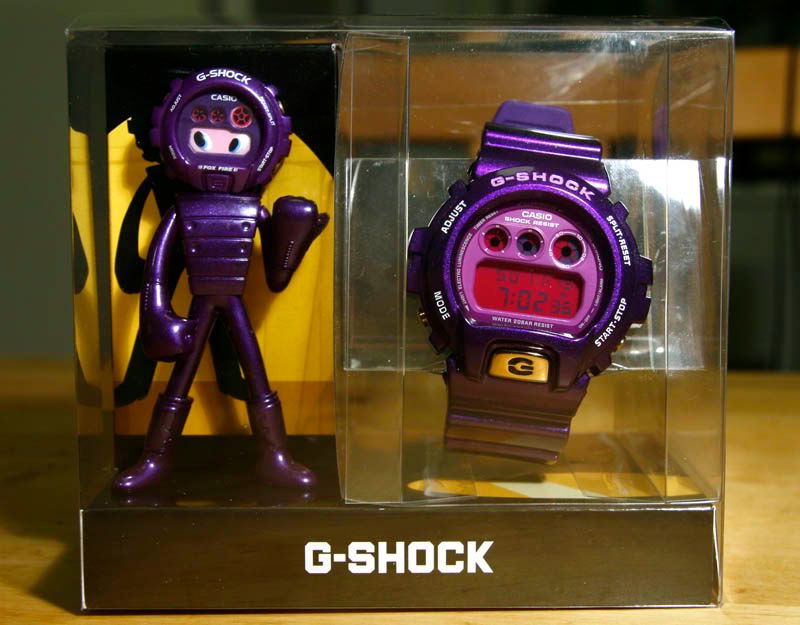 Although these limited edition packages are available on the Japanese and overseas market, I think most were given away in press packages for journalists at the European "Shock The World Parties". I must investigate if my writing for "50 Gs" is journalist worthy, so I can get a press card…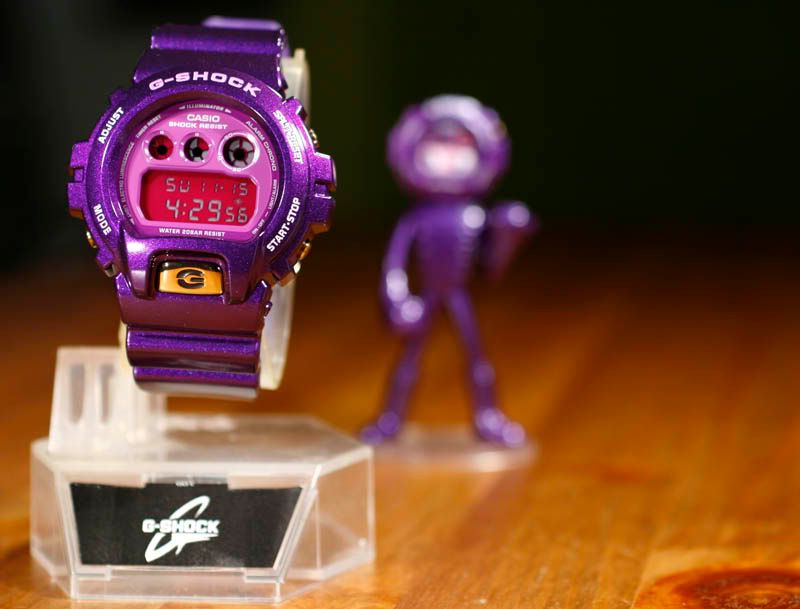 I met a nice journalist actually. She ripped open the package she got in her press package and strapped on her Baby-G. So I asked her what she was going to do with the little figure. "You want it?" she asked. "Sure". So I now own both figures. Cool!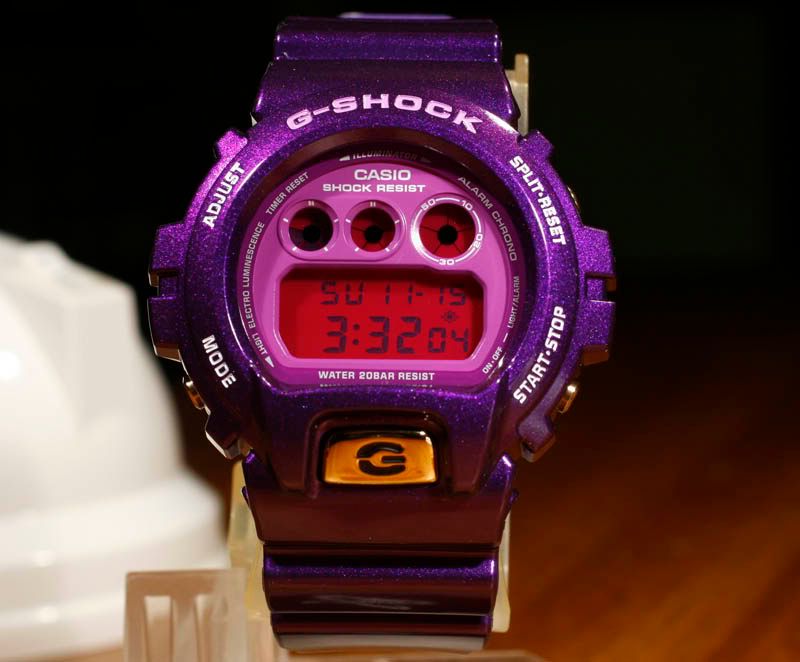 The DW-6900SW-6JR looks like a special version of the purple DW-6900CC-6JF Crazy Colors model. At first glimpse they look alike, but when you look closer, you see small differences. The light button on the G-Man Package model is gold metallic, while the DW-6900CC-6JF has a purple light button with a white G. The buttons and buckle of the G-Man model are gold tone, while the crazy colors version has silver buttons and buckle.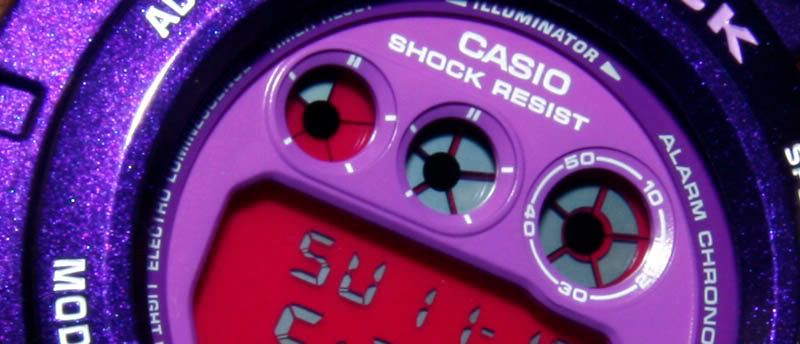 Also the back engraving is totally different. Instead of a standard DW-6900 back, the DW-6900SW has the head of a G-Man engraved.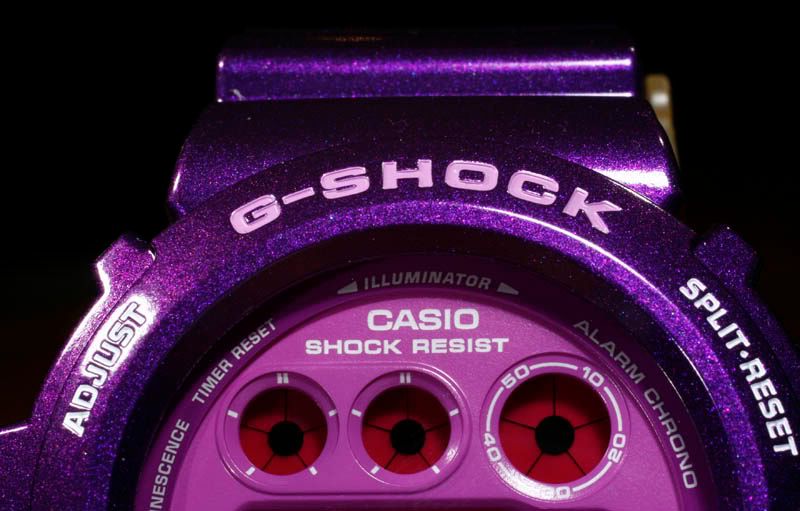 I wish I could make a comparison of the Crazy Colors and G-Man Package model side to side. I almost bought this model at Schiphol Amsterdam Airport. I could have bought it for €87.- at a tax free shop.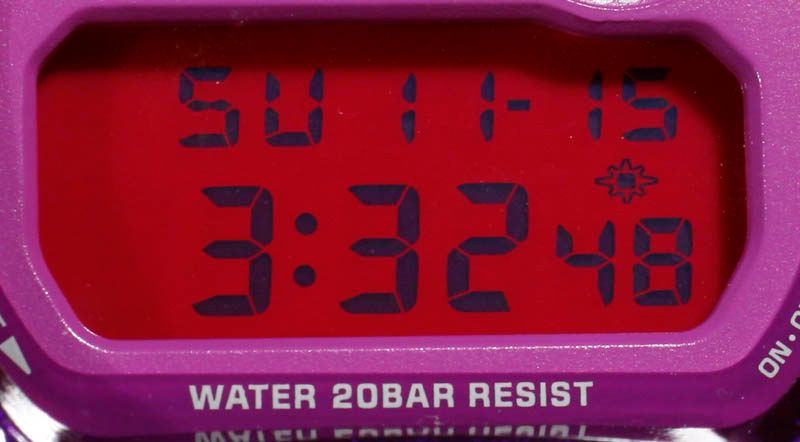 I thought this was a little much, but after some investigations, I noticed the purple model Crazy Colors model is not easy to find and it is quite more expensive than the first Crazy Colors DW-6900's. Finally, after a long search, I found one for around €68.- in Singapore. Most ones I found were actually about the same price as on the airport.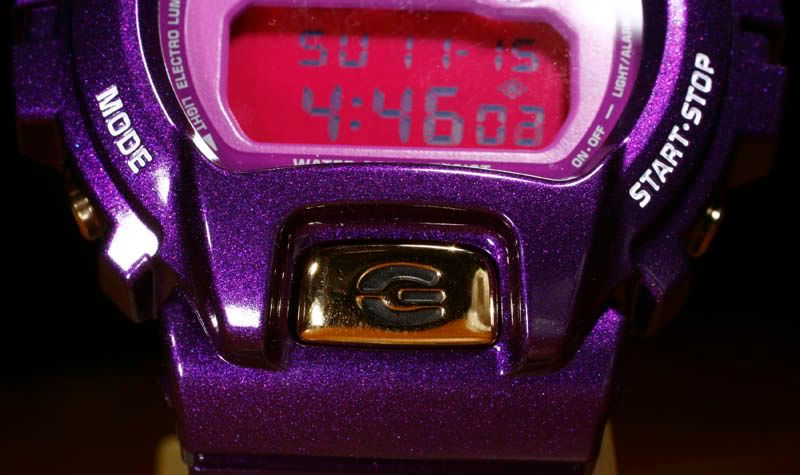 If you ask me which of the two looks best, I'm afraid I can't give you an answer. The gold metal button looks pretty good, but I think the purple button with a white G matches better with this model. The gold metal button doesn't look that bad either…
By the way, for G-Shock connoisseurs, the airport shop also had a 1997 MRG-210 (with dead battery), for €330.-. This sounds pretty expensive, but it was about the original retail price back then.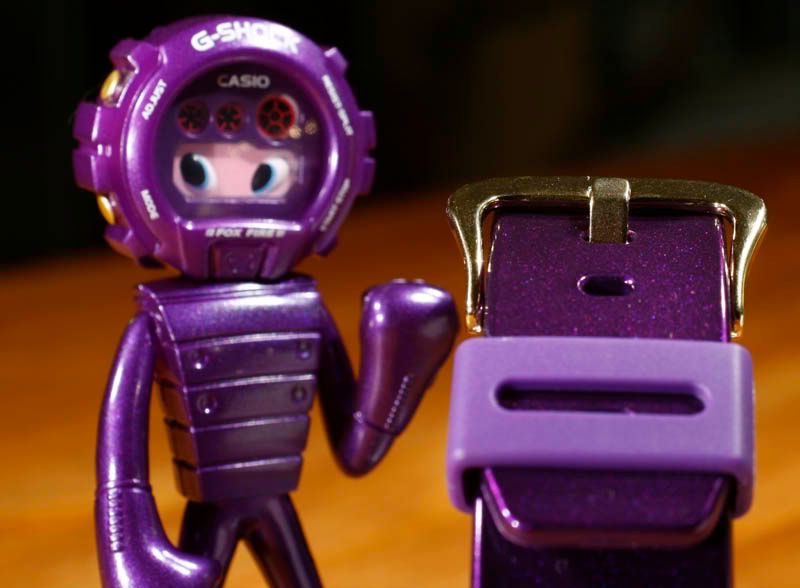 The package is presented in a plastic display box. My experience with these boxes is not very good. I had a nice presentation box for my "Pegasus and Unicorn" Lovers Collection 1997. After opening the box about two times, the plastic tore open. This box feels a bit more solid, but I think it was meant to be disposable. With that in mind, I was pretty anxious to get the watch out of the box for a photo shoot. Actually I made several great photo's at the party in Barcelona, but, of course, I needed more.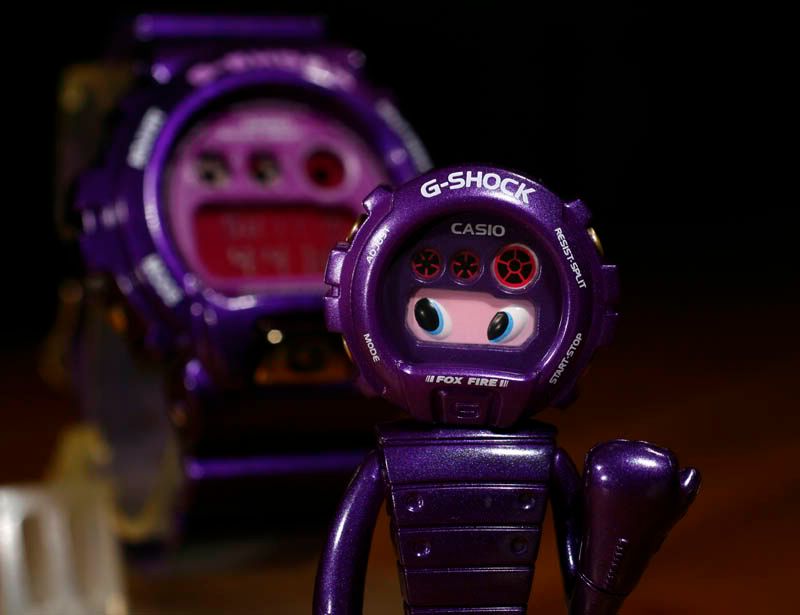 This is not the first DW-6900 on 50 Gs, and certainly not the last, so I can be short on the functions of the watch. It has an alarm with hourly chime, a 24 hour timer and a 24 hour stopwatch on board. Pretty basic, but in daily life just need, besides time keeping.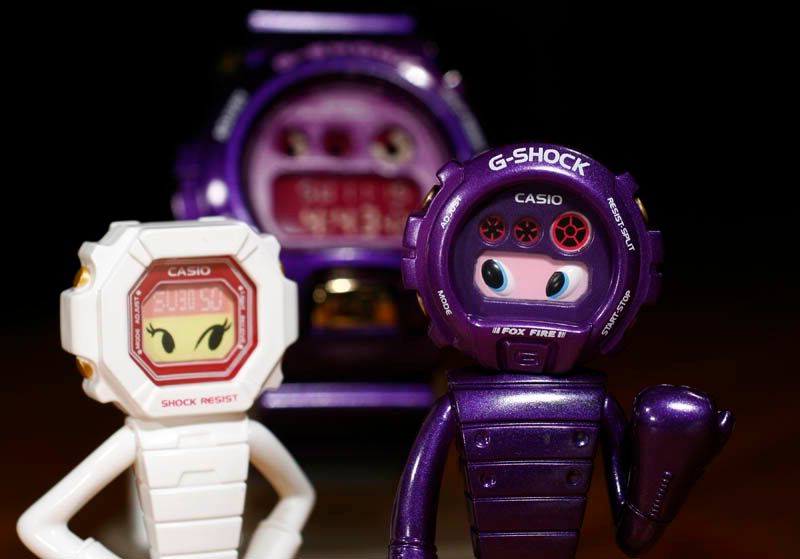 Among the Crazy Colors models with mostly very bright shouting colors, the purple model looks almost a bit introvert. While purple might be considered not everyone's color, it does look pretty decent on this model. The resin has a glossy metallic finish, which actually looks like a print. The inside of the band is plain purple.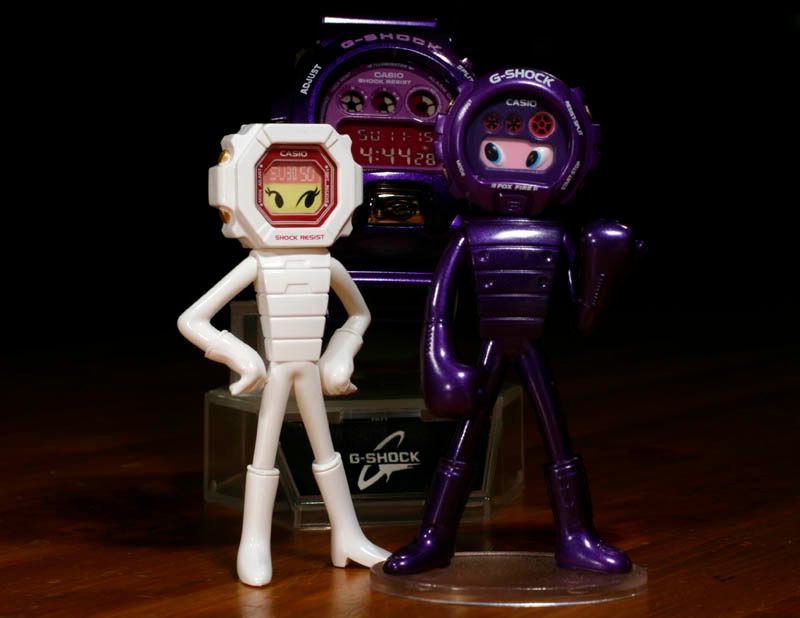 The display has the same mirror effect as that is found on the Crazy Color DW-6900 models. The display is fuchsia, while the digits vary from black to almost white, depending how light falls on the LCD.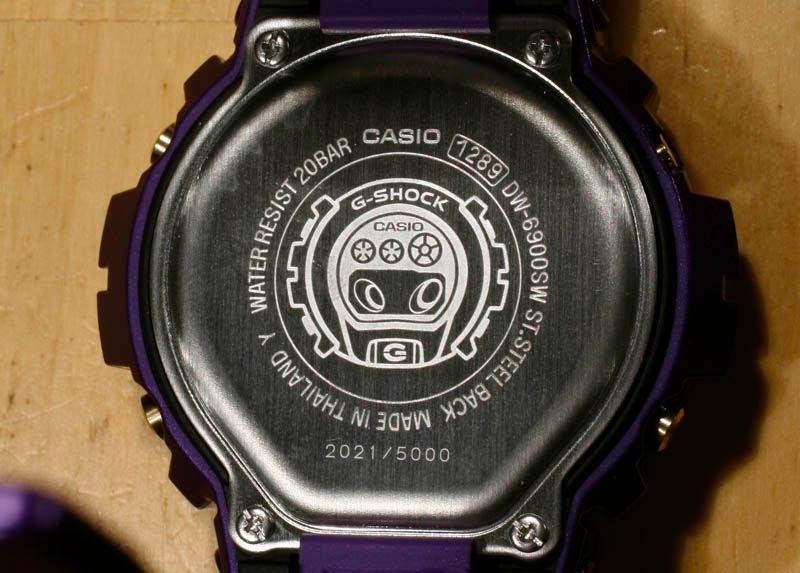 The backlight is bright magenta. You'll get noticed if you use this backlight in the dark. Not everyone would like this, but I think it's very cool.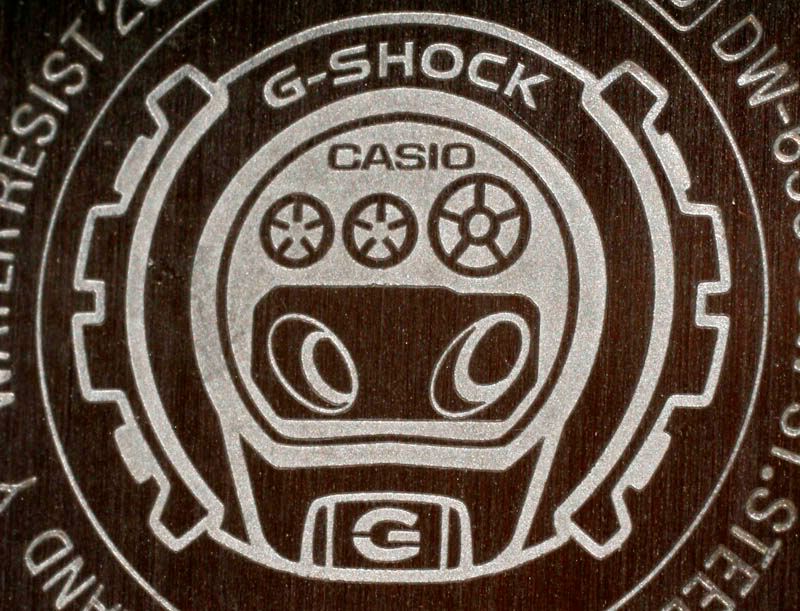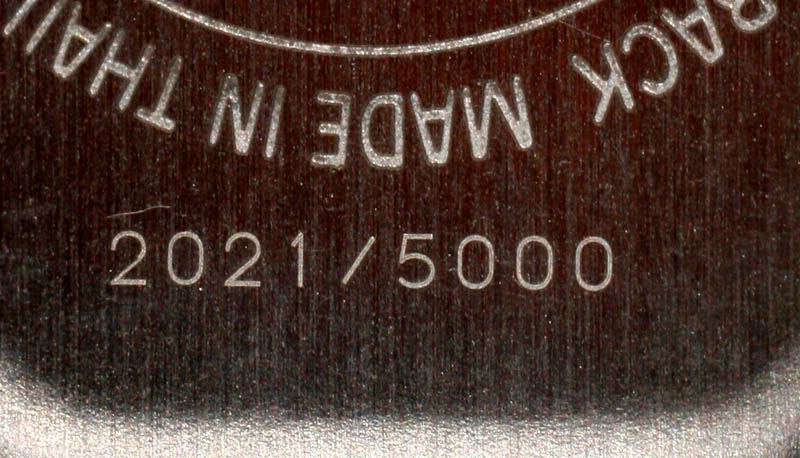 At the moment the G-Man package is still available in Japan and East Asia. I have no idea if the package was officially released in Europe, though –6ER versions are on auction on eBay. I suspect the availability will dry our soon. When I ordered mine in Japan, Katsu Higuchi-san told me this package was limited to one box per retailer. At the back of my DW-6900SW-6 there is stamp showing mine is number 2021 of 5000 pieces.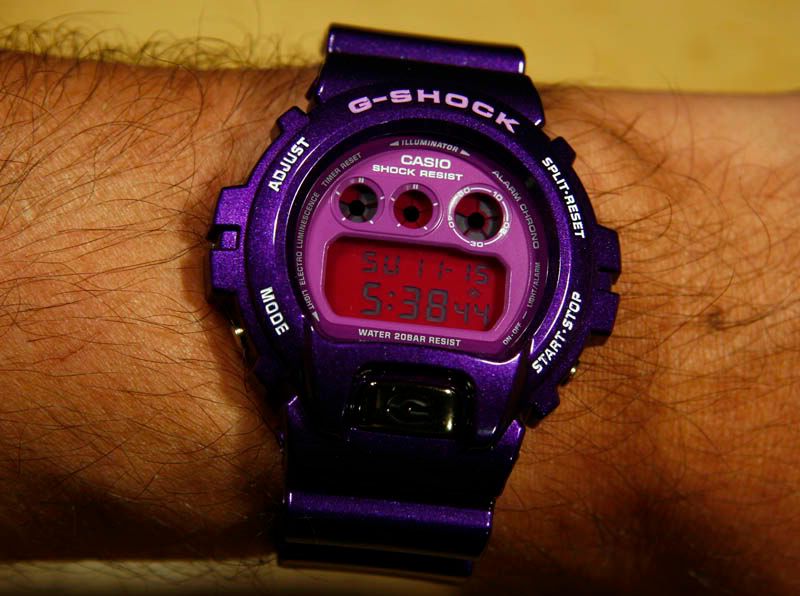 The original retail price was ¥16000 (€120 , $178). For a special model, I think the package was not very expensive. Recently I saw the G-Man figure on auction for a starting price of €33.-. with retail price for the purple Crazy Colors is here in the Netherlands around €90.-. If you now take a look at eBay, you see that the price has risen from $200.- to $260.-.
So it worth buying it? Well, if you are a G-Shock collector, I would say yes. I have waited a long time to get hold of one of those G-Men. This is one of those models you want in your collection. If you just want to have a cool deep purple G-Shock, you could save yourself a lot of money by buying a purple DW-6900CC Crazy Colors. The gold metal light button is funky, but I think a resin button looks better on a DW-6900. I couldn't choose actually. I bought a DW-6900CC-6ER a week ago. It should arrive any day now…