The DW-002 is not a pretty common G-Shock that you see often around. Still this model has been produced for almost five years. The first model was released in November 1994, the last models arrived at July 1999. In Japan there were 36 official versions released and a lot of them were at least sold in Europe too.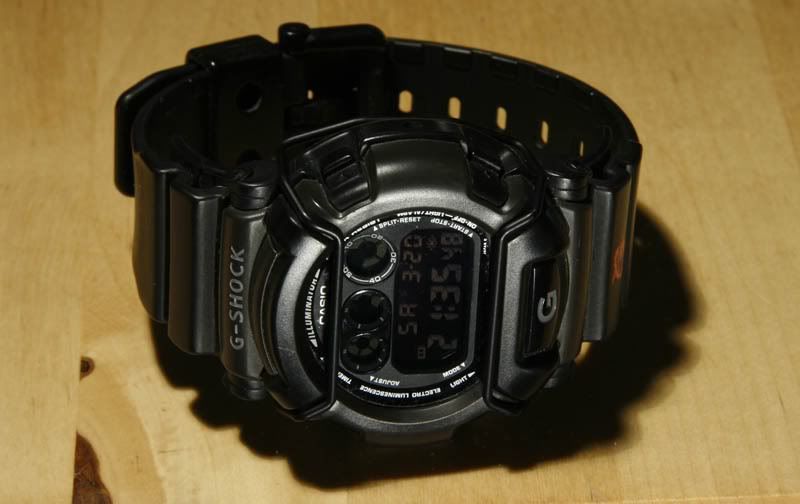 I was actually bidding on a DW-002 this week.
My blog friend FUMI had bought a DW-002J-9
and I had seen it a lot on auction on eBay Germany. Within a few minutes
I saw an auction for one,
but unfortunately I was outbid. I was quite amazed people bid over €31.- for this model, while a few years ago a bid of €15.- would have been sufficient.
DW-002BJ-4 (red leather strap version)
ended much higher than I expected. I noticed that on all other DW-002 models several bids have been placed. It looks like there are some collectors in Germany that love this model at the moment.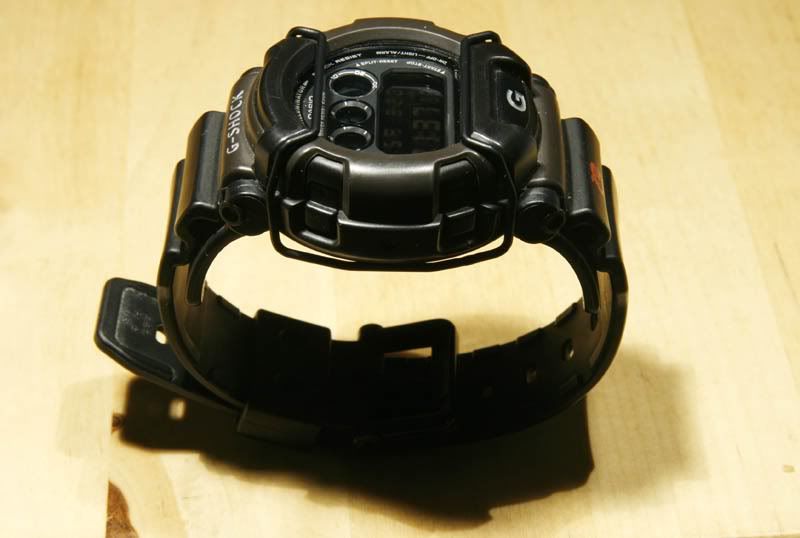 So, what is this DW-002 model. Officially this series has no name, though they are all easy to recognize. All models are pretty dark colored, Black, dark brown, dark blue and olive drab. All displays are negative (reversed) and on the strap there is a dragon in the shape of the G of G-Shock. They were all released in July 1997 and there are quite a few models. The model numbers start with DW-002US, DW-003US, DW-069US and DW-056US. The versions with a leather strap get an extra B (USB), the versions with a double Velcro strap get an extra V (USV). This series contains a total of 12 models, which is quite a large number in a series that is released on the same month.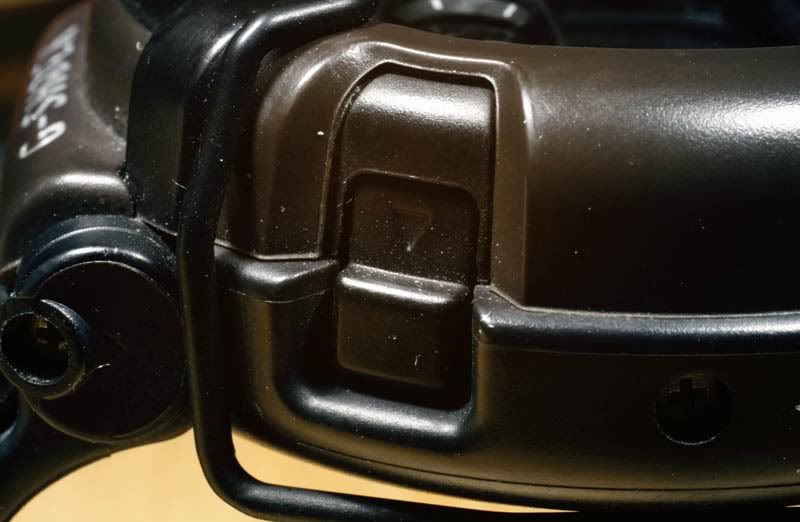 I often refer to these models as the "Dragon" series, but you can also call these also the "American Street Culture 1999", as these models were designed to be adopted in street culture. These series were not only sold in Japan (Foxfire models), but also in Europe and the US (Illuminator models). In Germany this series was very popular. In summer we have a lot of tourists on our island and I noticed between 2000 and 2003 a lot of these on wrists (mostly the DW-056USV and DW-069USV models).
In Germany G-Shock models got, besides the model numbers, also names. Models in this series got names from Greek Mythology. This DW-002US-5 was called Adrastos.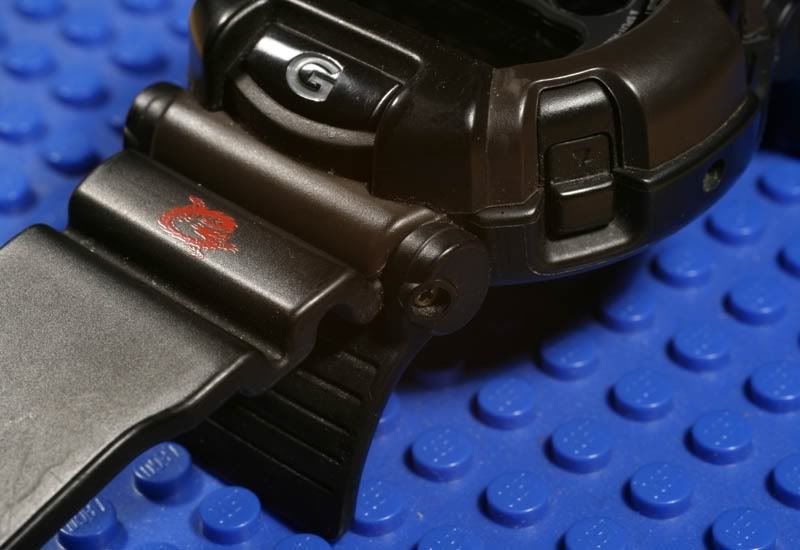 Adrastos was king of the Isle Argos during "The War of the Seven against Thebes". He gave refuge to Polynices, so of King Oedipus of Thebes, who en passant married with a daughter of Adrastos, and Tydeus of Calydon, who also marries a daughter of Adrastos.
Polynices was in conflict with his brother Eteocles about ruling over their inheritance. They agreed with their father that they will rule alternate years over Thebes, but after one year of ruling Eteocles refused to hand over the power to Polynices and raises an army against him. Adrastos led an army of 7 men in The War of the Seven against Thebes". In this war Polynices and Eteocles ended up in a man to man fight. They both died. Only Adrastos survived in his army against Thebes.
Later another army fights against Thebes. Now with the sons of the fallen warriors of the first war against Thebes. This 2nd War against Thebes is better known as Epigoni.
I wonder if someone had studied classical languages at Casio Europe at that time. Unfortunately I can't retrieve all names of these models that were brought out in Germany.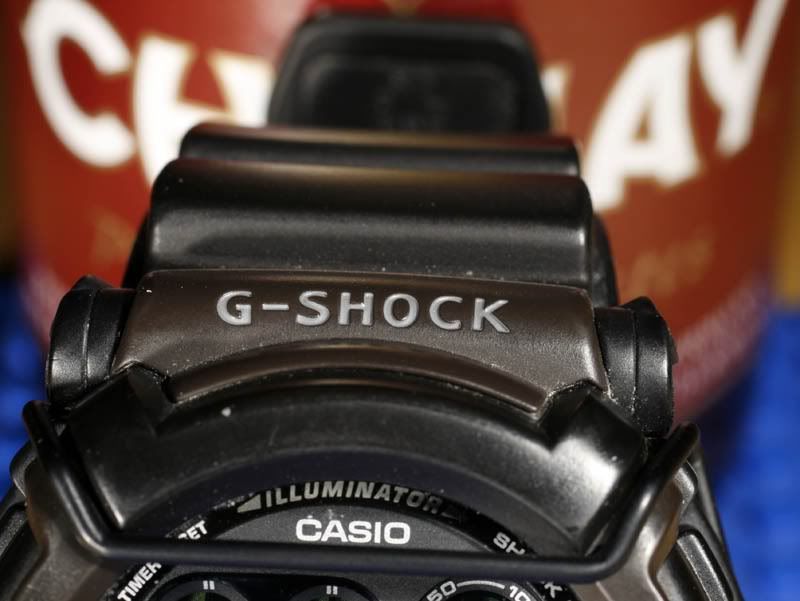 The DW-002 is a so called "NEXAX" model. The NEXAX models are all DW-001, DW-002 and DW-003 versions. I believe these models were called "Capsule Tough" outside Japan, because it probably looked like the module was protected in a capsule.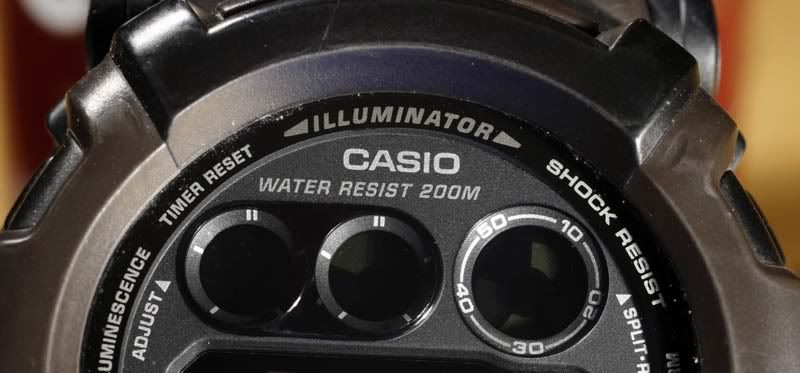 Of all NEXAX models, the DW-002 is probably the most thick and big looking one, but don't let the design fool you. The DW-6900 is 16 mm thick (with the raised part of the G button), The DW-002 doesn't have a raised part and is 16 mm thick. In width the DW-6900 even wins by 1 mm. The huge look of the DW-002 can be explained by the high side of the watch. While the DW-6900 gradually rises to the 16 mm, the DW-002 goes almost immediately to 16 mm. Only a small 1 mm rim at the bottom sticks out a little.
The wrist protectors, placed for better comfort on the wrist, I assume, also add to the huge look. The straps are a kind of rubber like resin which together with the plastic buckle provide very comfortable wear. Some people had doubt about this type of buckle in the past, but there has not been a plastic buckle yet that failed on me. Instead of metal buckles, this buckle feels warm and does not lead skin into the buckle as the band is pulled tight.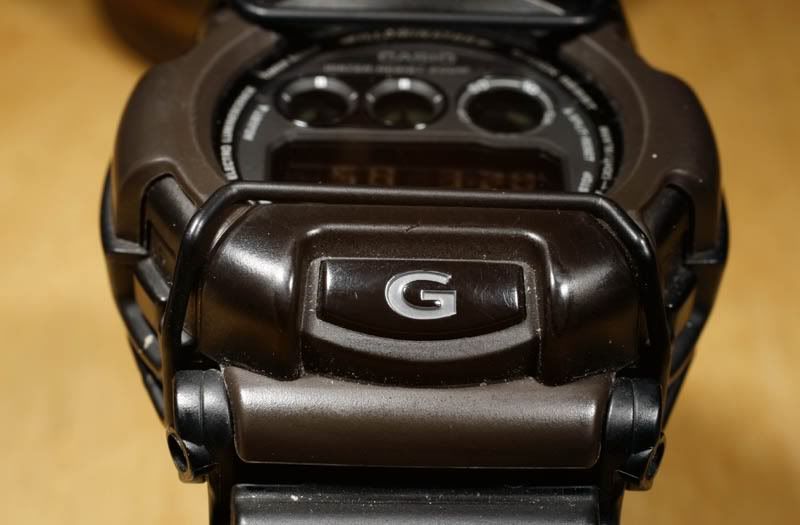 I once had a broken plastic buckle on a DW-6900H. It had nothing to do with the wear of the watch. The watch was poorly packed in an envelope from Germany to The Netherlands. The envelope didn't look pretty nice when it arrived and it seems the watch, including the buckle, had been crushed between the stamp machine or some automatic transport or sort system. The buckle arrives as a kind of 1000 pcs 3D puzzle.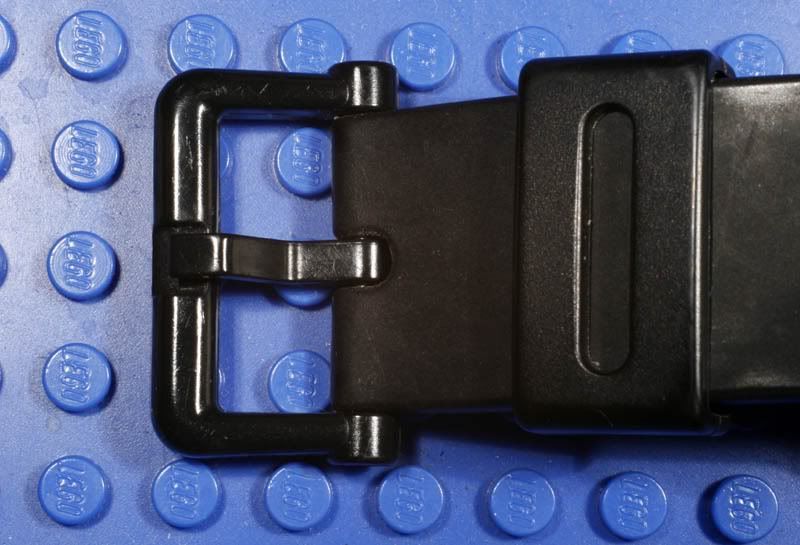 This Adrastos is equipped with a crystal protector. This protector does not originally belong on this model. Keith of Tiktox found several of these protectors. He sent me this one and asked me if I could identify this protector, as it didn't fit a DW-6900 (let go a DW-5600E). I tried several watches, but ended up quickly at the DW-002. When looking down the DW-002 history, you'll find indeed "surf models" with this protector applied on the case.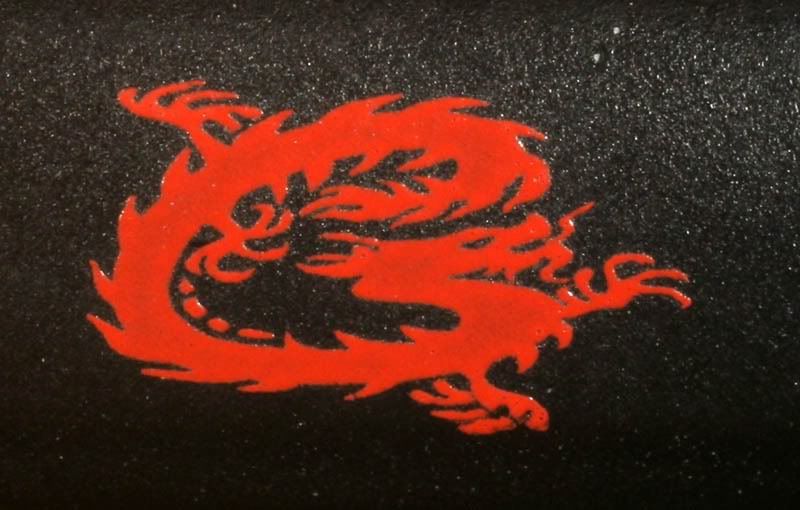 I'm not sure I'm happy that I put this protector on this model. It is not really easy to find this specific model, though other DW-002 models are pretty easy to find. The protector leaves a small imprint on the case, which means that they are visible when the protector is removed from the case. The DW-002 is from itself already looking very tough. A DW-56000E or a DW-6900 with a crystal protector (AKA "Bull Bar") looks much tougher then without, with a DW-002 I think the looks does not change very much.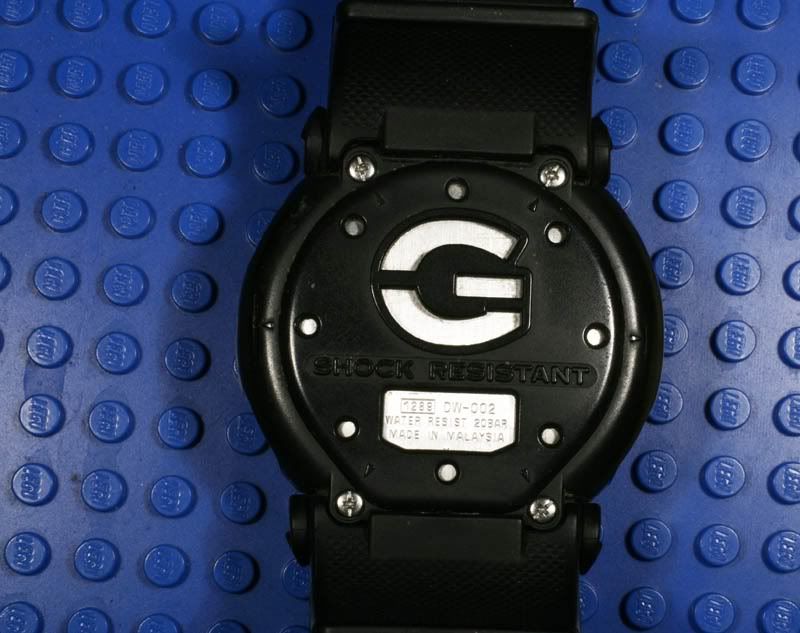 The color combination, dark brown/black is not a common combination for G-Shock. A pity, because I like brown colors. The buttons are well protected by the case and are unusually shaped, as they follow the shape of the case. Unless they are well protected, the buttons are easy accessible.
The DW-002 does not come with a specific module. This model comes with the 1289 module, which we know from the standard DW-6900 model. Most come with the same module as the standard DW-003. Some other "surf models" come with a module like that is found on the DW-003S and DW-9000S surfing models. A lot of these yellow/grey DW-002S models seem to go around on eBay Germany.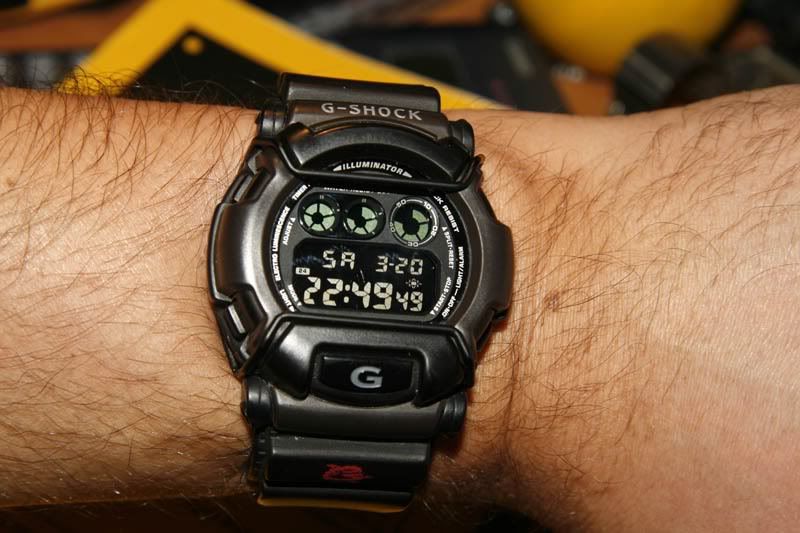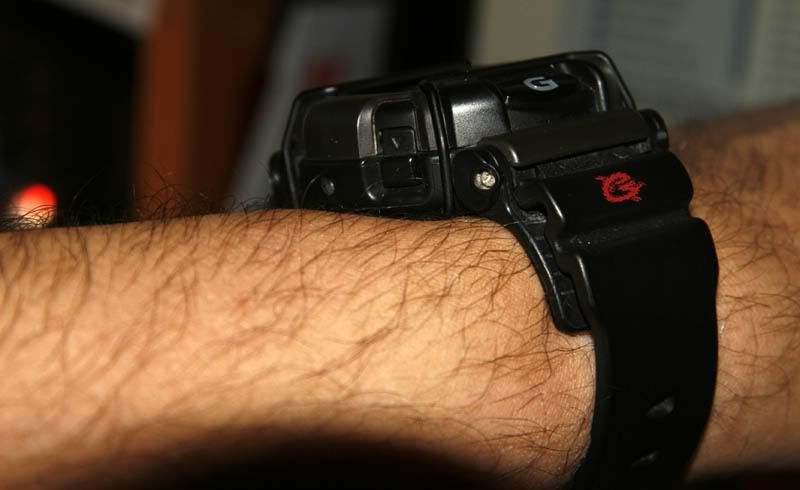 Like all "Dragon models", this models comes with a reversed display. If you now buy a new model with a reversed display, the display is very crisp and clear, as you could see last week in my G-7800B article. The difference in visibility does not differ much between a normal display.
Back in the 90's reversed displays were not as clear as they are now. The contrast between the dark background and the light digits is not always optimal. This makes these displays harder to read in darker surroundings and at angles. Luckily there is backlight. I like reversed backlight. This model has green digits on a black background.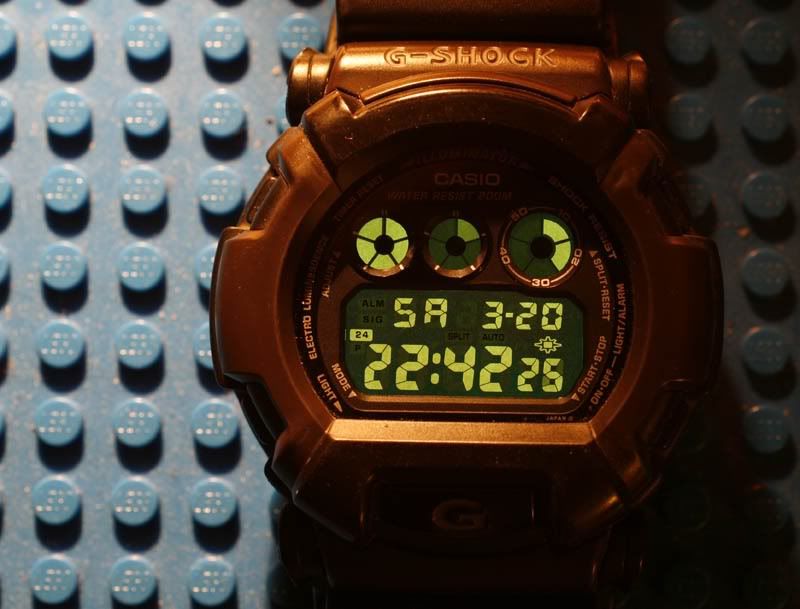 DW-002 models are still pretty easy to find, even more than 10 years after the last model has been released. For the prices you also don't have to worry. I think I paid less than €40.- for most of mine (except for the DW-002RS Rolling Stones). Since these "Dragon models" were probably the basic models for 1999, a lot of them were sold. They sometimes pop up on eBay and other places. I got two of these Adrastos models and I think I paid around €30.- for each, but I have to say that I bought the last one years ago. I very much like this model, but actually I like all DW-002's. It's the brute huge case that leaves a tough impression. I like that in this no nonsense model. If Casio likes to revives an old model, like they did with the G-5500/GW-5500, I would be very happy with an upgraded DW-002 with a G(W)-6900 module. It might fit in the trend of bigger and tougher looking watches.