Another intermezzo?
- Yes.
Why?
-Writers block, I think. I have been staring at computer screens for hours the past few days.
Ah, you only have to write another 48 articles for this year.
-well, I hope a little less. I found a volunteer guest writer who can help me out every now and then.
So, What's keeping you busy these days?
-I found a great CD about a month ago. I forgot it for a while, but the last days I have been playing this on my iPod at the laboratory. Everybody seems to like it. It's 4x4=12 by Deadmau5. Check out "Animal Rights"! (don't forget to pump up your speakers).
Ah, nice tune! Anything else?
-Yep, I got a great "Lucky Package" from KIKS TYO earlier this week. It's the ¥10000 package and it was filled with a lot of goodies. Have a look:
-A cool Batman Hoody.
-A very nice and warm pair of elephant padding jogging trousers.
-And 4 cool shirts!
-I had seen these Sneaker Pimps tour shirts, but they were unavailable for me, as I could not visit one of these shows. I am very happy I could get one this way.
-A T-Shirt of the Graphkiks Collection, featuring Yuu Tejima
-Old School Hip Hop
-Great Flavor Flav shirt in hot pink. Yeah Boy! Cool for summer.
Wow, That's a nice bunch of clothes!
-Thank you, KIKS TYO has some great offers at the moment. I think the Lucky Packs are still available and today they even added a special Lucky Pack Tee for only ¥5000.
Check out this link
, a lot of new stuff is added lately! My recent trip to japan and the purchase of a new DSLR camera has put my budget for the moment to the ground, but I have asked to hold a black "KIKS TYO x KINETICS "YEAR OF THE BUNNY" T-Shirt for me.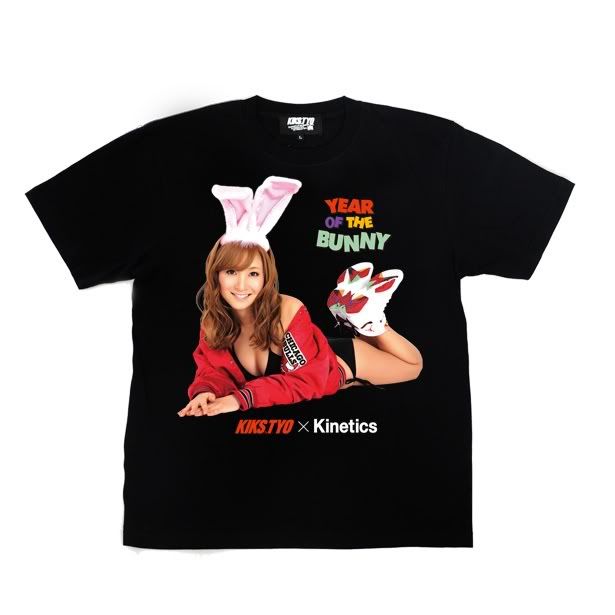 As a returning customer, that was no problem. Did I even tell you I met Hobby:Tech?
Wow, That's pretty cool.
-He was a very nice down to earth guy. Very busy and I am very glad he made time for me.
So, do you have any plans for the weekend?
-Yep, I just reserved tickets for the cinema tomorrow.
What movie?
-I noticed last summer that Daft Punk was signing for
"Tron Legacy"
. I very much like the old "Tron" movie. I've got it on DVD and my son Bram has played this movie quite a lot. Since I have the new Daft Punk soundtrack, he plays the CD over and over again in the CD player. He never calls them Daft Punk. He always says "The Robots". I think Thomas Bangalter and Guy manuel de Homem Christo has delivered a very solid soundtrack for the movie. Tomorrow Bram and I will see how it works in the movie. I think you can hardly imagine how much Bram is looking forward to this. While I was in Japanthe single "Derezzed" could be heard everywhere in shops, restaurants and public buildings.
Well, that's a great track from Daft Punk. Didn't I hear this track on the "Shock The World Taipei" party of 2011?
-Oh yeah? I should search for STW Taipei video's. But first I need to think out a subject for a new 50 Gs article and start writing....
Good luck writing and enjoy the movie tomorrow!
-Thanks!