Sometimes when you see something you think: "that's not for me". I had that feeling with the introduction in 2003 of the Cockpit series. G-Shock were for me tough watches with colorful designs in resin. The G-Shock I fell in love with were the DW-003 and DW-004 models. I had seen MR-G models, but even they were so not me back then. G-Shock can't be shiny metal.

On a day in 2003 I visited Ghent. In the Saint Bavo Cathedral I saw a German tourist wearing a G-510D. While the man was looking at some kind of relic, I observed the watch. It looked so much bigger than I though it was. And it looked kind of tough too. Still I wasn't convinced, but at least I got curious.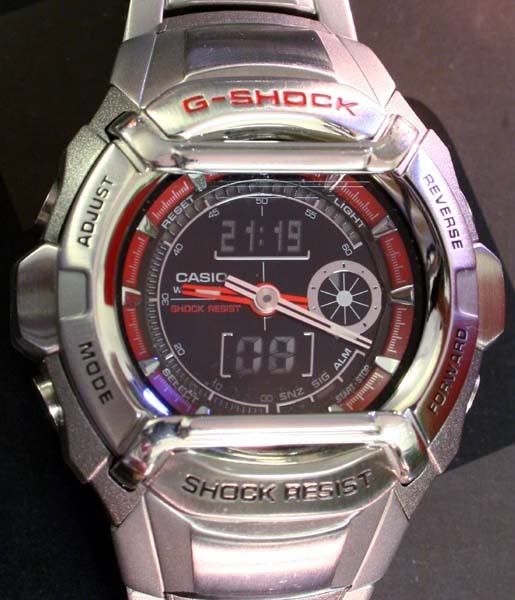 Then Casio made this. The G-520D-4AV with a red finish in the dial. Since red finish works on me as a red cloth to a bull, this was it. I fell for a cockpit. It was called "Cool Captor" in Germany. I bought it in March 2004. Wow, this watch was really something!

In 2006 a student of me wanted a G-Shock. She liked my G-520D and bought it from me for a friendly price. No problem I thought. I buy myself a new one. In Singapore there was a seller who had them on auction and the end prices did not end high. December 2006 I had a replacement watch. No it's not the watch in the picture. Don't ask me how, but in February 2007 the watch was stolen from my house. We had some drastic rebuilding in the house and quiet some workman have worked in the house. Somehow probably one of them got upstairs (the work was mainly in the basement!) and found my watches. Along with a DW-6900 Jam'In Color he took my G-520D. Bummer. For some months it looked like the seller had sold al these G-Shock's, but fortunaly a few months later I found one again.


I went to Ghent yesterday for some shopping. Wearing my favorite Cockpit model. I found some good beers in a beer house and these chocolate bars is a very nice cook and food shop.