The G-Viper series were launched June 2003 . All models have a colored LCD. The resin parts are in some kind of grey tone, mixed with the color tone of the display.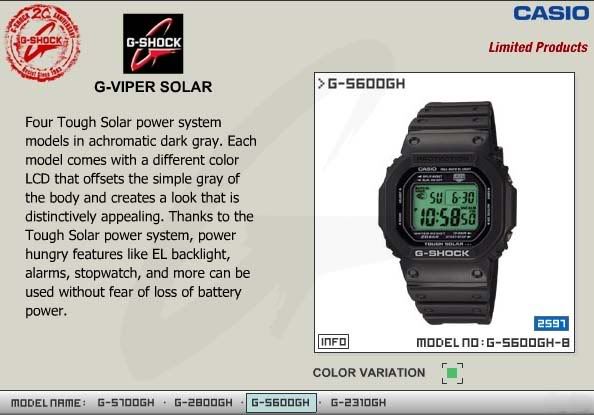 Somewhere in spring 2004 a student of me was looking for a G-Shock for his Birthday. I had some spare time and we browsed the internet. At Eblazeon (unfortunately does not exist anymore) we found this great G-2300GH of the G-Viper series. I believe it cost around $80.- at that time. His mother, who happens to be one of my bosses, loved the idea, so about a month later he was walking around in his G-Viper. It had an amber display and the resin parts were brown/grey. Very nice.

The only G-2300GH I saw later for sale was sold just minutes before...
About two weeks ago a friend of me mailed me he was cutting in his G-Shock collection and thought about parting his G-5600GH. If I was interested. A few days later I found the package on my computer desk.
I had made some made a wrist shot last Friday and I soon after that I got the message the bezel and straps were black. Well, that was right. I also got the original straps with it, but didn't had the time to get the originals back on it again.
Sunday. I wake up and have to remove the glasses, bottles and bowls from the table. I threw in a "Mustard party" yesterday. I found a very rare delicious hot mustard last week in Ghent. I take out my "
moodymann" CD
out of the DVD player. I found out that there was only one for sale on eBay, when I sought for Silent Introduction (
found one cheap on eBay
).
Back to the Viper. I removed the bezel (photo below) and straps.
Meanwhile the rest of the family joins me at the table to peel home grown hazelnuts for muffins.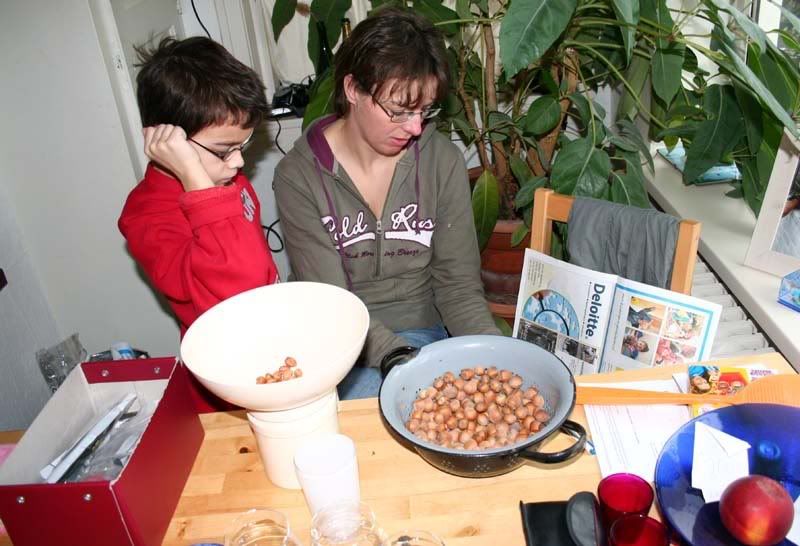 Often I forget where the straps need to be put back on the case, but always remember the loose strap must point upwards after fastening.
All screws back in place. One feels naked without a watch, so I slipped on my I.C.E.R.C. Gulfman temporarily. I look funny with that long hair. It's the first time since 1991 I let it grow again....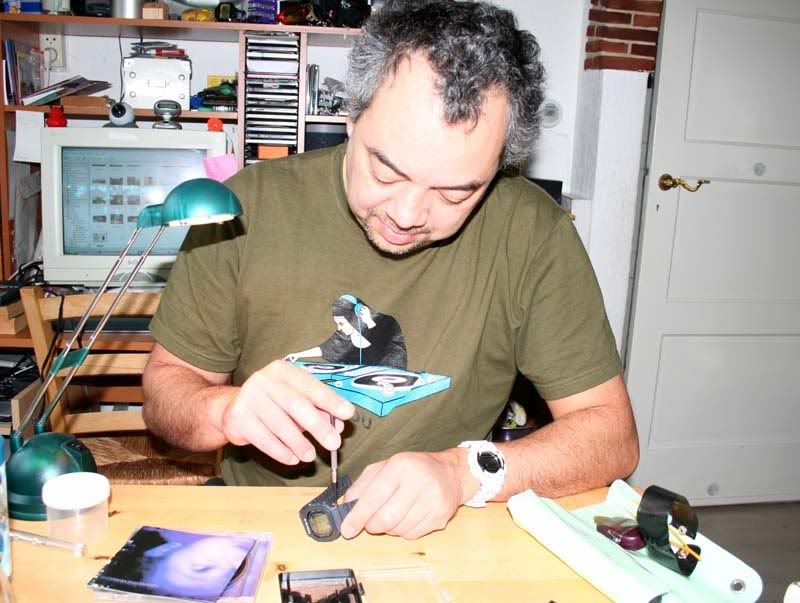 When I attached the straps and bezel, the watch looked different indeed. Although the grey tone is very dark, it looks somewhat greenish brownish. I like that very much.