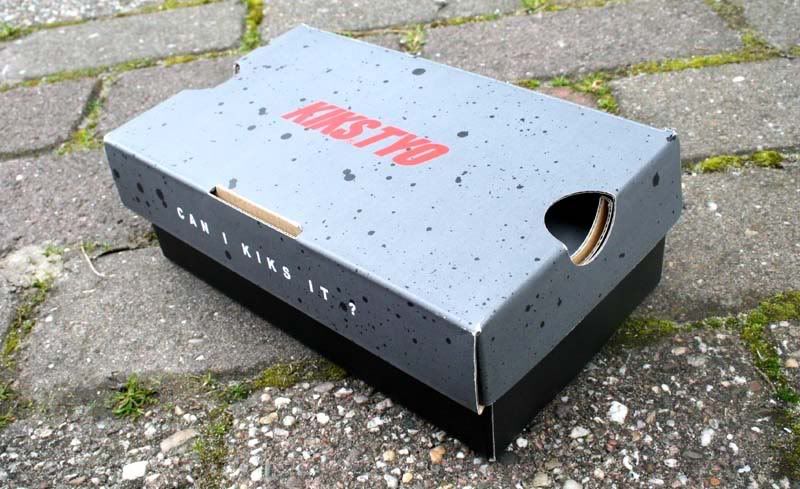 50Gs and mygshock.com are collaborating today in a combined article about KIKS TYO.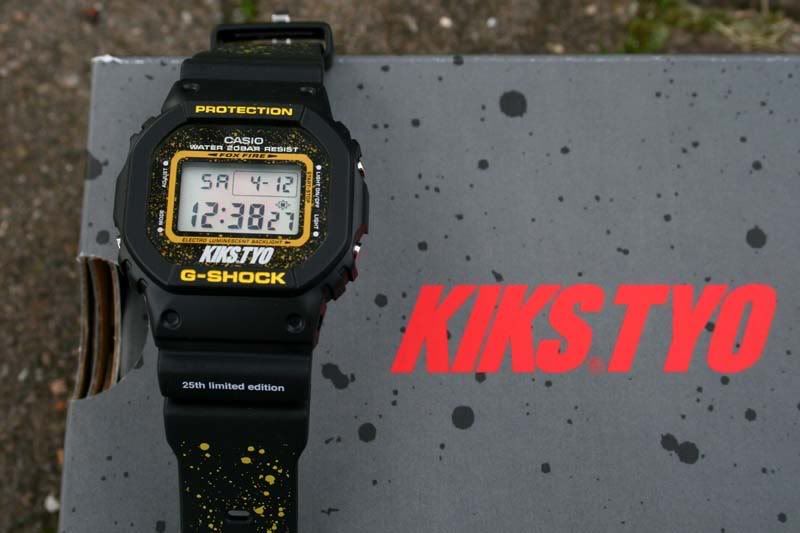 Riley of mygshock.com will concentrate on the DW-5600 Burning Red model, while I will concentrate on the DW-5600 Midnight Darkness model and the KIKS TYO company.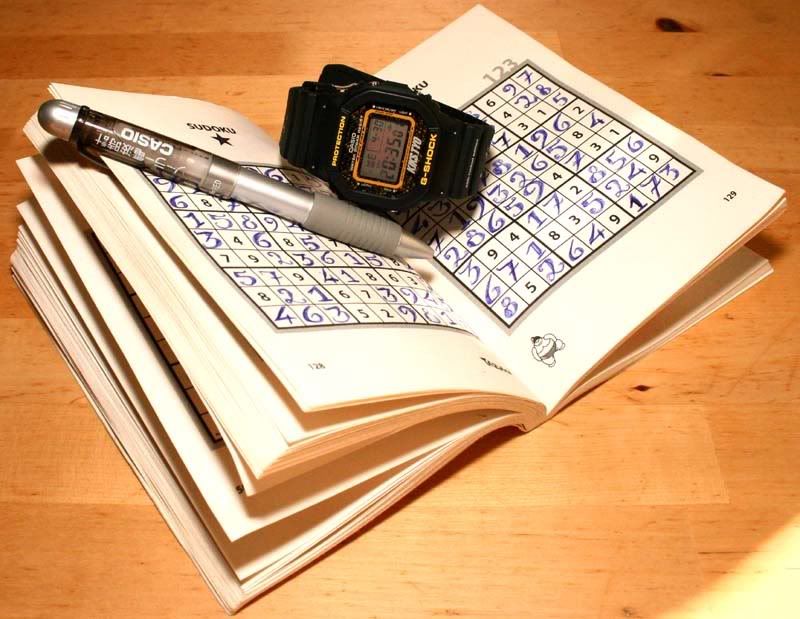 KIKS TYO was founded in 2006 by Shinichi Izaki a.k.a. Hobby:tech and his muse, Aki Hoshino, who is a famous bikini model in Japan. Izaki is a very busy man. Besides his job as creative director of KIKS TYO, he is also a producer for Universal Music Japan, TV host and colomnist for Street Jack TV and magazine and also he is a professional DJ.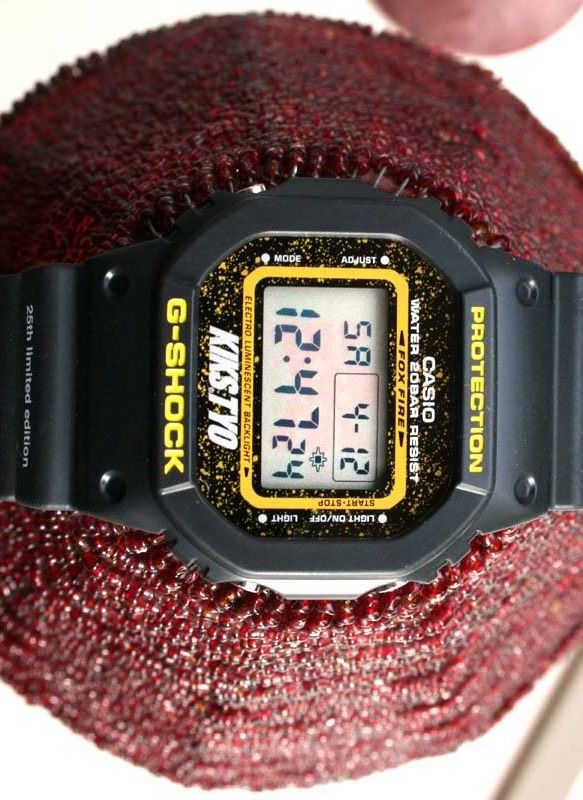 Shinichi Izaki
has designed for New Balance Japan, Nike, Vans, Adidas, Levis, Eames, United Arrows, Fred Perry, Beams, Honda, Warner Brothers and DC Comics. There were collaboration models with Casio G-Shock with some of these brands. The DW-5000 Honda F1 was probably the first G-Shock collaboration model.
Shinichi had worked for the fashion and art collective Brownrats. Even with Brownrats there was already a collaboration with G-Shock in 2006, resulting in the G-056EB-9JR.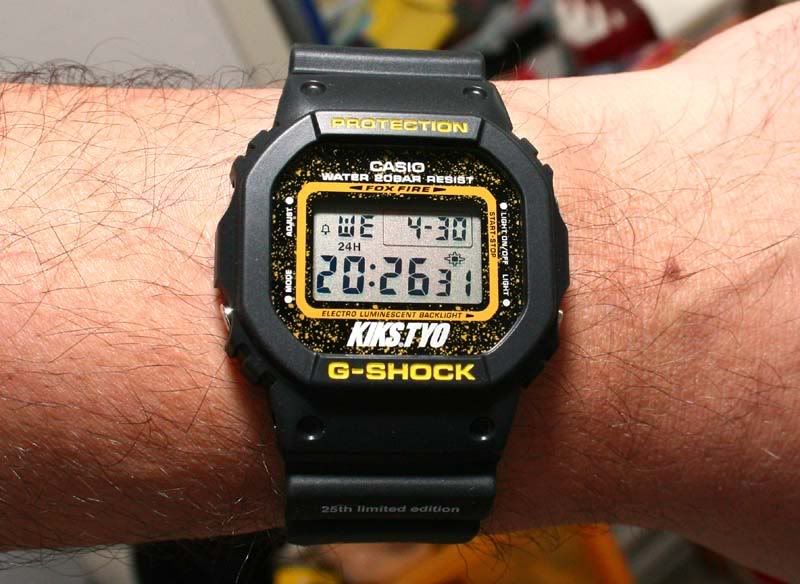 Ikazi and Aki Hoshino are both sneaker nuts. Ikazi has also a love for ols school Hip Hop. These fascinations are shown in most KIKS TYO products. A recent T-Shirt print showed the turntable of all turntables, the Technics 1200SL mkII modeled in a sneaker. Other prints are inspired by logo's of legendary Hip Hop artists, like Public Enemy and Run DMC.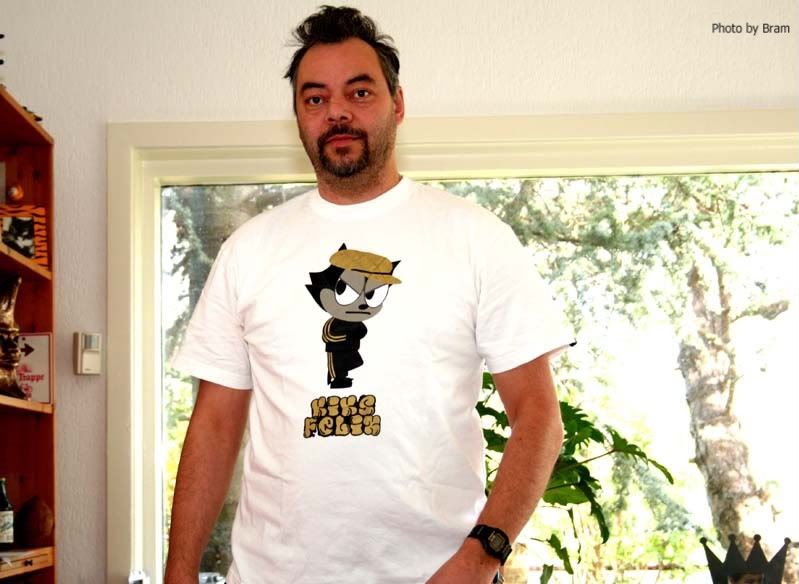 A returning theme are shirts with big photo prints with Aki Hoshino as a sneaker fetishist. On one print she holds a Nike PS3, a model where only 6 pairs were made of. A collaboration with photographer
Yasumasa Yonehara (Yone
) of Cexworks resulted in several new shirts, a book and a DVD. Yone has a very raw way of photographing, which can be seen on the new T-Shirt line up.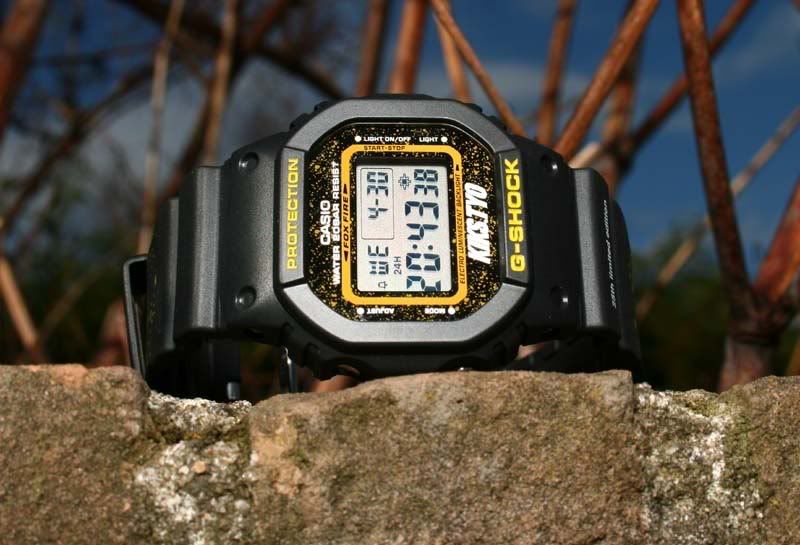 As a kind of compensation the "Hoshino Akitty" line will be released shortly. These funny prints, a humorous wink to famous Hello Kitty brand, shows a similar character in bikinis. They are only announced on the Japanese website, but I hope they will be eventually available for in the world wide shop.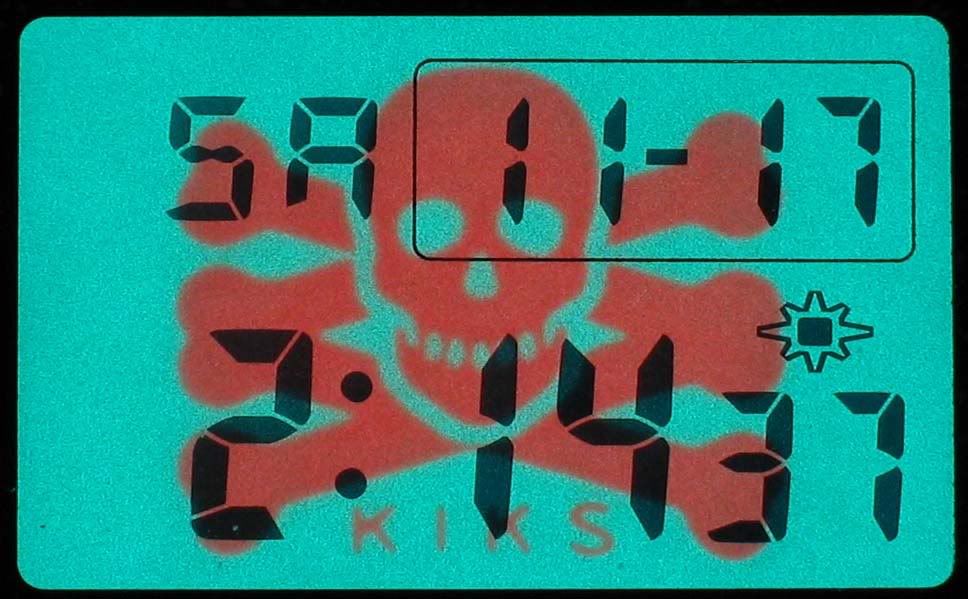 Mainly KIKS TYO releases T-Shirts, but the in collaboration with New Balance and G-Shock they released two DW-5600 G-Shock's in 2007. Earlier there was also a Nike Jordan G-5500 released in very limited edition and recently an Nike Air Max '95 G-5500 was released.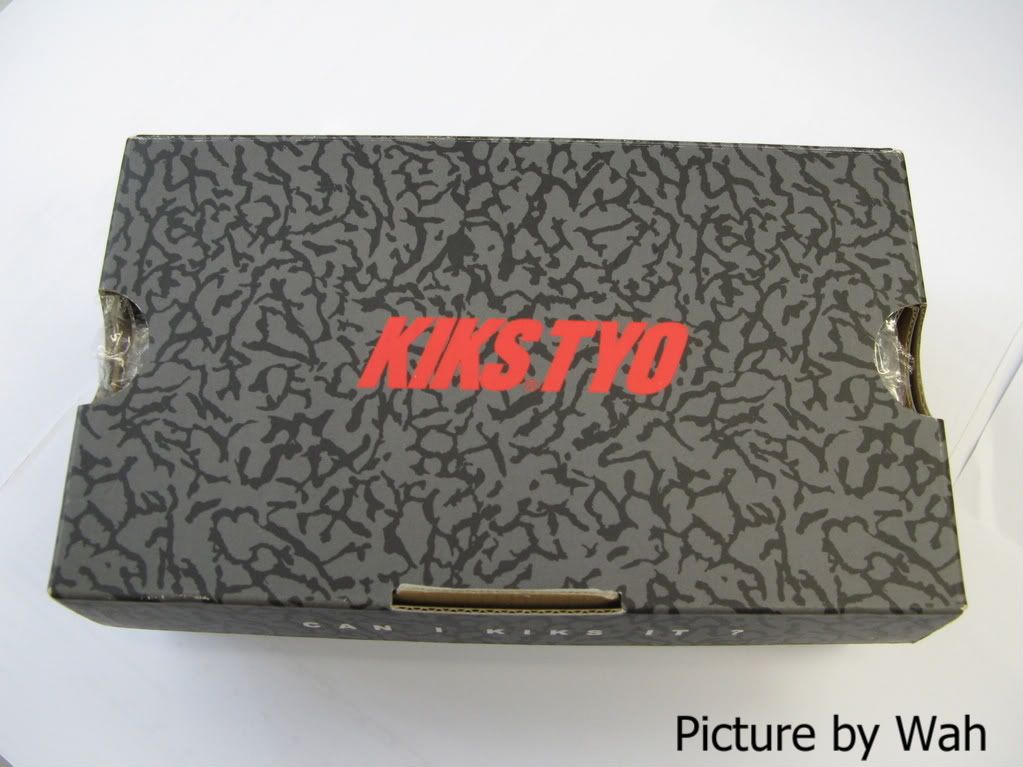 The G-Flash Pack as the 2007 KIKS TYO x New Balance x G-Shock collaboration was called contained of 3 limited edition model sneakers (New Balance 574 and 320), two DW-5600 models and a limited edition print T-Shirt showing Aki Hoshino with the black New Balance version and a gigantic KIKS TYO x G-Shock lace lock in the bikini.
The two G-Shock models showed the color scheme of the NB 320 "Burning Red" and the NB 574 "Midnight Darkness" and both share the same name. The edges around the LCD are in the same speckled pattern as found on the sneakers. The KIKS TYO text logo is printed bold under the display. The speckled pattern is continued on the watchbands. The lettering shows <> and WATER 20BAR RESIST. These lettering are mostly found on Japanese only models, instead of the well known ILLUMINATOR and WATER 200M RESIST (This is not a general applying rule actually).
G-Shock Forum member Wah owns the KIKS TYO G-Shock 2 G-5500 model. It is a limited edition of 300 pieces. The color scheme is taken from the Nike AJ3-071. The cracked cement pattern used for this sneaker is also found back on the watchband. Actually you find it also back on it's box. Before this model there was also another collaboration model released (KIKS TYO G-Shock 1). I do not know what model that was, only that it was from a very limited edition of 100 pieces.
The last 4 images were made by Wah for this article. Thank you Wah.
Sources for this article:
Sneaker Marmalade interview
Further reading:
Collaboration Article by Riley on 50 Gs.