Around Christmas 2000 I was just getting into on-line auctions. The supply of G-shocks were dramatic low on the Dutch auction site iBazar, but a very beautiful white model suddenly

appeared . The seller also had an auction of a yellow G-Shock. Around that time I was not familiar with model numbers, but I liked this DW-6900H-9 (Taxi Driver) very much too. I had not discovered eBay Germany yet, where this watch was about the most common model.
In December I always get a "end of year bonus", so I set my bid prices high. I needed them too, because it appeared I was not the only bidder. The auctions on iBazar run for a month. That's different from the eBay auctions , that most of the time run shorter than a week. You got to have a lot of patience thus.
Like on eBay, you have last minute snipers, but fortunately they did not outbid me. I think I won the auctions for around f80.-. That was quite an amount for me at that time (now about €37.-), but much less than half the price of a new one.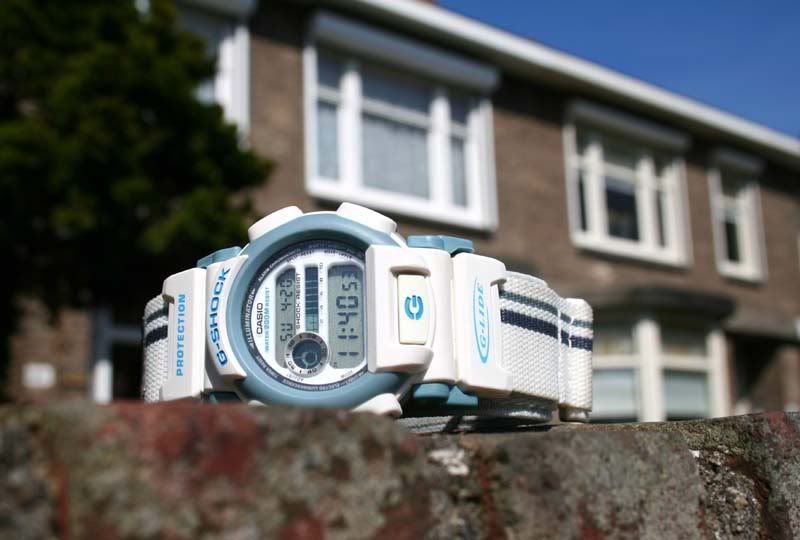 When the watches came in, I examined the watch. The former owner had split the double Velcro strap. Only the top strap was attached to the watch (I believe I already had made that up from the photo's). The former owner had tried to make the strap black with a marker. I went to my Casio Service Centre and ordered a new white watchband. A week later I had a new strap, which cost me another f80.-. Although it was a Tough Label watchband , it fitted great. The watch looked like new!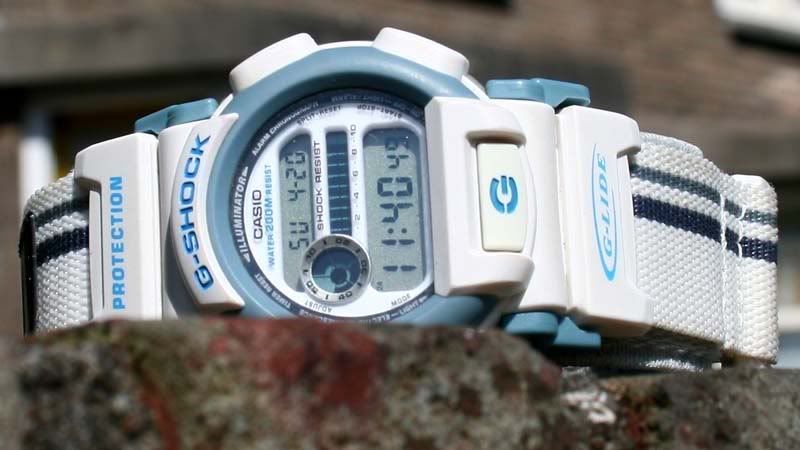 Bram was just 6 months old, and I had recently also bought my first digital camera. I strapped Bram the yellow Taxi Driver on and put him in a chair. Bram could actually not sit at that time, so he could fall from the chair with any movement. Quickly I took a snapshot. Nobody was hurt.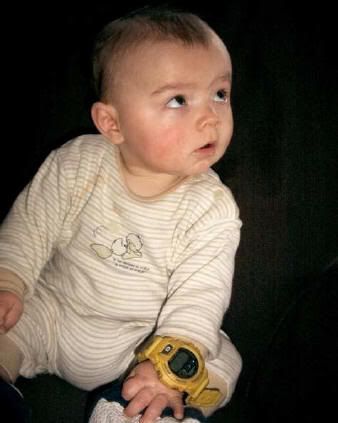 I sent a "Thank you!" note to the seller, with the picture of Bram attached. A reply followed the next day. The seller appeared to be Charlotte Coppola. She is a theatrical actress and also a singer. At that time she had a leading role of a large musical production of the biggest entertainment bureau of the Netherlands. She had to fund her new CD, so she had to sell some of her watches.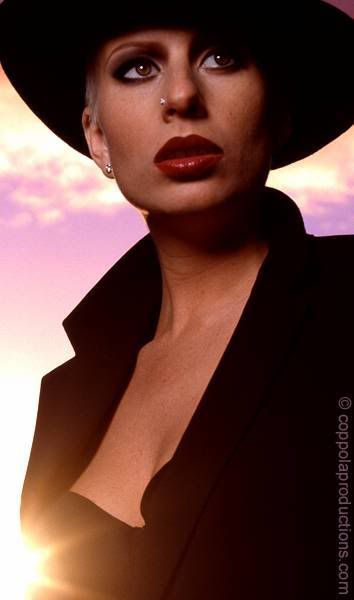 She also had another G-Shock. She told me that it was a model that had a slot game in it. I had never heard of such model. Apparently she talked about a DW-8040, DW-8150, DW-8140 or a DW-8150. She was thinking of selling this watch too, but I could not afford her asking price. I hope she had kept her watch. She sound very attached to it.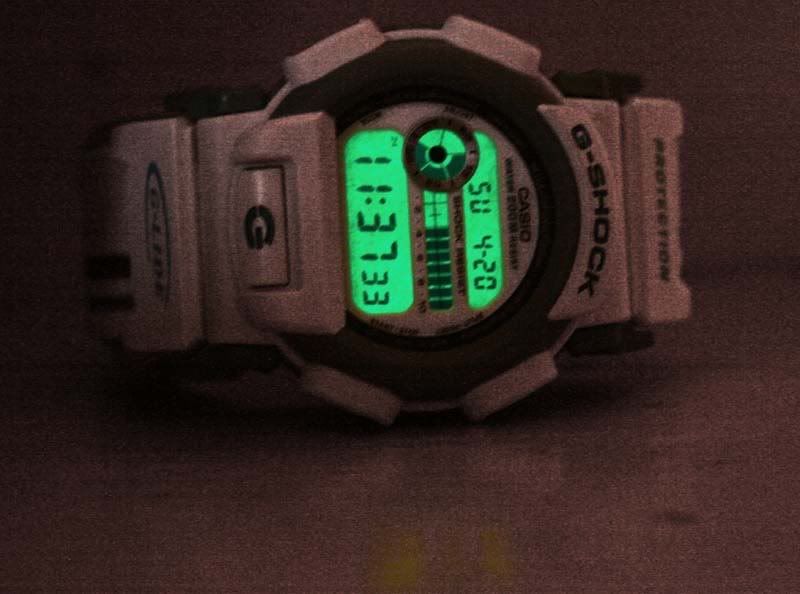 Now Charlotte is a known singer in the jazz circuit. She is the lead singer in the band All the Kings Roses and also performs as solo singer.