Middelburg, The Netherlands, January 11th, 2009
Unbelievable scenery. It's freezing. Freezing pretty hard also. We live in the warmest part of the Netherlands, but when I was walking home from the city centre late, last afternoon, the digital thermometer on the office of our local energy supplier was indicating it was -6ºC. I had to walk pretty fast, because the wind was blowing even my legs very cold through my jeans.
The scene on the rampart canal is nostalgic. For the first time in 12 years you could skate on the canals. These scenes don't look modern, but remind me to the 17th century paintings of people skating just outside the city walls. Only you should think away the cars...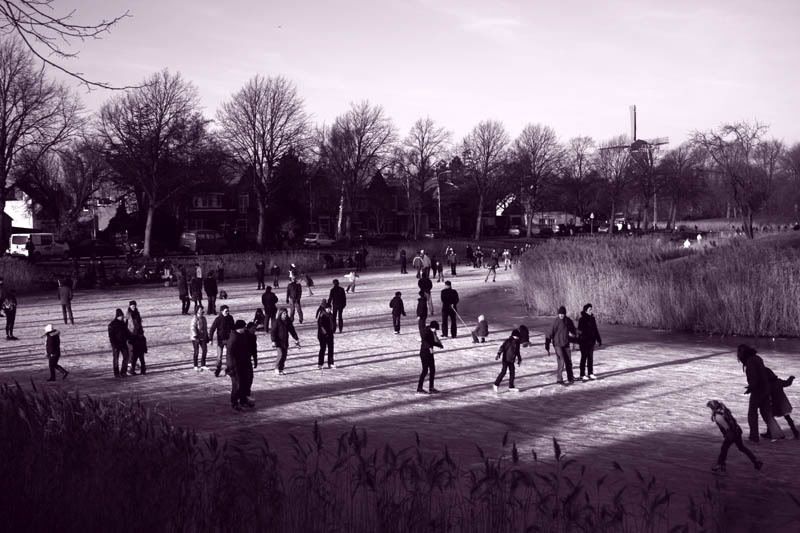 After my last post of 2008 I got a lot of responses about 50 Gs. I didn't get much comments, but I think a lot of readers do not want to register and I have blocked the settings for anonymous comments. This way I keep the blog free of spam. Though I got several e-mails and pm's from readers. Even today I got a pm of a reader who misses my weekly entry. Well, I think that's enough encouragement to try a 2nd series of 50 s soon.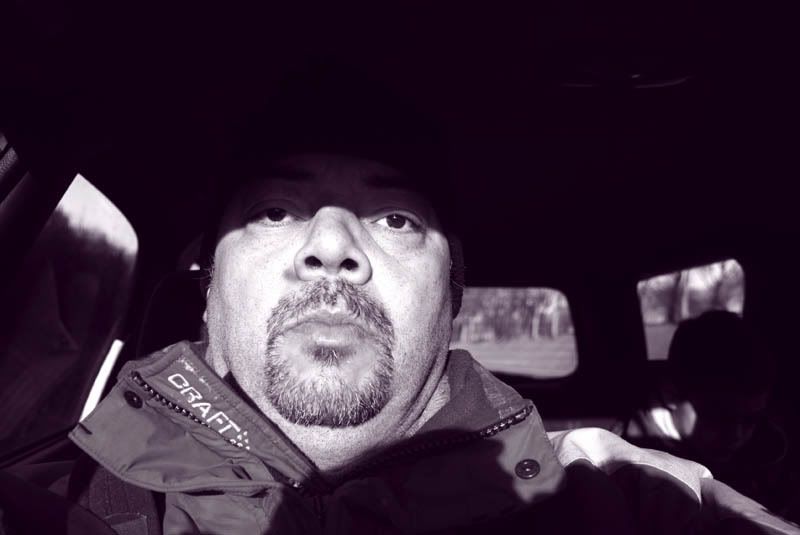 I got a little accident on December 8th. I broke my radius and a piece of broken off bone had slipped into my joint, causing not only pain, but also immobility of my left arm. For photography (by dim light) you need two steady hands, and mounting my tripod is also not an easy mission. During this period I have become pretty handy in doing things with one hand. As a bonus I got surgery to remove the chipped of radius head and also a piece of radius was sawn off.
My hand and wrist were pretty much swollen, but slowly things are getting in right proportions. Today was the first day to wear a watch. Which watch should be better to celebrate this moment, than this party G!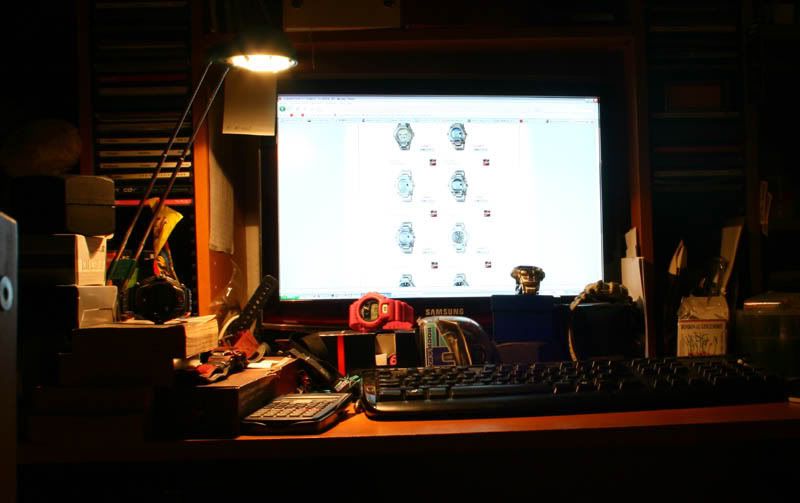 Meanwhile a pile of G's has gathered on my desk last month... I got some new G's in, but I want to take photo's of them for G-Peopleland and 50 Gs. I am thinking to try to publish most of my incoming Gs on this blog too. You might recognize a Raysman, a Terje Haakonsen Riseman, and a DW-6900 Masami Nagasawa model on my desk. I don't want to lift more than this tip of the blanket, I think a bit of surprise "what's the next G? " might add the suspense to this weblog.
If you think you can write one or more articles about a G-Shock, do not hesitate to contact me via
WatchUSeek
or via
my website
. It's great to have some support!
I have the feeling I can use my arm in a few weeks. Until that time I think I can try to write an article. I hope this is the last article I write on 50 Gs with one finger typing. It seems that I write with my right hand, but type with my left. Well, I now am going to enjoy a cup of hot ginger-chocolate. "Stay tuned for more!"
Yours Sincerely,
Sjors
P.S.
Riddle of my 8 year old son Bram: "Why does an Elephant wear red sneakers?"