I'm going to take you on a special trip today. Saint John is was an important saint in the history of our city. Centuries ago my city was with Amsterdam and Antwerp a very important city in the Netherland (which in that time also included Belgium). Several crusades started from the abbey of Middelburg. The name Sint Jan (Saint John) is found back in street names and buildings.
Just over a decade ago I lived in Sint Jansgang (Saint John's alley). Above and below you see the fish market view on the Sint Janstraat (Saint John street). A good friend of me (he visited me Saturday night coincidently) lives in this street, so no wonder the beer we produced over 15 years ago was called Sint Jansbier (Saint John's beer).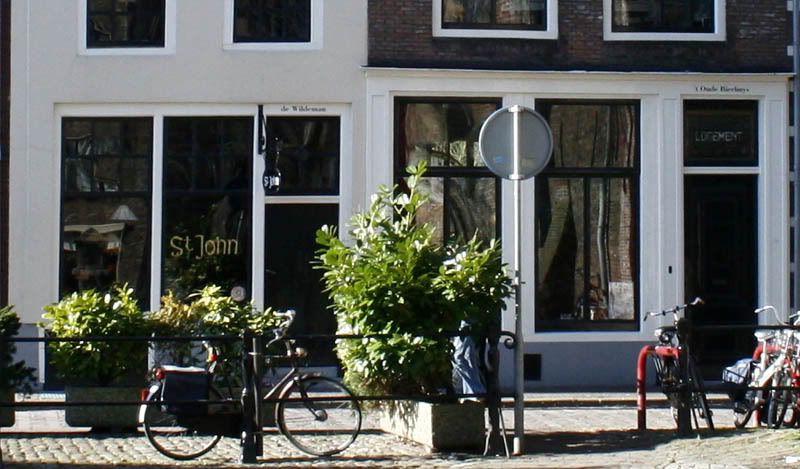 In the Sint Jansstraat there is another special place to visit. A real coffee shop. Well, for the Dutch readers, it is not the place to go for a marijuana joint. No this place serves all kinds of terrific coffee.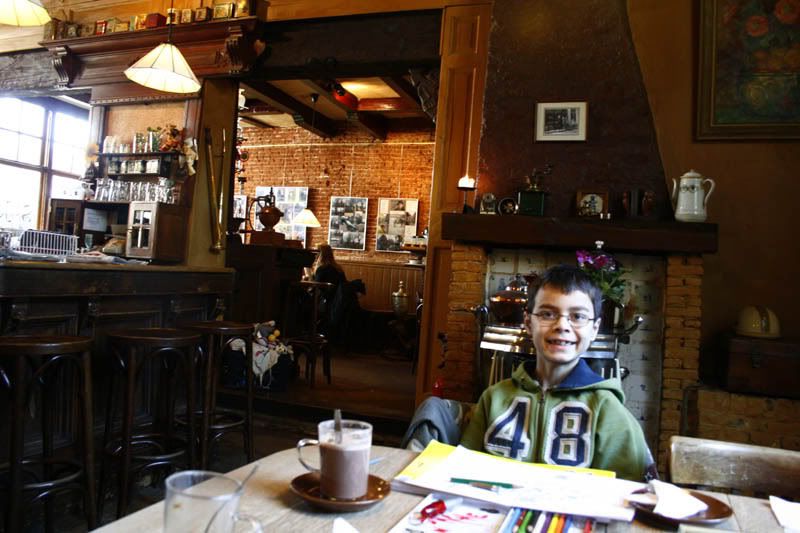 I visit this coffee shop since I was an 14 year old pupil around 1980, which is not strange at all. This coffee shop is a favorite place of young and old. Many older people started visiting St John since their Pupil years. Well, today I took a walk into the city with my son Bram. Bram is already a big fan of St. John. We were very lucky. Two customers were just leaving the biggest table.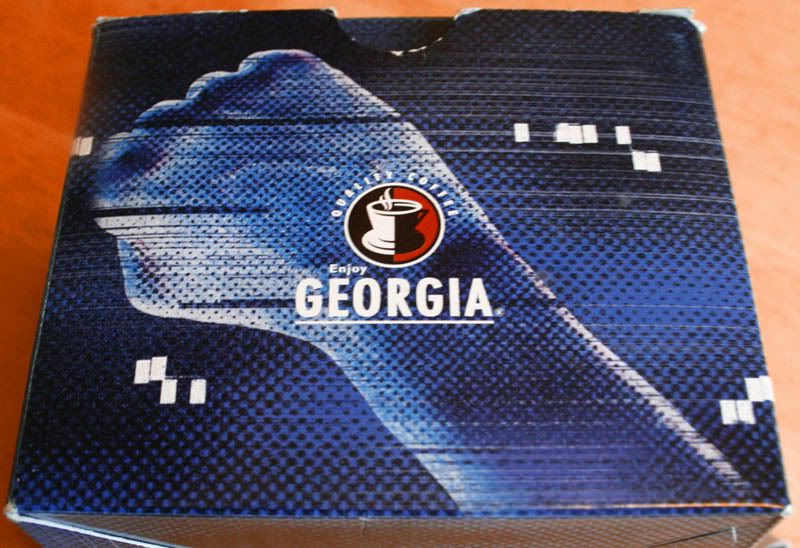 I think it's not a big leap to the main topic of this week. It has one of the largest model numbers I know: GW-300LVJGRG-7JF, better know as the Georgia Coffee G-Shock. I got this very rare model as a gift from my friend Elliot (Ozzie). As you can see on the picture below, it was a gift with a mission. The GW-300 has the infamous CLT1616 on board. The first batches of the Panasonic CLT1616 had a very high error rate. So had the battery on this one. The watch went into Recovery mode, which is the first sign of a CLT1616 to fail.
Luckily Panasonic had discovered the fault inthe CLT1616 and replacement batteries were free of faults. Theh so called "Recovery blues" mainly hit the GW-300 and G-5600 models. If your watch is suffering this recovery blues, I recommend to let the battery replaced. After that I am for 99% sure your watch will be cured from this blues. If you do not have a proper Casio Service centre in the neighbor hood (Please don't sent it to Casio New Jersey, I have heard many horror stories about that service center!), you can find these batteries on-line and replace it like a normal battery (like on one of my tutorials on WUS or G-Peopleland).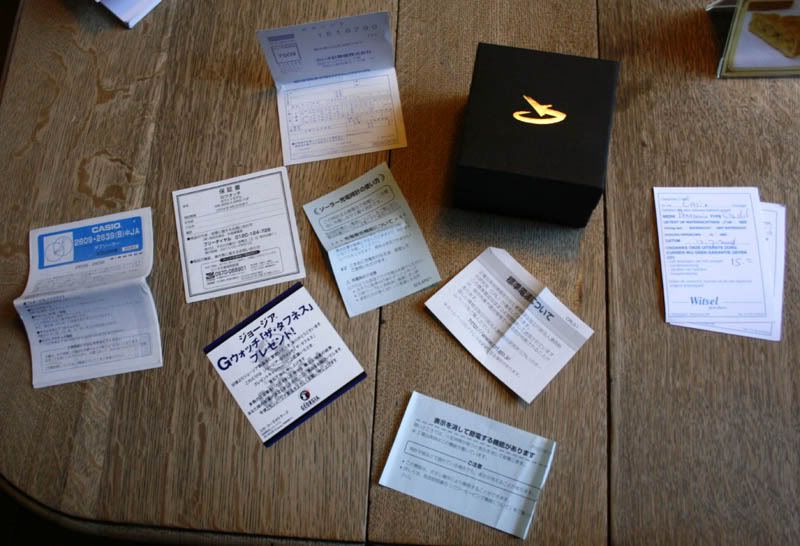 I actually don't know when this watch was released, but I think it was in 2003, as GW-300's were only released between November 2002 and autumn 2003. Bram and I make us as comfortable as possible. Bram had ordered a Hot chocolate and a "Bolus" (a specialty from Zeeland). I have a "Sjors Coffee" and a tosti "Siwa". Actually this article is a lot about coffee, but unfortunately I can't drink coffee.
There were different times. As a small boy I already drunk coffee as soon as I got up. I still remember how my father got up around 7:15 and went downstairs to put the kettle on. We are talking 1969/1970. Coffee machines still had to be introduced in the Netherlands. My father ground coffee beans and poured small amounts of cooked water from the kettle over the fresh ground coffee in a filter. I even had a special coffee cup already. I still remember the print. It were seven dwarfs with a lantern.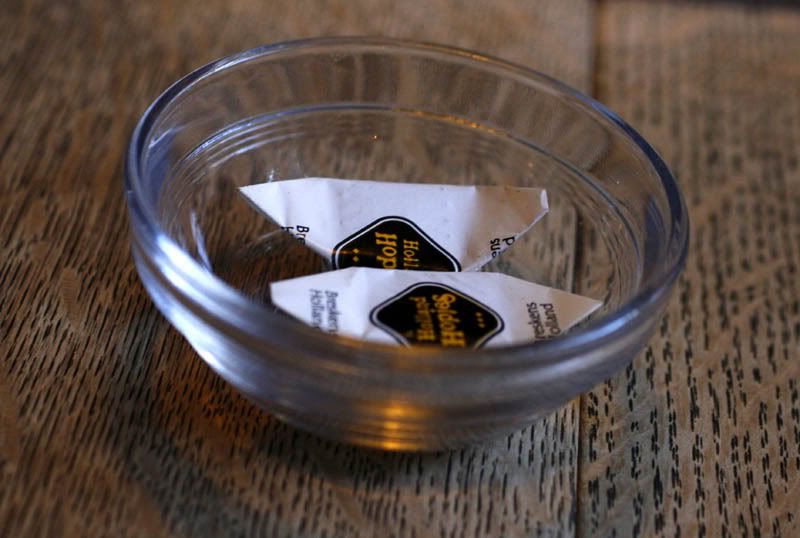 I drunk a lot of coffee since then. When I was a student coffee held me awake at night. Nights were the ideal time to study, since my student house was uite noisy daytime. Somewhere around winter 1995 I got heart-rhythm problems. First mild, later pretty serious. At the time I thought it was time to visit a doctor, I heard a friend talking about similar problems. He went to the doctor and he was advised to stop drinking coffee. Well, I thought I could try and, Hurray, I had no heart problems at all.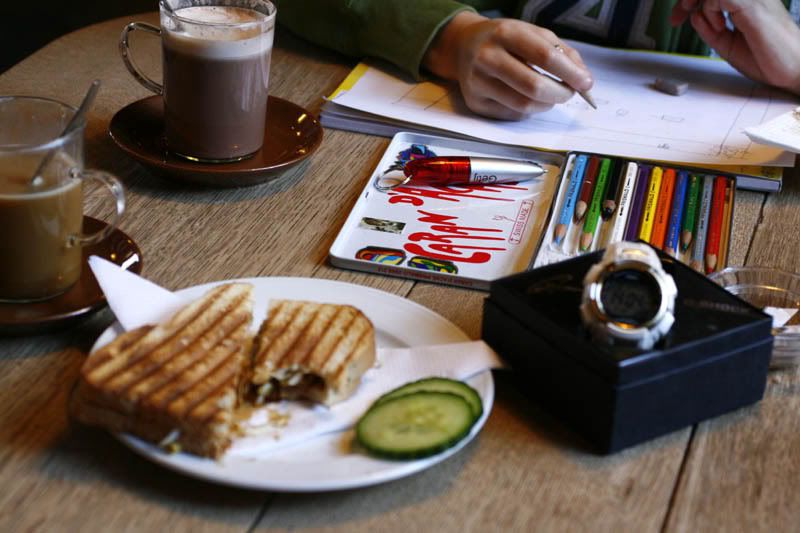 Then came the little investigator in me above. There was a voice saying:"It's all between your ears, you have drunk coffee your whole life!" About a year after I stopped drinking coffee I thought I was pretending all this. Why should I let one of my favorite drinks for this. I went with Eva (my girlfriend) to St John and I ordered a "Satan's Coffe". It was delicious. When I was at home I was sure it was all between my ears. Not a problem at all...
Until I was asleep. In the middle of the night I woke up with a heart rate around 200 bpm. Soon the heart rate became variable between 20 and 220 BPM. I was bouncing around the bedroom, I never felt that bad. This state continued actually for about two days, before my heart was acting normal. This "Satan's Coffee" was the lst coffee I ever drunk my life.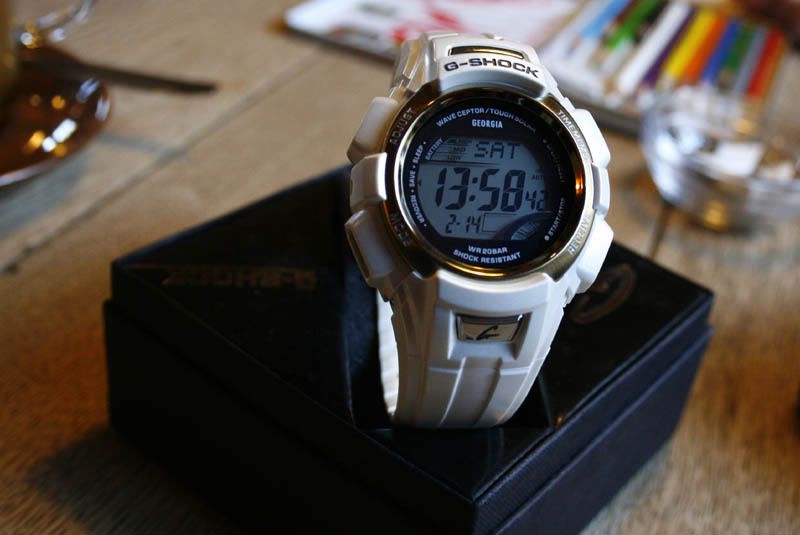 I once had milder rhythm problems. It appeared I had drunk a liquor with coffee, without knowing it.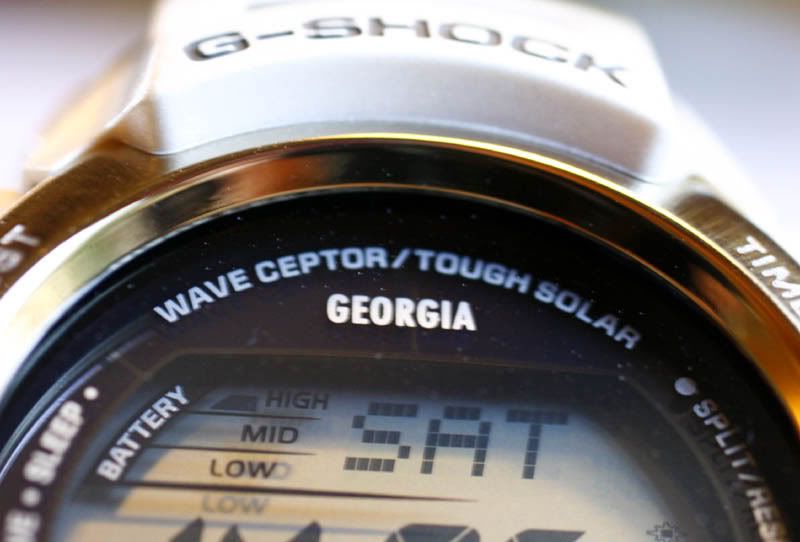 Still I missed my favorite "Satan's Coffee". At a day I asked the owners of St John if they could make me a "Satan's coffee" with surrogate coffee (made of grains). Since then this coffee is called "Sjors Coffee". I is kind of funny when I visit St John with other people and order my coffee. You can see them think: "Has this popular spot a drink named after him?". Yes it does, but I leave the whole explanations for myself.
Back to the watch again. So what is Georgia Coffee. Maybe in the US it might be known, but here in the Netherlands, we don't drink cold coffee out of a can.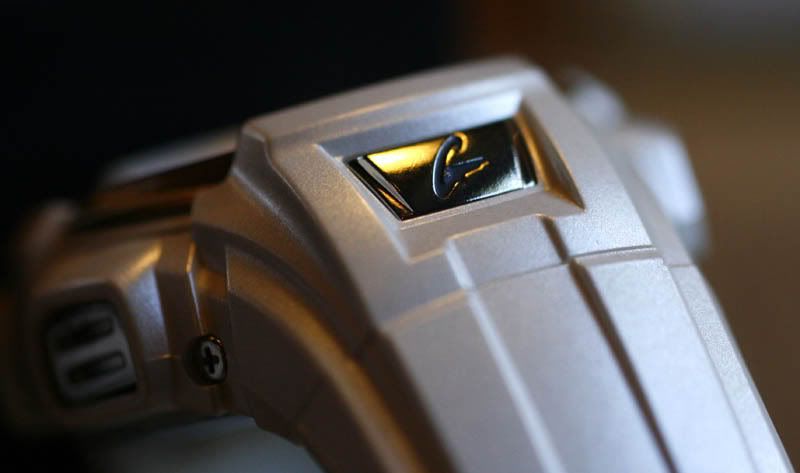 In Japan canned coffee specialties are very popular. Georgia is a famous brand, produced and distributed by Coca Cola. Well, that's a known name! Well, recently (two years ago to be exact), I got similar heart rhythm problems during a bicyle ride after drinking Coca Cola regular... Exit Coca Cola.
In Japan Georgia canned coffee products are very popular. There are at least 17 variations available (several are seasonal variations).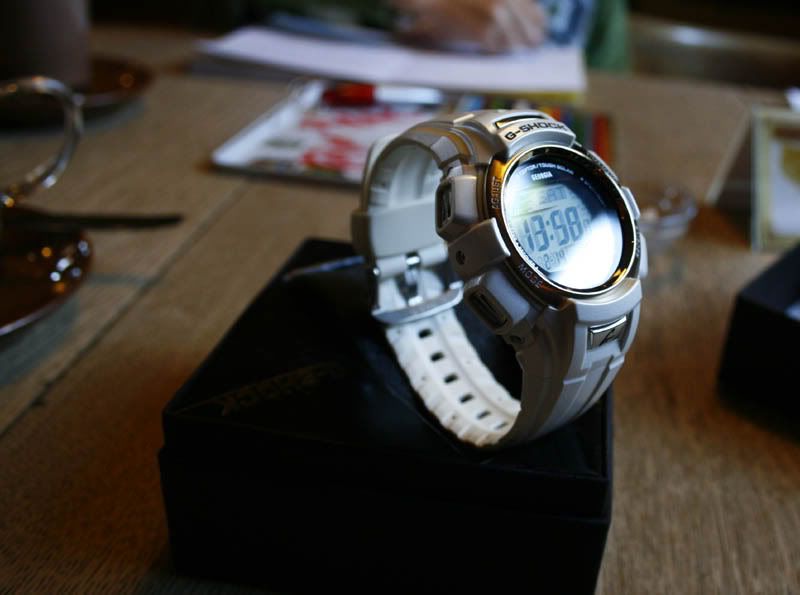 The Georgia G-Shock has a special shade of white. It has a kind of coffee cream color.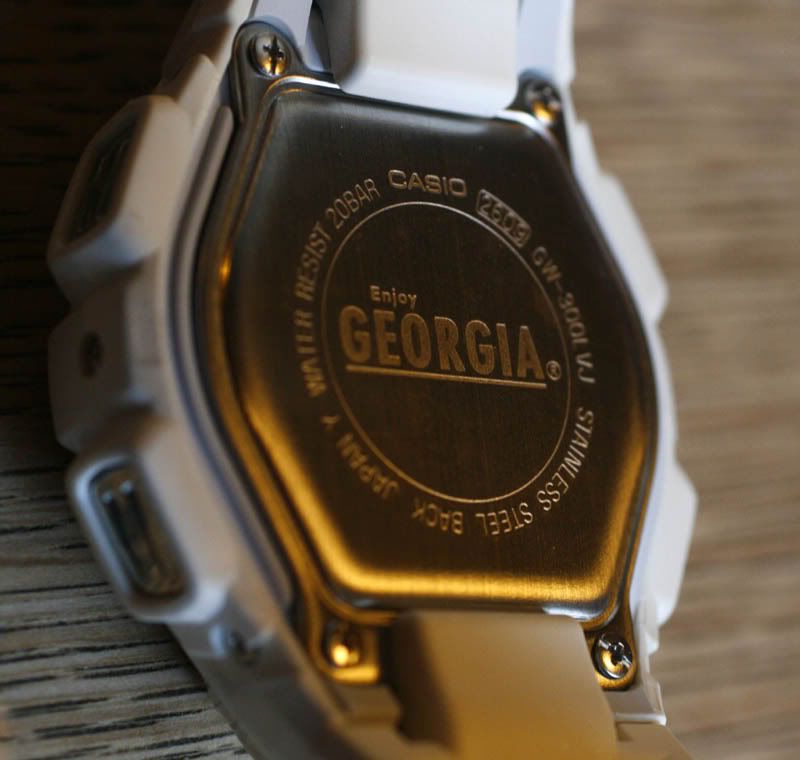 The buttons and the metal ring have coffee gold finish. It makes this watch look very good. The back plate, with the "Enjoy Georgia" engravement is actually silver. The lamps of St John actually give it this gold shine...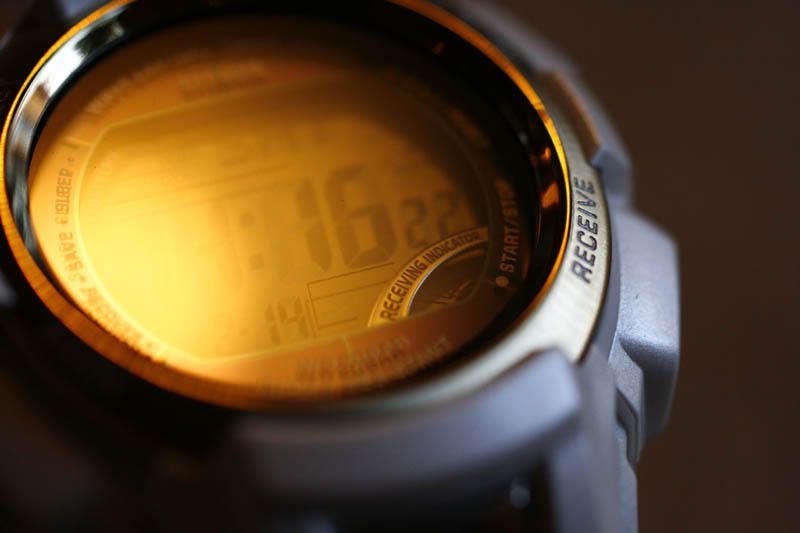 That also reflects here in the display. This GW-300 unfortunately only receives the atomic time signal in Japan and the US only. It had been for over a year in the box.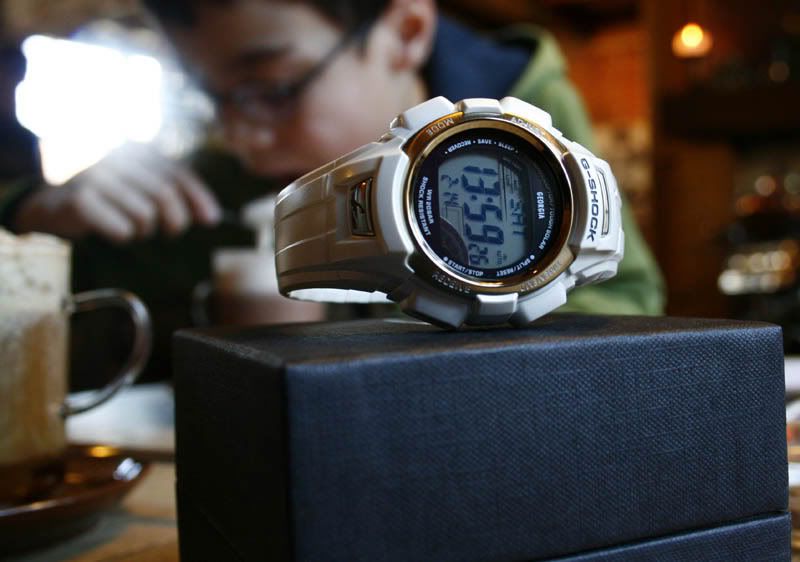 Due to the Power Save function, the battery was still (surprisingly) full. The time is just 25 seconds fast! So without the Waveceptor function, this watch is very accurate.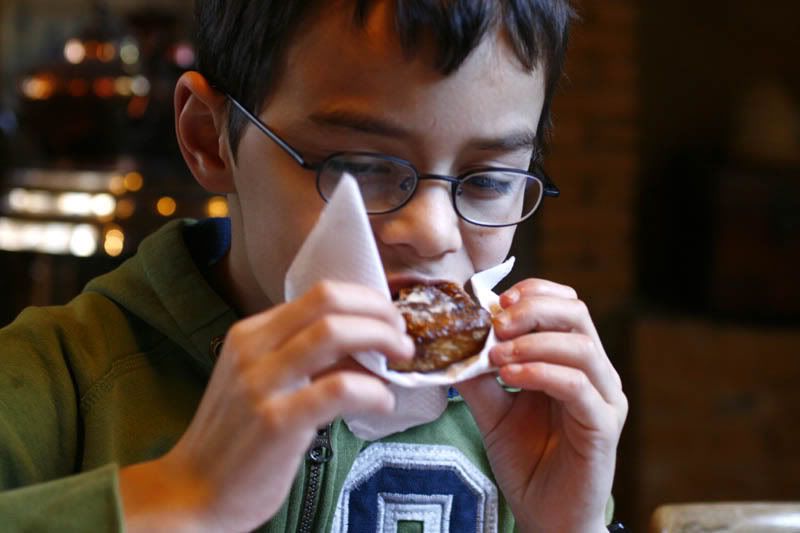 While taking photo's, I had to encourage Bram to eat his bolus. I already have finished my tosti and also my "Sjors Coffee". Bram still has three quarter of his Hot Chocolate in his cup, so I ordered a Hot Chocolate with whipped cream.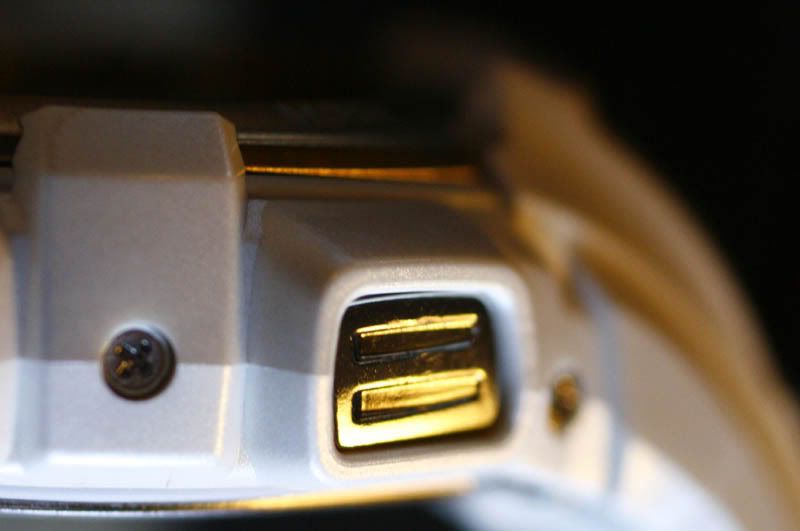 Look at the buttons. They are dark gold metallic, but they seem to change from different gold shades when light plays with it.
Everything says coffee in this model. Is this the G for G-Shock, or that of Georgia...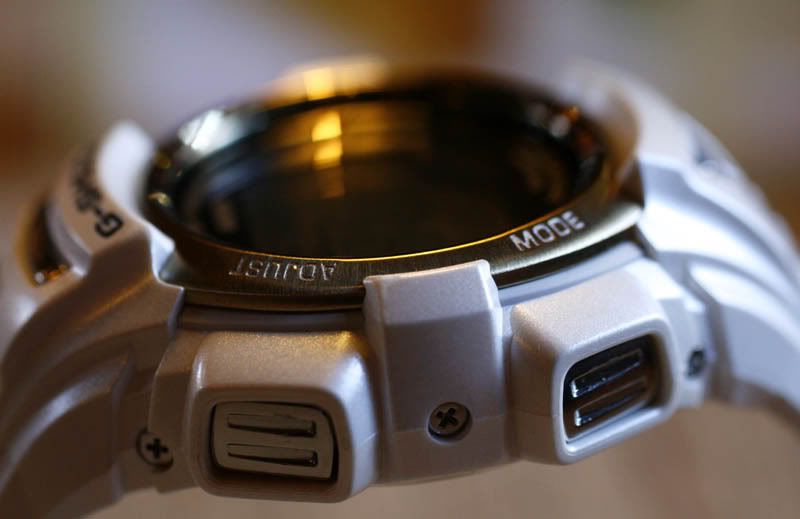 Look at the light playing with the gold colored ring. I would like to order a cup of coffee now. I better don't of course. I still can dream about it...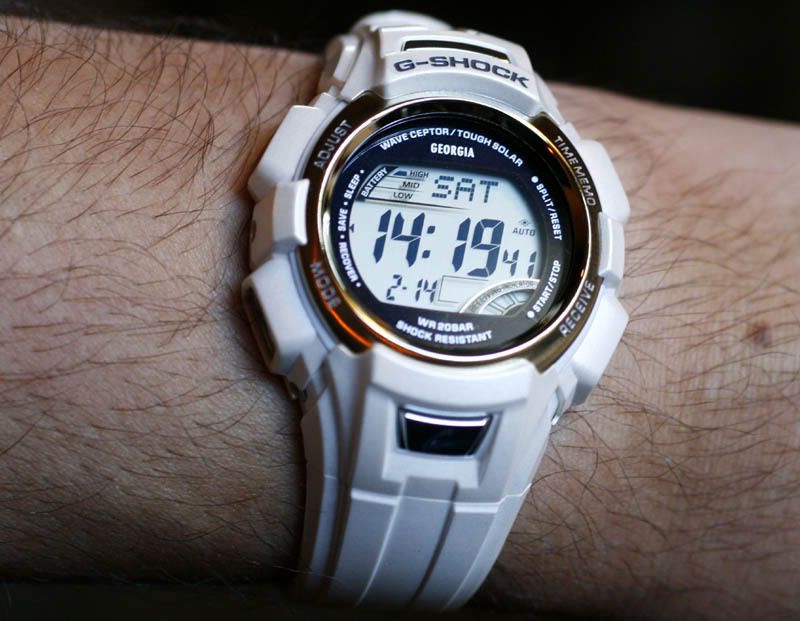 Does it look good on my wrist? It's winter now, so my skin can use sunlight. In summer white G's suit me much better. Uhm, how long was it ago I ordered my Hot Chocolate?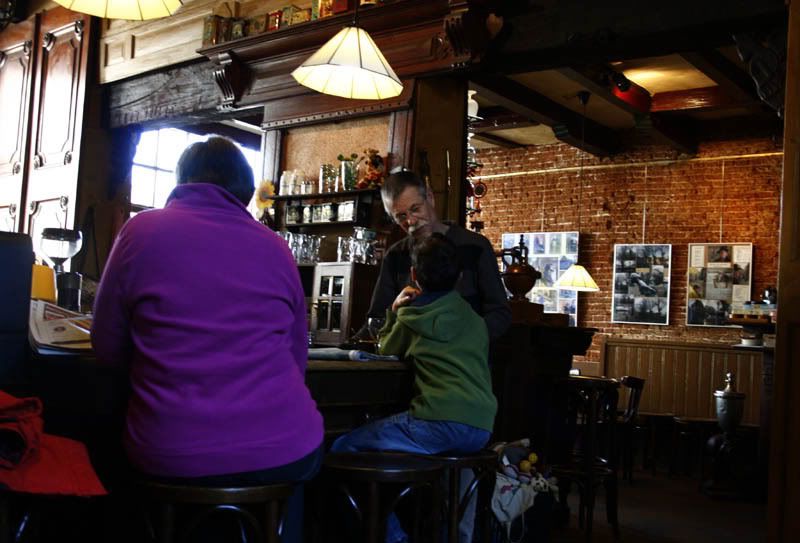 "Didn't you forget my fathers hot chocolate?" Bram can break a leg here. Within one minute I had my chocolate with a lot of apologies. Actually in all the years I have been a regular customer, this is the first time I can remember hey forgot an order. With such friendly hosts, I can see this easily through my fingers.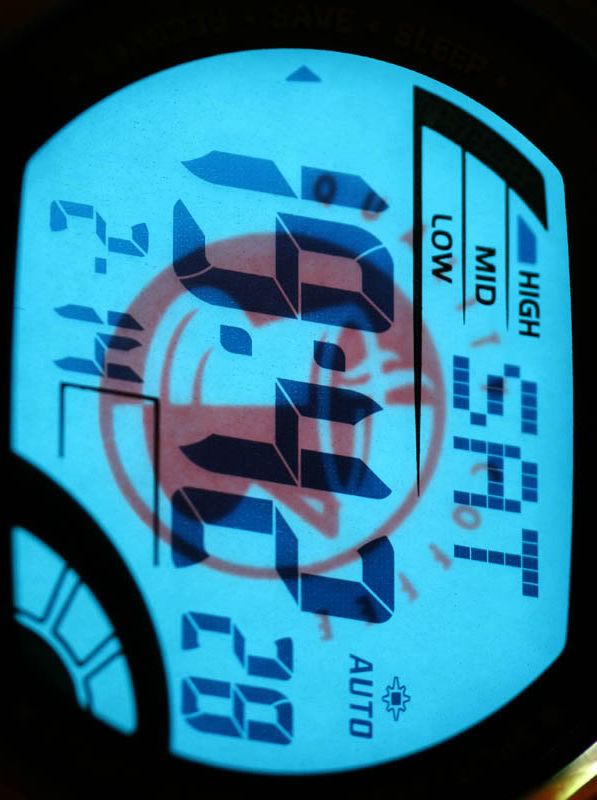 Well, the EL shot's I took at home. You can see it on the time of course. There was just too much light in the coffee shop. The EL backlight lights pretty short. I think 2 seconds. This makes it a little bit harder to make good pictures. Also the GW-9000 Mudman has a short EL backlight time. Note the empty RecieveIndicator. Maybe I should take this watch to Japan some day.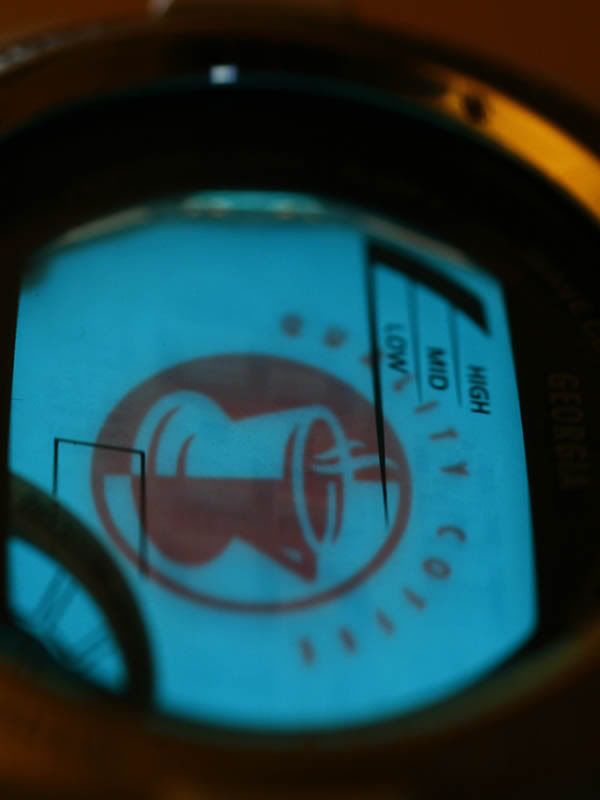 In the backlight you see the logo of Georgia coffee. I'm not sure how one could obtain this model. I guess it was a giveaway price at a contest, or maybe it was given away as promotional material to relations. I have also no idea how many of these were made. All I can tell, this is a very good color scheme.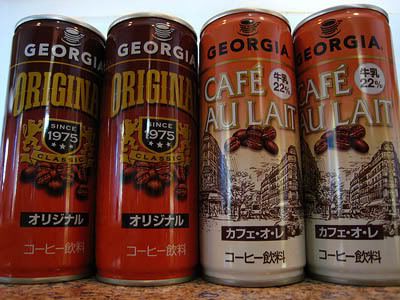 The statue in the first photo is located on the fish market and is called Sophie. Sophie is kissing Bram on Valentine's day. Funny detail, if Bram had been a girl at birth, we would have called her Sophie. I hope you enjoyed this weeks article, which blends a G-Shock, some personal feelings and a little sight seeing together. See you next week with another G.