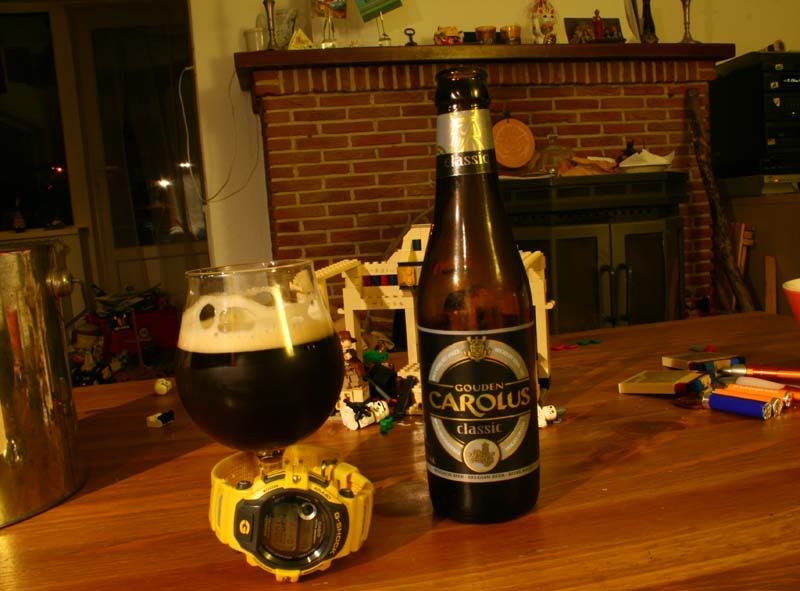 After the purchase of the Cetus (see #42) the world was open to me. I started looking worldwide for G-Shocks on eBay. There were some very good suppliers for G-Shock's around that time in the US.
There were a lot of auctions starting from a $1.- bid on very nice models. My eyes fell direct on a yellow Raysman. I already had a black/grey DW-9300 Raysman. This one looked even much cooler.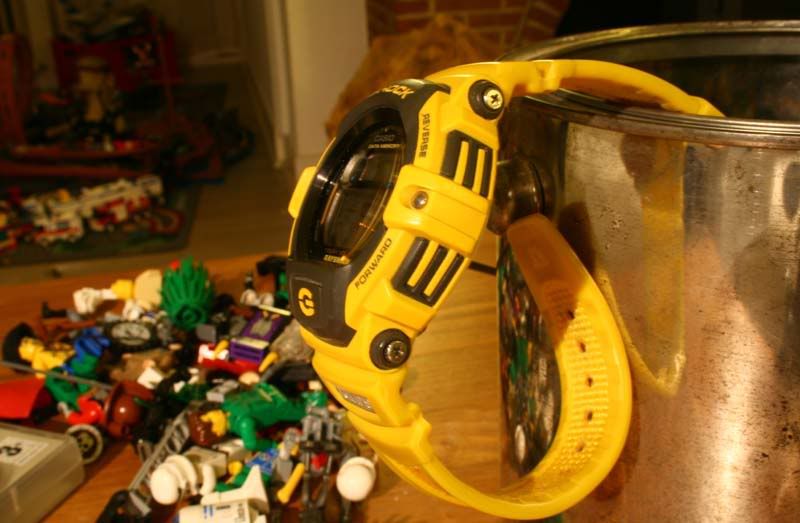 The bidding was pretty addictive, but I lost some auctions before I got my first hit. I'm not perfectly clear for what price, but I think for around $125.- I had my first yellow Raysman.
It didn't only look great in the pictures, it was stunning in real. The deep yellow color was a heavy contrast on my arm and I got a pretty much remarks. The only problem was that rechargeable the battery was dead, but a few hours sunlight was enough to fill the battery charge with three bars. In stead of a battery icon, the DW-9350 uses the eye to show how far the battery is charged.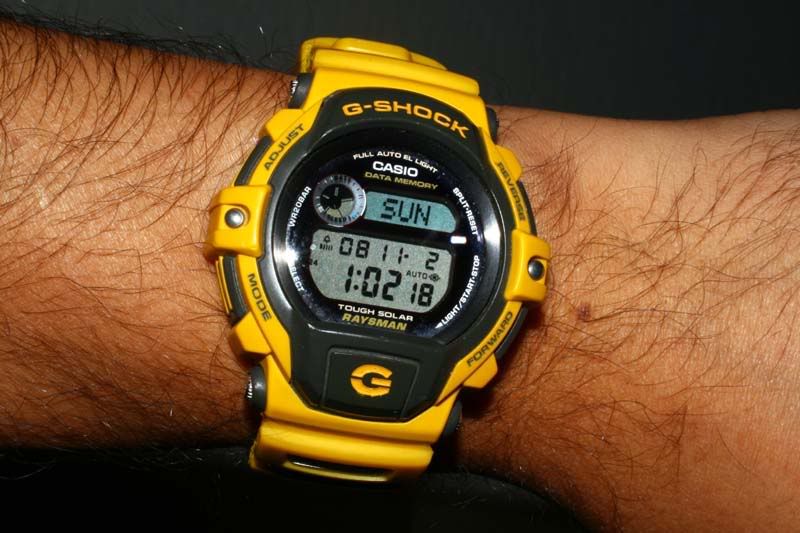 The light color had one lesser consequence. Unfortunately new bright dyed cloth material stains the yellow resin. Of course from a distance it was hard to see, but there were some edges that were becoming red when my girlfriend Eva threw new red sheets on our bed.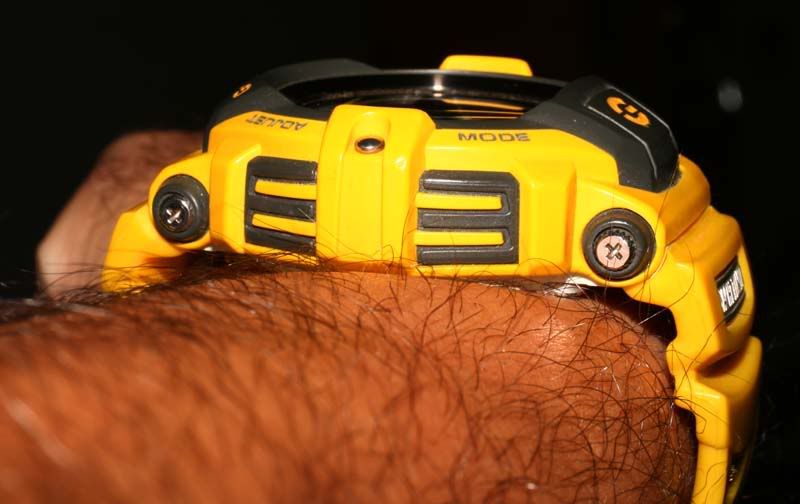 Actually the red stripes disappeared like snow by sunshine, but I hunted down a second yellow Raysman immediately. It was around the same price. Now I had one to keep mint and one to wear.
In fact, this Raysman became my favorite watch. I wore it day in day out. In fact it is still one of my favorite watches. In the mean time I have about 4 of them! It is a watch I usually pack for vacation too. (I forgot it this year to take with me to France, else it had been one of the holiday stories last May or June).
THis model is equipped with a Yachttimer. With yacht timer, Casio means you can use a countdown timer that gives alarms at specific times before the ending. time is reached. A handy feature is that the countdown timer can be set on automatic repeat.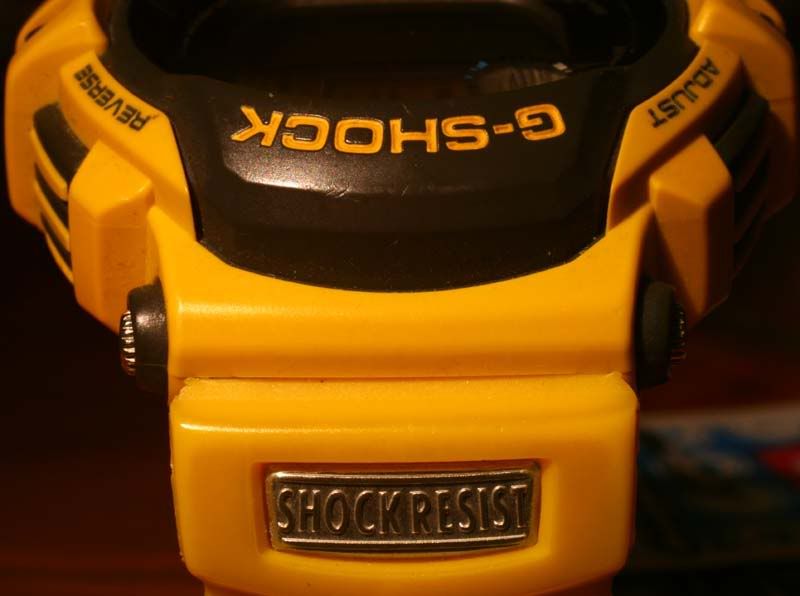 The Raysman features a Mud Resist case, like the Gausssman and Mudman. Therefore the bezel is pulled totally over the case, so Mud can't come in. Even the buttons are covered. For the Mud Resist models Casio developed a new procedure. In the stiff bezel there were parts mold that were much more flexible for coverung the butttons.
The mascot for the Raysman is a bat. For the DW-9350 model this ba is hanging above the sea. A pretty well know collector in Japan is called Yachtrays, sometimes also referred to as Sailboat Bat. His alias must have been inspired by the engravement of this model.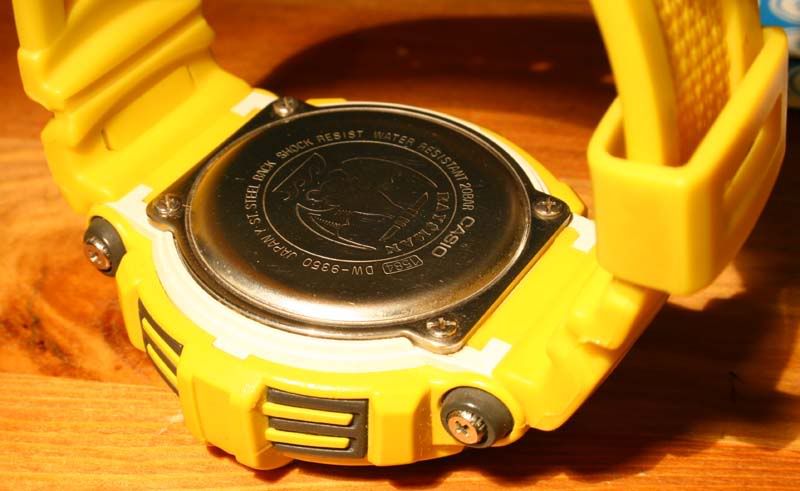 The yellow Raysman is released May, 1998, two months after the first DW-9300 Raysman model. It is the most common model of a series of three. The other models are an off white and a grey version. Both also very good looking.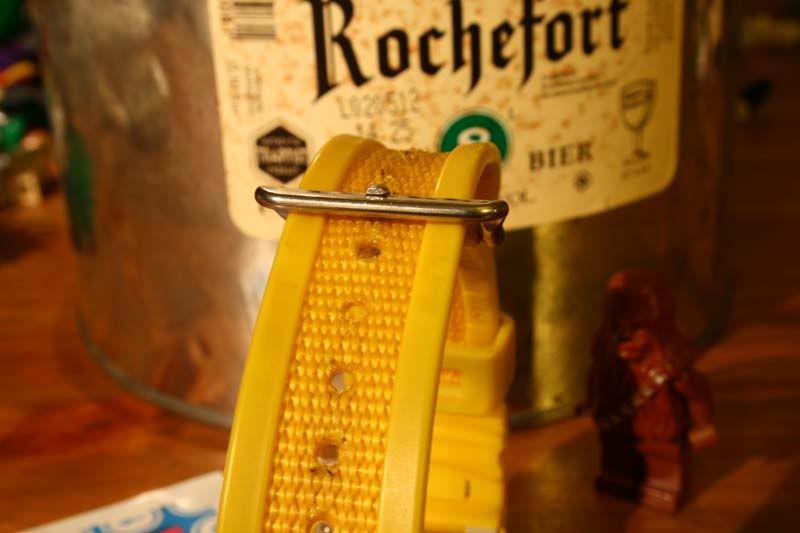 The bans is made out of two parts. Both are polyurethane, but the inner part looks like it has a cloth structure. Although molded in each other, the parts can come loose after wearing the watch for a long time. One of the yellow G's I got, had this problem. Luckily I was able to get a fresh strap from Tiktox. As far as I know, it is almost impossible to get a new strap for this model now. You can imagine I do not wear this watch very often anymore., although I would like to wear it more often.