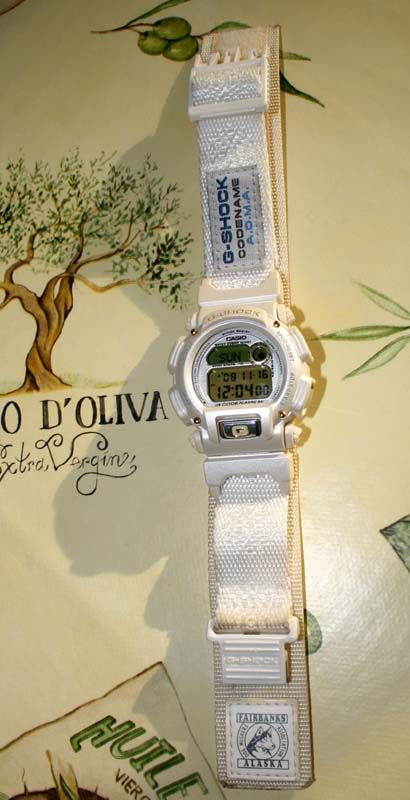 The BBC to broadcast a series called "One Man and his Dog" between 1976 and 2000. Although it might sound dull, I always enjoyed the show, although I'm not a dog person actually.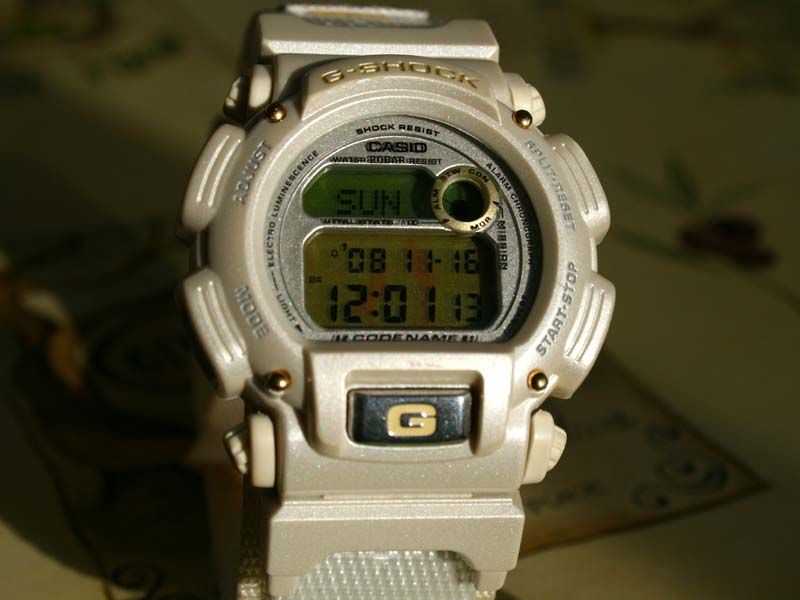 It was a competition of dog trial where men and their sheepdogs tried to put a herd of sheep as fast as possible in a fence over a course. It showed how good a bond between the owner and his dog are.

The same bond exists between the dog musher and his sled dog. Driving sled dogs is a popular winter sport in Europe and North America. To express the bond between the dog musher and his dog they are shown in the EL-backlight.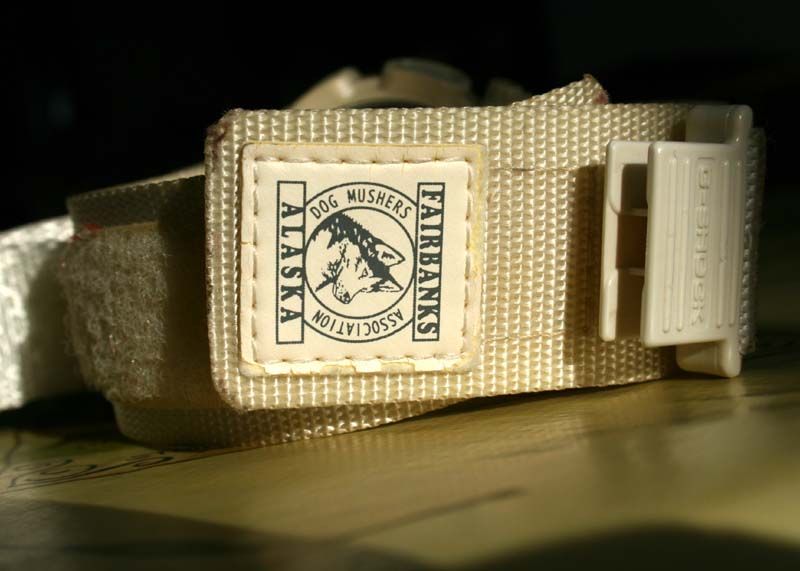 The A.D.M.A in Fairbanks, Alaska is a non-profit organisation that supports the dog sledge sport since 1948.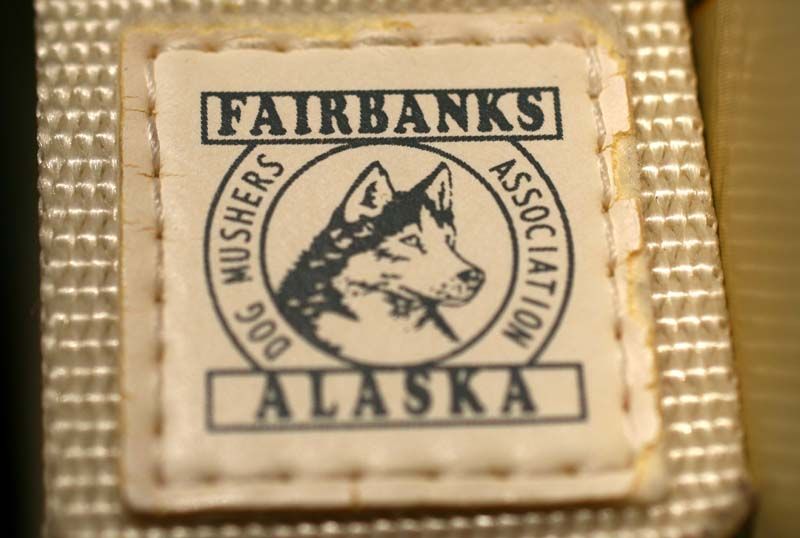 At the 50th anniversary in January 1998, Casio released a series of 5 G-Shocks and 5 Baby-Gs (BG-380A) to support this organisation.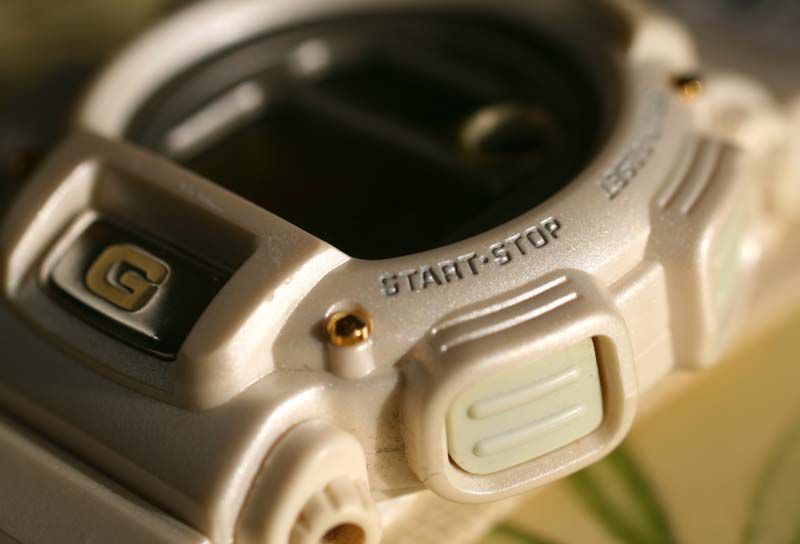 The base of these models was the Codename Cipher. While white was the main colour of these series, most accents were grey and blue. Only one of them has gold and cream accents. This was the model I was aiming at while hunting down an A.D.M.A. G-Shock. It has the model number DW-8800AJ-7BT.
The promotion of this dog mushers organization is not coincidental. Dog sled races are commonly held under very cold circumstances, while the Codename still operates at least until -20°C.
The Codename Cipher is a fun watch with somewhat geek functions. No problems of course, I am a kind of geek...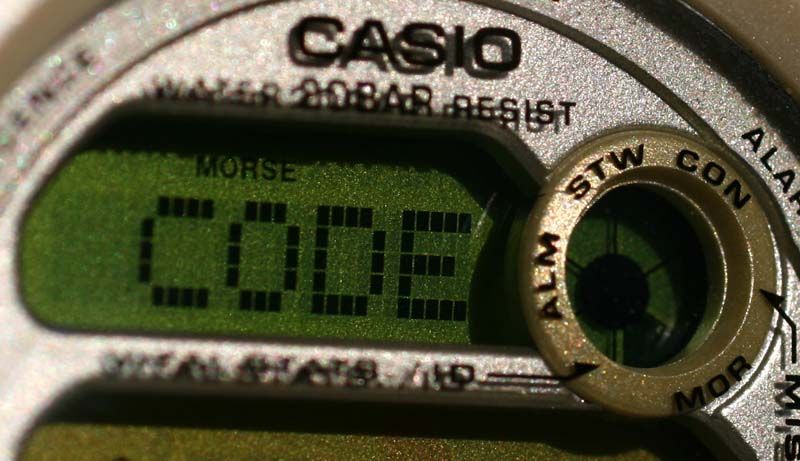 One of the most eye-catching details is the two-tone display. The top display and eye are a bluish shade of green, while the main display is more a more yellow shade of green.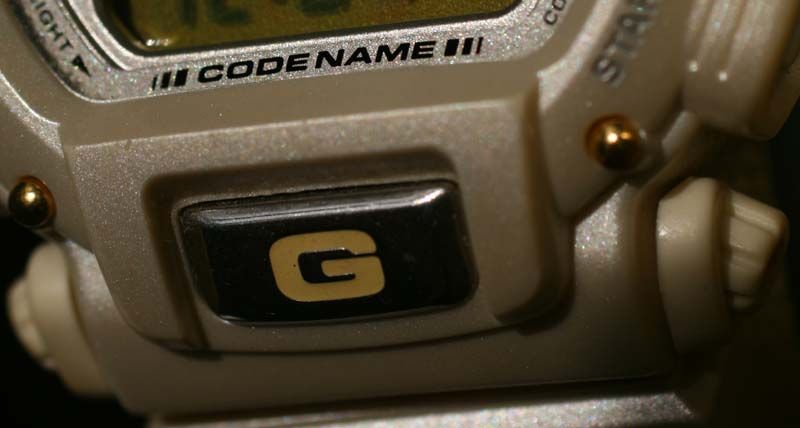 This Codename has a shared memory of 100 data sets. It is used by the Telememo Function and Mission Code function. The Telememo mode is a kind of telephone book, the Mission Code is pretty interesting. It is a kind of alarm (date and time) you can set, combined with a comment. I used it on a G-Cool as an alternative for a Count Down timer. It is also a good function to remind you for appointments. If that is a few days away, you must be sure that you wear the watch. Since I tend to change watch a few times a week, this won't work for me.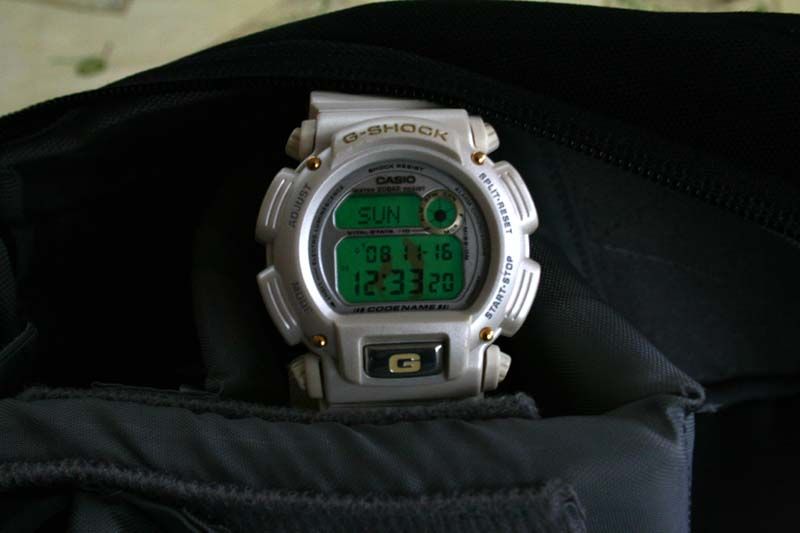 Then there is the most fun (but pretty useless) function of the watch. It has a Morse decoder and encoder on board. I noticed this module is different from the overseas Codename Cipher's.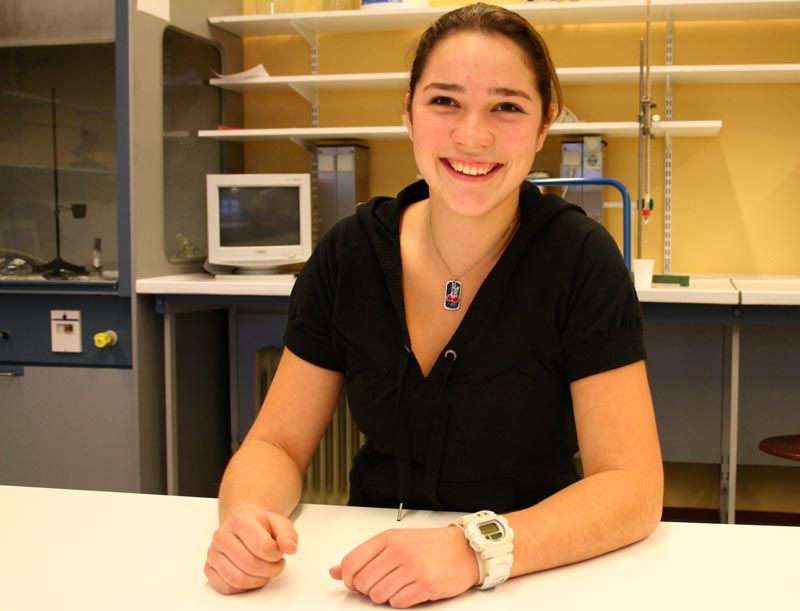 The overseas models only have a Morse Encoder on board. You input alphanumeric text and you get the morse code. This module is somewhat different. You also can input "dots" and "dashes" with a morse key. The input also accepts katakana. On the one hand that's pretty cool, but if you want to input text, you find you have to scroll a lot of characters, before reaching the alphanumerals. The morsecode that has been put in can be shown as "dots" and "dashes", heard as beeps and seen as light flashes.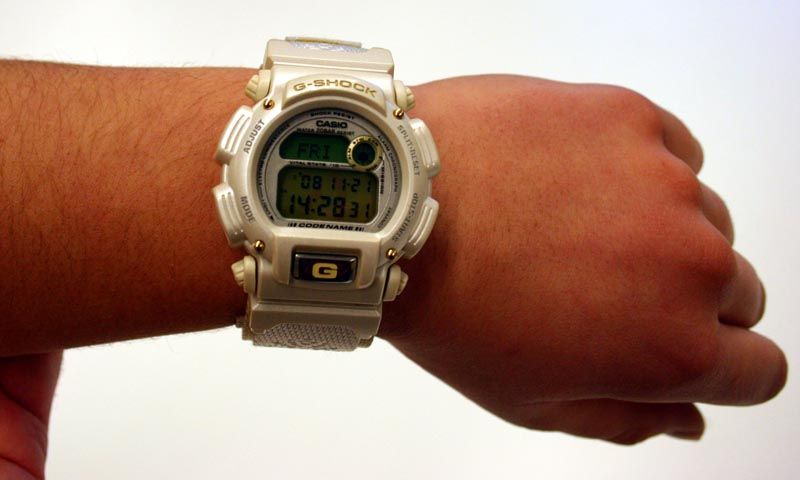 The watch also has Vital Stats on-board. Here you can input your name, birth date (a previous owner was born on April 20th, 1968), blood type, credit card number, passport number and licence number. There are even two slots to make your own input. I cant recommend to give away your credit card number, but if you keep forgetting your name and birth date, this is your watch...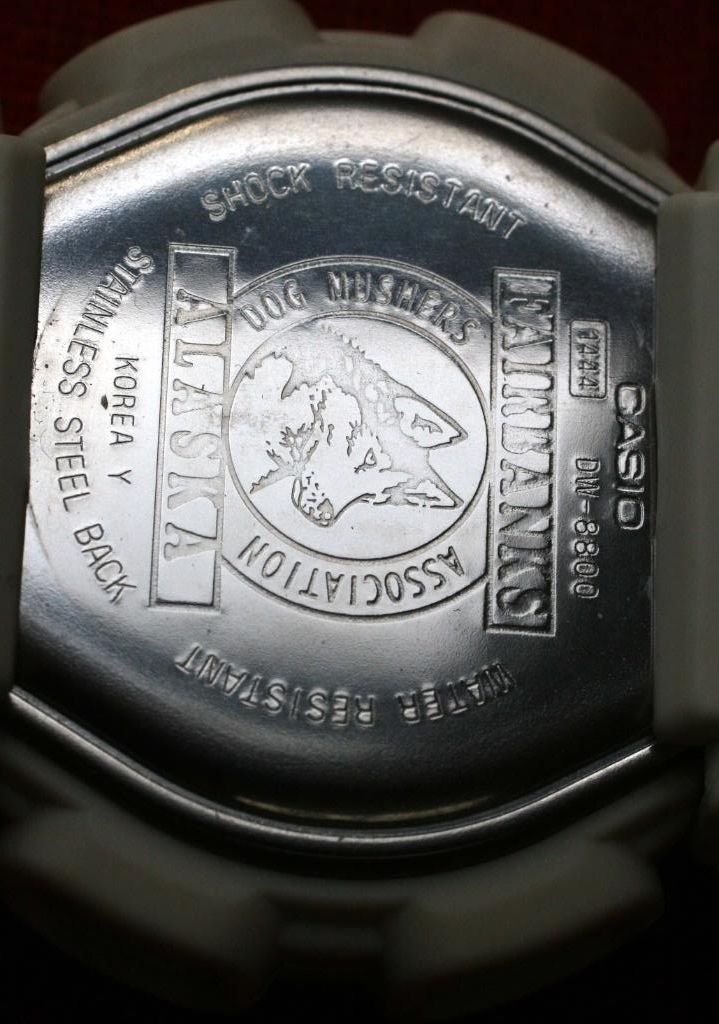 Further the watch also has one alarm function (time only, no date) and a stopwatch. The back of the watch has a beautiful engravement of the A.D.M.A. logo. A pity you won't see it easily. The double watch strap goes under the watch, through strap adapters. The strap is very nice. It isn't hard white. The upper strap is near white, while the under strap has a vanilla teint. The strap is extreme comfortable.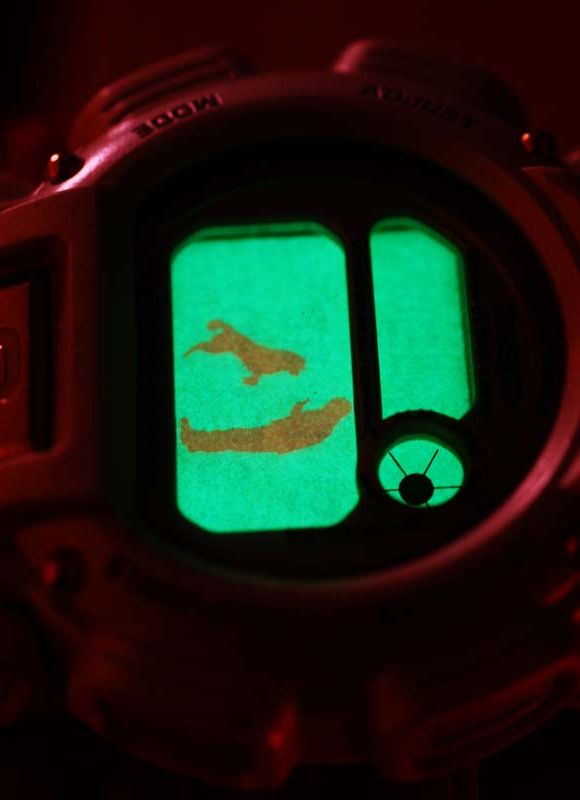 The EL backlight is very nice. As I already wrote, it is Casio's visualisation of the close bond between the musher and his dogs. Actually a dog musher has contacted me two years ago. His name is Gerald and rides a 6 dog sled. Of course he owns an ADMA G-Shock too.
Check this link
and look at his collection. You'll notice he has an other version of this watch.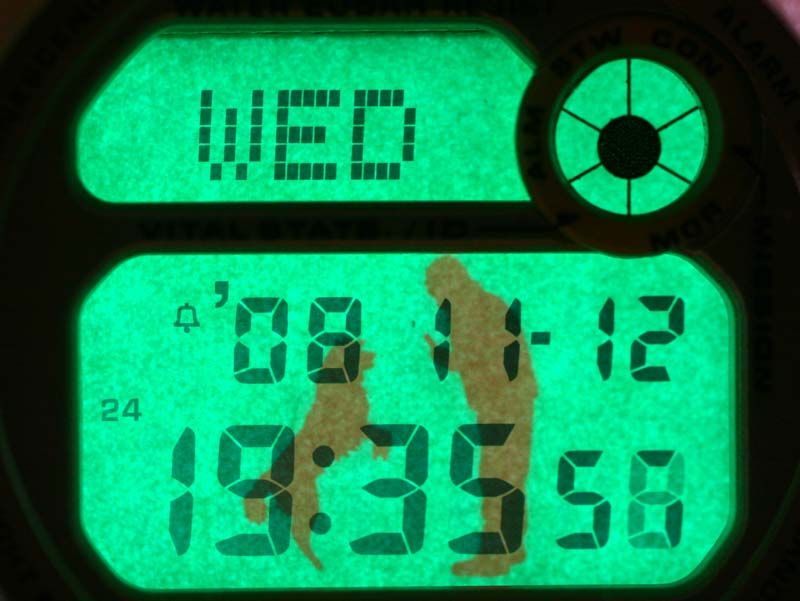 Derck (photo #3), Suzanne (photo # 14 and #15), Merel and Paul.