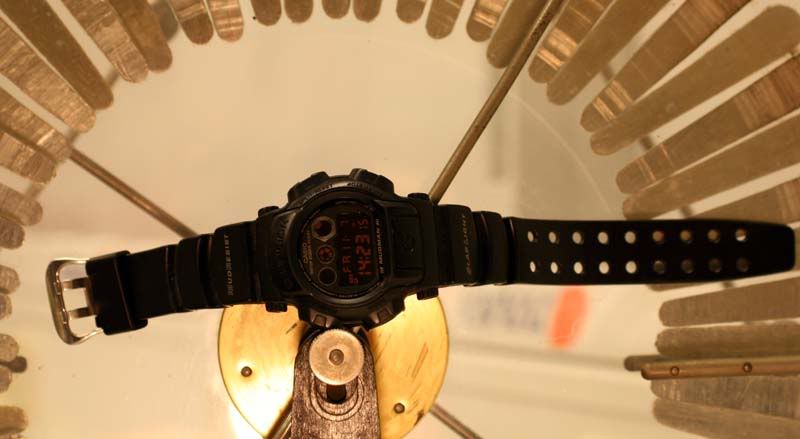 This was my 90th G-Shock, which arrived on December 16th, 2002. It was from an eBay UK auction. The seller had bought this Mudman in Hong Kong, before he moved back to the UK.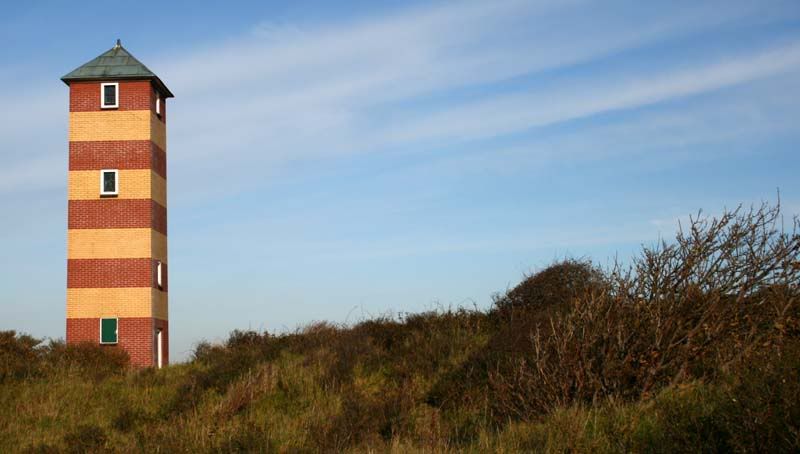 Somehow it was a good period for Mudman in that time. Also my Men In Navy Khaki and my first regular Mudman (European ILLUMINATOR version) were bought within 3 weeks time for unbelievable prices.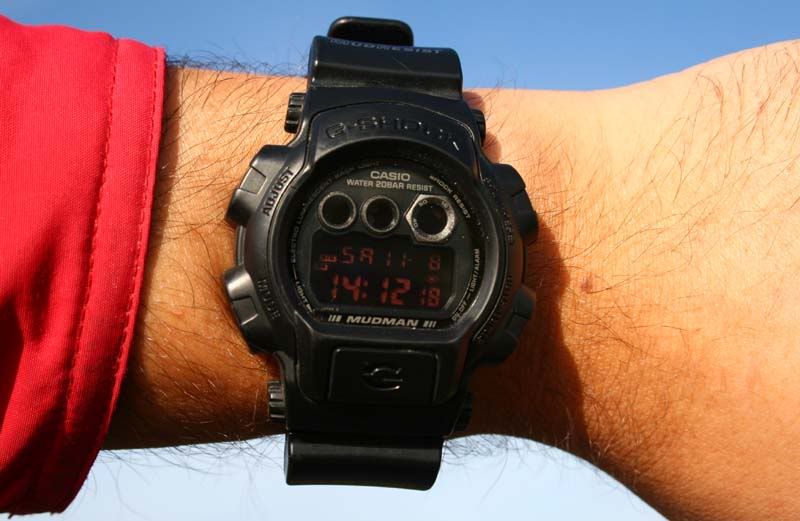 I do not know he prices exactly, but I believe I paid for this watch about £35.-. It was around Christmas time and a lot of G-Shocks were put on auction. I had no idea what I was bidding on, but this G looked pretty cool.
Funny side note, I paid about the same price for the MINK Mudman two weeks earlier too. That seller (from Cornwall, UK) also bought his watch in Hong Kong, before he moved to the UK.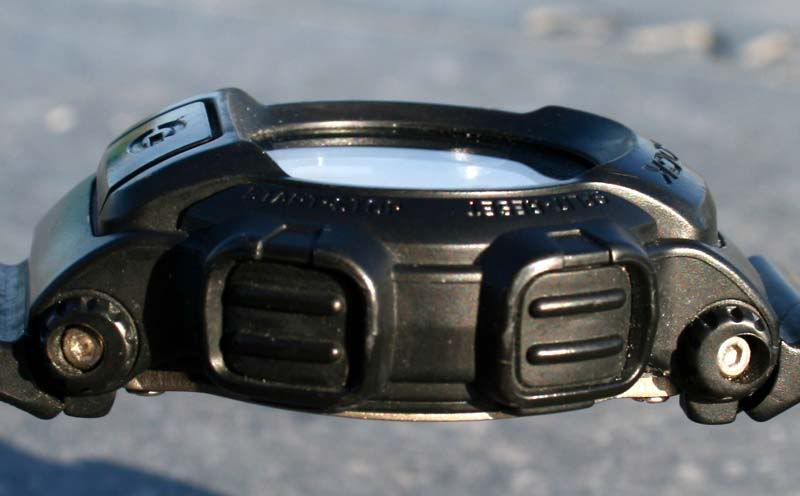 I occasionally wore this Mudman. The straps are extreme flexible and fit very comfortable around your wrist. It is the same kind of rubber that is used on the early DW-5X00C models I think.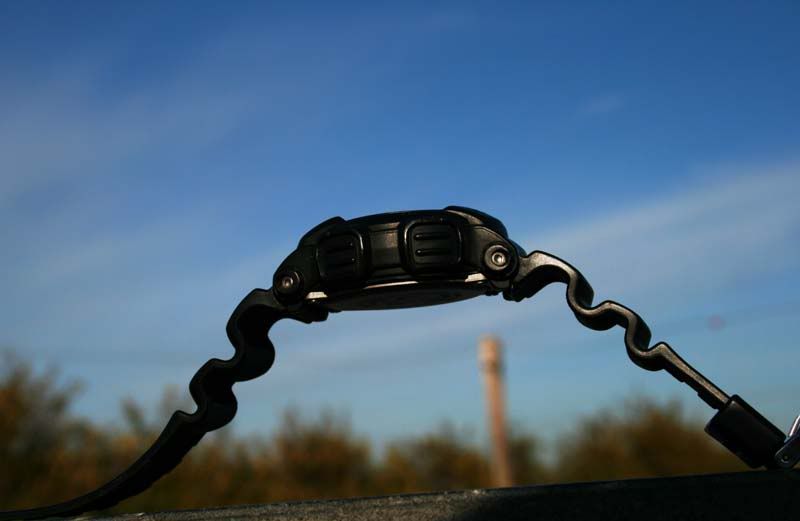 Since there was no G-Shock forum and almost no English documentation I had no clue what kind of Mudman this was.

In December 2003 I bought a new camera, a Canon Powershot G5. My friend Bleephead came by for a good beer and we talked a bit about music over a good beer. Meanwhile he shot some photo's with my new camera, while I happened to wear this Mudman.
While browsing the menus in my new camera, he found the Sepia set-up and took a photo of me, drinking from a glass of beer. My Mudman was clearly visible in that shot. I thought is was fun to share that photo on the, then pretty new" G-Shock Forum, before I went to bed.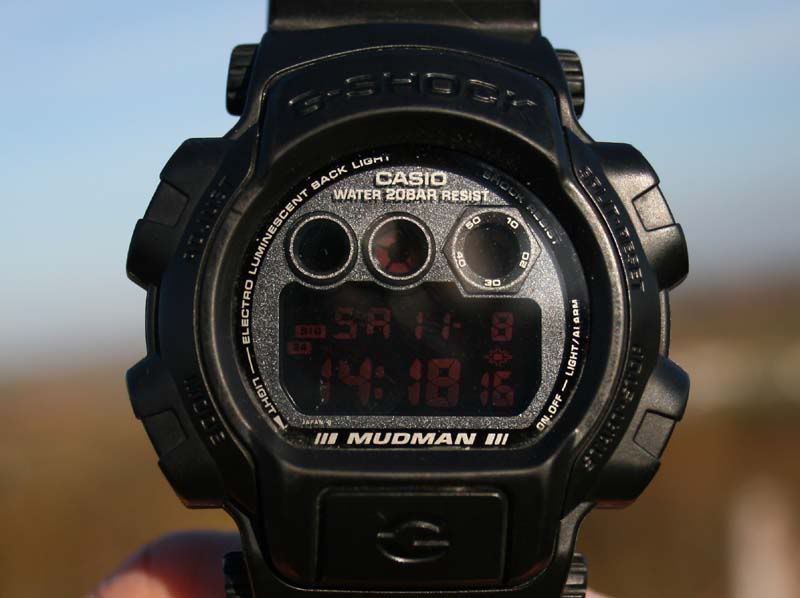 I had no clue that this was a very sought after Mudman model. Maybe it is after some classics (DW-5000C, DW-5500C, etc) the most sought after model that is not a Frogman. Not only I got a lot of reactions on the forum, also several e-mails rolled out of my mailbox, all asking what price I ask for this watch. For the good order, I love my G-Shocks very much. No G-Shock I show on any forum, weblog or my website is for sale.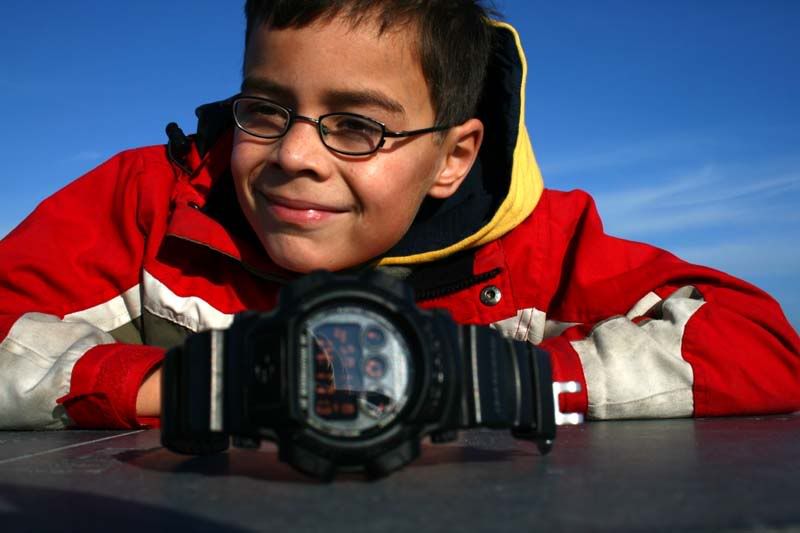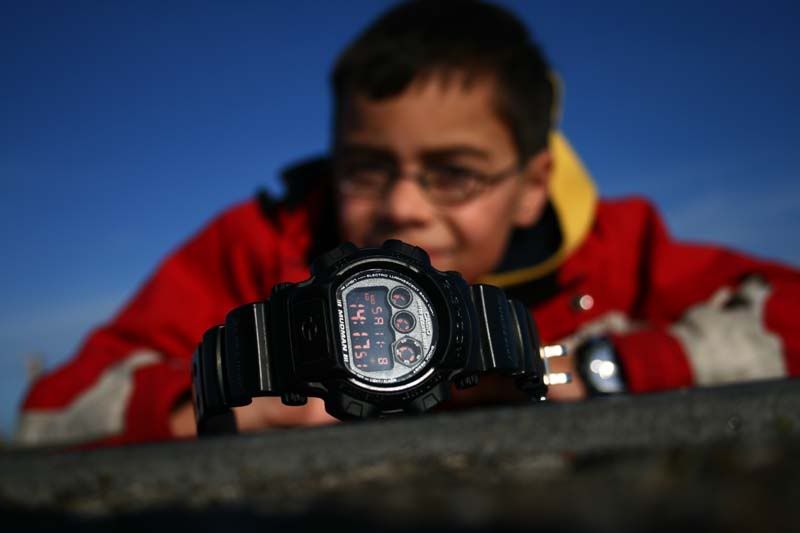 Luckily we have G-Shock Perfect Search (GPS) and good on-line translators nowadays. The Real Black Mudman (DW-8400BK-1JMF) was released in February, 2001.
As you would expect from the name, the watch bezel and straps is all black, exept for the small texts "MUDRESIST" and "SLAPIGHT". I have no idea what the term "Slaplight" means. It was probably an Engrish term that was going to be replace "FOX FIRE". Somehow I think only the term "ILLUMINATOR", used on most overseas models, pretty much tells what it does, illuminate.
When looked closer to the strap and bezel, you'll notice this watch is really black. A basic black G-Shock can better be described as dark grey. This watch looks like it absorbs every photon in the neighborhood.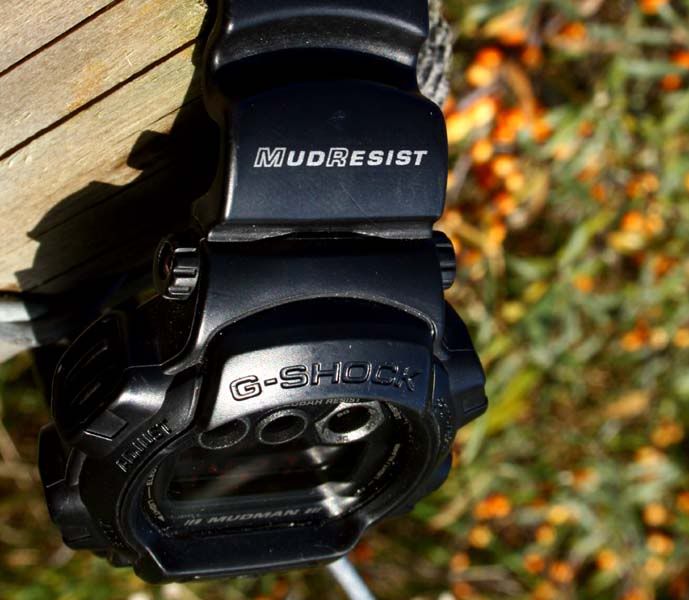 To give the watch even a tough and sturdy design, this watch has a negative display. Not just a negative display, but one with red digits. This makes the display not always very clear, though when looking straight on it, you can read the time very well.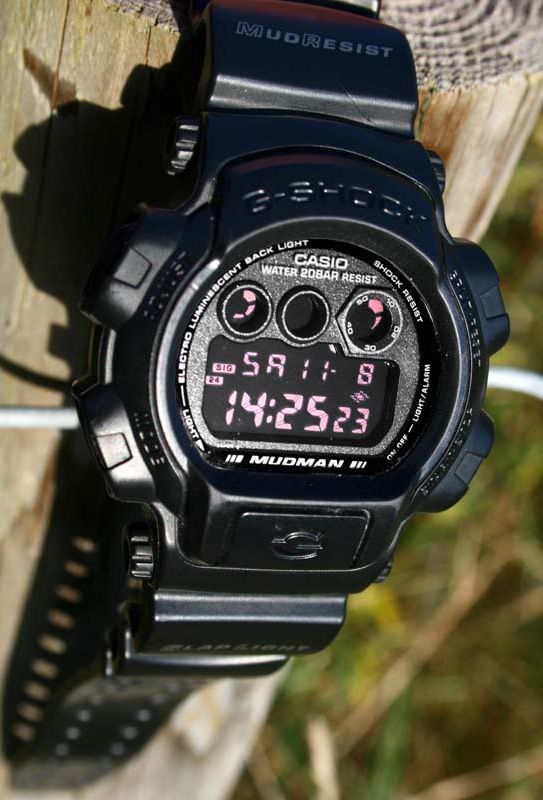 What makes the Mudman Mudresist. Like most of the first Master of G models, the Mudman is pretty big. On the Mudman this has a reason. The case itself has the same size of the DW-6900. I even tried to swap cases, but small notches on the Mudman case, to keep the bezel in it's place, makes the cases unswappable.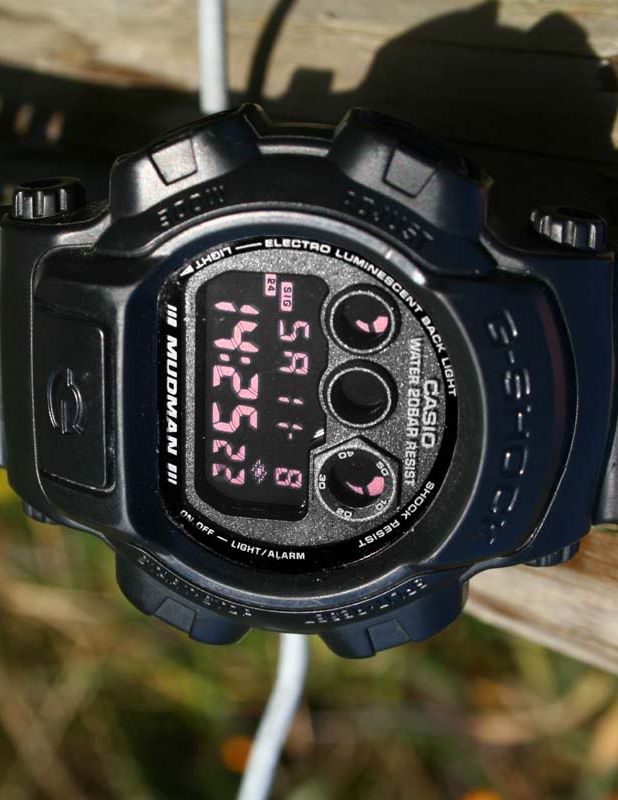 The reason why the Mudman is big in size, is that the bezel is also a cover of the case. While with the DW-6900 (same module) the buttons stick out holes in the bezel, with the Mudman these buttons are covered by the bezel.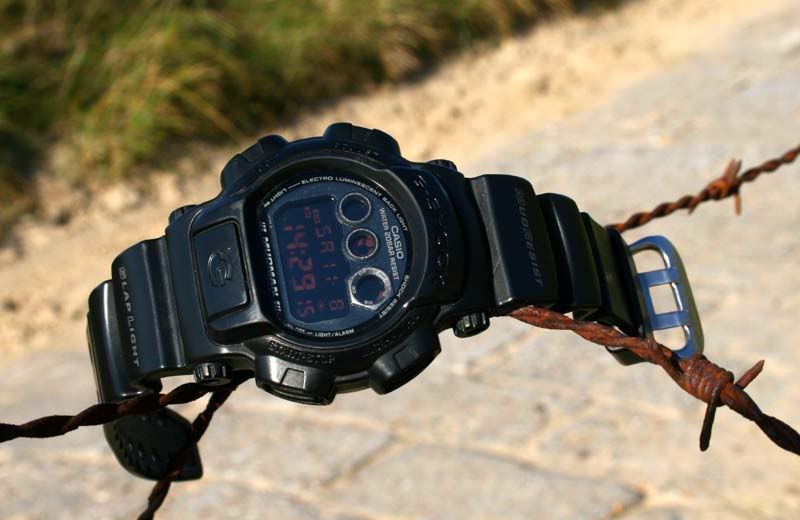 Casio used a revolutionary procedure to make these bezels. It is mold of two types of resin. The first one is the regular type, that is used for other bezels too. The second resin is a kind of flexible rubber and is only present around the buttons. You'll find this kind of bezels also on the Raysman and Gaussman.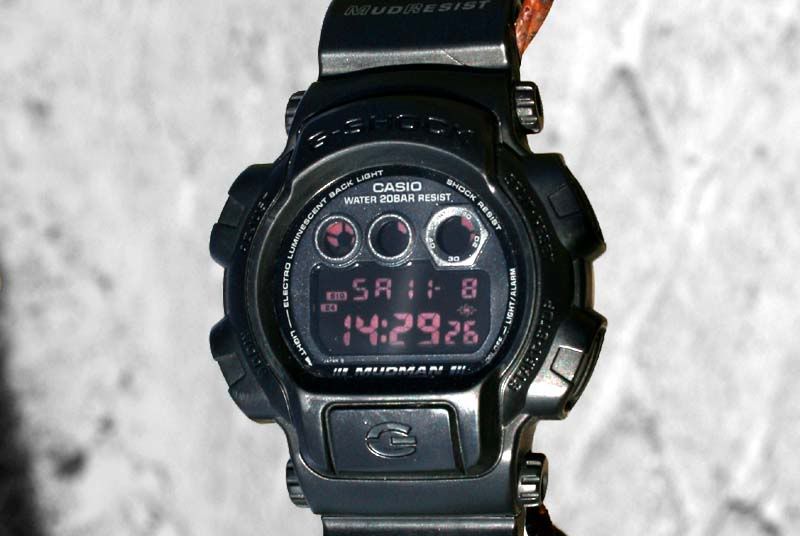 On the back of the watch is a drilling mole engraved. The mole is the Mudman mascot. While the normal Mudman have a stainless steel back, this model has a titanuim back.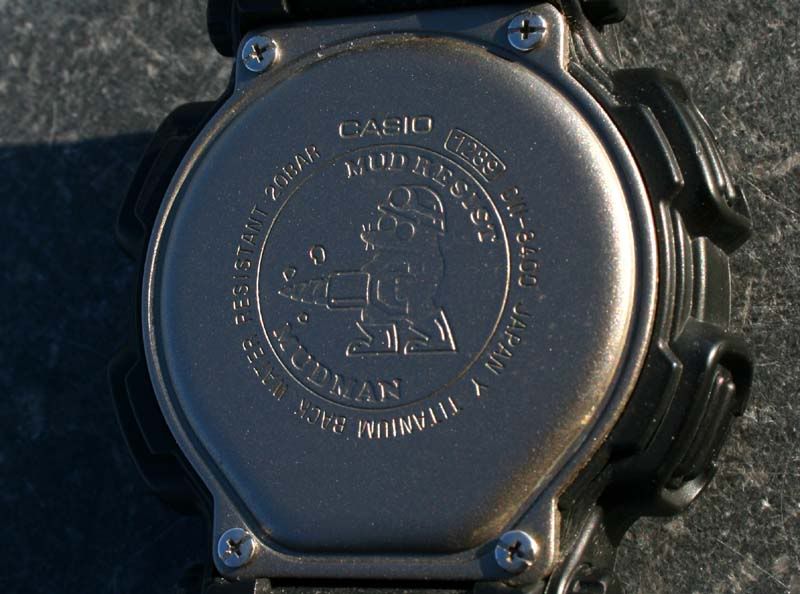 I have no clue what the prices of this Mudman are on the market today, but for a mint one you need to have some patience and bring along a bag of money. The prices asked for this watch can be compared for prices of rare Frogman and the rare DW-5X00C and WW-5X00C models.
Well, I hope you enjoyed my photo's. It wasn't easy actually. There was enough sunlight, but again I was surprised by a 7 Beaufort stormy wind on top of the dunes. 50 Gs is a good excuse for a nice walk outside. Anyway, I enjoyed this bock beer on a terrace after taking pics, while Bram enjoyed a hot chocolate.
" Well, that's the whole story. You can blow out the candle now"